Adventure Travel in South America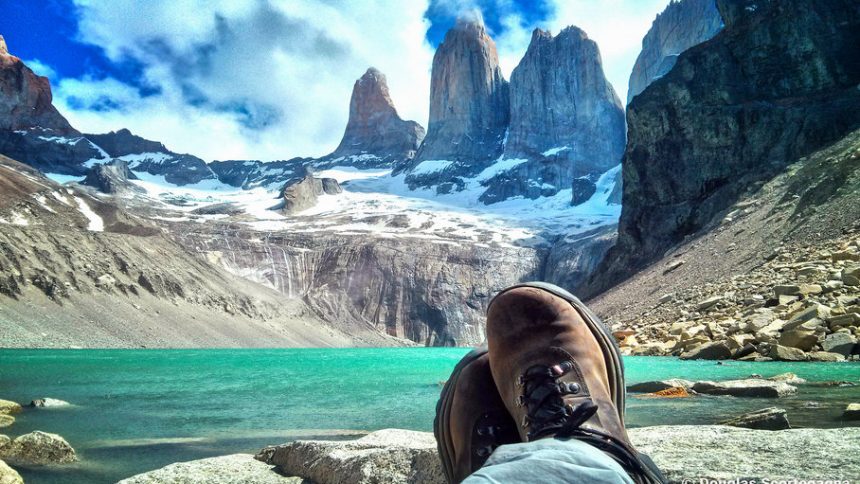 Classic Backpacking in South America Routes
March 4, 2016
South America is huge, and you won't be able to see too much of it in just a few weeks of backpacking in South America, BUT set aside 6 to 8 months – or even a full Gap Year – and now you're talking! Travel in South America needs to be done slow for two reasons. Number 1 there's so many places to see and once you get to South America it's worth getting to the major sites. Number 2 the distances are huge and travel can take a long time; timetables may vary and routes may change due to weather or for other reasons. You'll be getting friendly with long bus rides for sure, and patience and flexibility are necessary qualities. South America is just as much about the destination as enjoying the journey.
Plus you might even add in longer stints in certain spots (for example to trek in the Andes, or a river cruise in the Amazon) or add a side-trip to the Galapagos Islands so factor these in when considering how long you should set aside. Plus, you might even decide to settle somewhere even longer to learn Spanish or teach English. You get the idea – South America for backpackers is not really a 6 week trip. The key is to have plenty of time. Now we have that sorted, let's help plan your trip. If you don't know where to start here's our handy guide of the classic routes for backpacking in South America.
Brazil
Brazil is a must for backpackers, and it's a great place to start your backpacking trip in South America. Cities like Rio de Janeiro, Curitiba, and Sao Paulo. It's good to get to Rio in time for Carnival – probably the biggest cultural event and party in Latin America. Brazil is huge – the fifth largest country in the world – and unlike the rest of South America the official language here is Portuguese not Spanish. Natural sites to visit include the Iguacu Falls and of course do a cruise along the Amazon River and take in the amazing Amazon Rainforest. Most backpackers focus on the south of Brazil, which is the cosmopolitan heartland of Brazil and home to its major cities. The Amazon, which you can reach from the hub city of Manaus, is in the northwest, while off-the beaten path adventures can be found in the northeast.
Argentina
The next major destination (although you could do side-trips to Uruguay or Paraguay after Brazil) is Argentina. Again Argentina is one of the world's largest countries, so take your time and travel slow. A great starting point is Buenos Aires front here you can head south to Patagonia, which has a long Atlantic Ocean coastline and is perfect for motorcycle journeys for intrepid independent travelers. Other things to consider are visiting the Andes mountain range (particularly for skiers and snowboarders as the peaks here are often snow-covered). If you fancy Argentinian wines head to Salta or Mendoza – you can use either of these cities as an alternative base to Buenos Aires and Mendoza is a great locale for spending a bit of time to brush up on your Spanish.
Chile
Chile is a looong country sandwiched between the Pacific Ocean and the Andes mountains. The capital, Santiago, is pretty much smack-bang in the middle so it's a good spot to use as a base. If you didn't do any skiing from Argentina, you can ski in the Andes from Chile as well. Chile is also home to the famous Atacama Desert which is very popular with backpackers as is Cordillera Paine in Patagonia. Pucon is a major hub for adventure travelers and boasts lakes and a volcano. For those with a bit of extra time you could visit the extreme south and experience the fjords and icy landscape of Western Patagonia. For surfers: head to Pichilemu.
Bolivia
Bolivia had a bad rap for being quite a dangerous country to visit in the past, but that is fast changing, and Bolivia has for a while been a must-see destination for backpackers in South America. One of the top destinations is the Salar de Uyuni (pictured above) – a salt flat that becomes like a mirror if a thin layer of rain falls.  Lake Titicaca is also found in Bolivia (although you can see it from Peru as well). The most popular mountain to climb in Bolivia is Huayna Potosi while the Sajama National Park is popular with trekkers and mountaineers as it's home to the highest peak in Bolivia the Navajo Sajama. Backpackers in Bolivia also visit cities like La Paz, Cochabamba or Oruro, which is home to the famous Carnival of Oruro.
Peru
Peru is a must-stop on the so-called "Gringo Trail" of South America. (Gringo is term used to described North Americans or other foreigners in South America.) Of course it is! Peru is home to Macchu Pichu and the grueling yet totally worth it Inca Trail that leads there. Visit cities like Lima, Cuzco or Iquitos; or sites like Lake Titicaca, Manu National Park or the Nazca Lines where geometric figures and lines were drawn in the desert sands. For those who like trekking – and once you've ticked the Inca Trail off your bucket list – head to Cordillera Blanca, the Colca Canyon, or the Salkantay Trek (an alternative to the traditional Inca Trail). Of course the Amazon Rainforest covers large tracts of northern South America – it's not just in Brazil – and Peru is one of the countries you can use as a base to see the Amazon if you missed out while in Brazil.
Ecuador
A smaller country north of Peru popular with backpackers in South America is Ecuador. While it's one of South America's smaller countries, it packs a big punch with sites to see. The cities of Quito or Cuenca are a good base for backpackers, other spots to include on your itinerary include: Mindo, a small town at the foothills of the Andes, is known for its biodiversity, or the Cuyabeno Wild Life Reserve for a glimpse of the flora and fauna of the Amazon if you haven't already been to the Amazon from Brazil. Then there's the idyllic Mompiche fishing village or if you're a surfer stop by Montanita on the Pacific Coast. Finally, it's a big (and expensive) side-trip but if you have the budget and the time you must include the Galapagos Islands.
Colombia
Colombia is another country that's reputation has been not so great in the past, but has vastly improved and is now a must for backpackers in South America. With coastlines facing the Pacific Ocean and the Caribbean Sea, it's also a gateway to Central America. Bolivia has everything from rugged Andean landscapes, to cities such as Bogota and Medellin. Then you can also visit the Amazon from here, or take a side-trip to the Colombian Islands where there is some incredible Scuba diving. The coastal city of Cartagena is very popular with backpackers, as for adventure travelers we recommend San Gil where you can go rafting, kayaking, hiking, and caving – among other things. Finally, for a big of rest and relaxation visit the Tayrona National Natural Park, which backs onto the Caribbean Coast. You can also use this a springboard to visit some Caribbean islands if you have time to spare.
Other Spots
We've covered the classic backpacking route, but of course you could add in Venezuela after Bolivia. Or incorporate other countries like Uruguay or Paraguay, or other spots like the Falkland Islands, or French Guiana for a touch of Europe in Latin America. Then of course you can head further north to Central America and/or the Caribbean islands to continue your Latin America odyssey.
Read more about backpacking tips:
Classic Southeast Asia Backpacking Routes
Classic Backpacking in Central America Routes
Classic Backpacking in North America Routes
Classic Backpacking in Europe Routes
Classic Backpacking in Australia Routes
Classic Backpacking in the Middle East and North Africa Routes
Classic Backpacking in the East and South Asia Routes
Backpacking on a Shoestring Budget
Tips and Tricks for Backpackers
How to Make Friends While Backpacking Solo
9 Beginner's Mistakes Backpackers Make (and How to Avoid Them)
8 Surprising Things You'll Learn While Backpacking
Why You Must Backpack in Your 20s
How to Plan the Ultimate Backpacking Experience
Backpacking Tips if You're Older, Have a Child, Working or Taking a Dog
The Coolest and Most Unique Backpacker Hostels with a Difference