Adventure Travel in Southeast Asia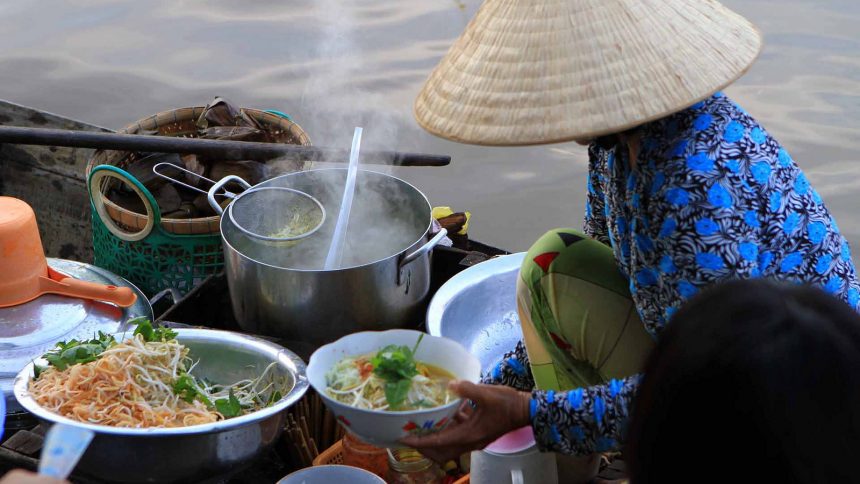 Classic Southeast Asia Backpacking Routes
February 3, 2016
Southeast Asia is one of the most popular backpacking destinations on earth. Relatively cheap and tourist friendly, it's a magnet for people in their 20s taking a gap year to backpack around this magnificent part of the world. Whether you're into beaches and islands, full moon parties, surfing or scuba diving, bike riding around rice terrace fields, seeing ancient sites like Ankor Wat or Borobudur, or simply enjoying some Thai green curries or Malaysian street food. From Indonesia to Laos here is the classic Southeast Asia backpacking route for adventure travellers.
We'll start in Indonesia and head up north, but really you can start up north somewhere in Vietnam or Thailand and head south. Internal flights are quite cheap with an airline like AirAsia, and there's often even cheaper ferry (or sometimes bus and train) connections. Booking sites like HostelBookers are also very popular in this part of the world, so you might find yourself running into some of the same people in the same top-rated hostels as you travel the area.
Indonesia
Indonesia would take months and months to explore on its own. It's made up of lots of islands the most famous of which are Java, Sumatra, Borneo and of course Bali! Most backpackers visit Bali for its scuba diving and surfing. If you are in Bali we recommend staying off Bali on an island called Nusa Lembongan – they say it's like what Bali used to be 20-30 years ago. On the island of Bali avoid Kuta and stay in Semminyak instead – or visit the mountainous region of Ubud for some yoga or to cycle around some rice terraces.
On the main island of Java (where the capital Jakarta is) don't miss Borobodur which is not far from the culture-capital of Yogyakarta. Also on Java is Mount Bromo that you can see in the image above. Finally head off the beaten track and go to Labuan Bajo on the island of Flores from where you can visit the Komodo National Park to see Komodo dragons and enjoy some of the world's best scuba diving. Even further off the beaten track is a visit to West Papua from where you can dive the famed Raja Ampat area. Just beware of travel advice when heading to West Papua.
Singapore and Malaysia
From Indonesia head north toward Singapore which is a tiny country on the tip of Malaysia. Spend a few days in luxury here before heading onward on your adventure travel. The best things to do in Singapore are enjoying the mixture of Chinese, Indian and Malaysian influences in terms of culture and food. Plus there is colonial architecture as well as modern architecture and traditional Asian influences. It's a global city, so it's not your typical backpacking locale but definitely worth seeing and great if you want to get some R&R or some shopping in before your onward journey.
From Singapore next stop is neighbouring Malaysia. Kuala Lumpur – or "KL" as it's known to locals – is a mega metropolis and one of the top sites from here is the Batu Caves (pictured above). In Malaysia we also recommend Langkawi, Georgetown on Penang Island for its colonial era architecture, and the Cameron Highlands for hikes through snaking trails among tranquil tea plantations. Then head to Malaysian Borneo (there is Indonesian Borneo and Bruneian Borneo too) to climb Mount Kinabalu and see the Sepilok Orang Utan Rehabilitation Center.
Thailand
Thailand is a backpackers mecca, so you'll inevitably meet other travellers who'll tell you what the current hip islands are. Typically no backpacking trip to Thailand is complete without drinking a bucket in Phi Phi (and taking the above photo from that lookout), stop by Koh Samui, visiting Koh Tao for some scuba diving, spending a full moon party at Koh Phangang and maybe spending some time rock climbing in Krabi.
Stop by Khaosan Road in Bangkok and some of the other major sites in Bangkok like the Wat Pho, Wat Arun and Jim Thompson House, the Golden Buddha and the Emerald Buddha in the Grand Palace. Head further north from Bangkok and visit Kanchanaburi and then Chiang Mai and Chiang Rai. From there you can make your way over the border to Laos.
Laos
One of the best things to do in Laos is to take a several day boat tour down the Mekong River. Slowly sailing down you'll see live on the river form women washing clothes, to kids playing naked on the banks of the river and having a great time, to animals wandering slowly. This is a slower pace of live and one of the most memorable experiences of a backpacking trip in Southeast Asia. Luang Prabang is a UNESCO World Heritage Site in northern Laos and this is a must-see site. Beautifully tranquil, Laos will no doubt surprise you. The charming French colonial architecture won't be the only thing to charm you into wanting to stay. Vang Vieng is another "must" stop on any backpackers right of passage as this is where the famous (or is it infamous?) tubing occurs. Tubing is basically going down a river in a huge rubber tube while stopping for drinks at all the bars. Get a T-shirt; everyone has one. You can visit the capital, Vientiane, although it's probably not a must on a classic backpacking journey. You might be surprised to know that there is quite a bit of French influence here and if you're wanting a temporary break from Asian food, you'll be able to get Paris-esque croissants, pain-au-chocolat and crunchy French bread here!
Vietnam
War-time history is one of the main focuses of many backpackers who come to Vietnam. Seeing the Cu Chi tunnels, the War Remnants Museum and Ho Chi Minh's Mausoleum where you can see Ho Chi Minh's embalmed body. Ho Chi Minh City (formerly Saigon) and Hanoi are the major cities to stop in. Hanoi is the more tranquil of the two, while Ho Chi Minh City is a big metropolis in many respects. Ha Long Bay is an absolute must – but try to go on a bright sunny day, the quaint river-side city of Hoi An is another crucial site to visit. As you pass through the countryside you'll undoubtedly see famed rice paddy fields, and a visit to Nha Trang could be included if you're craving the touristy resort vibe of this beach town. Don't forget to try Pho soup; you won't be able to miss it as it's offered out countless roadside stops, street food stalls and of course in restaurants!
Cambodia
Looping back west as you've travelled clockwise around Southeast Asia you'll reach Cambodia. The most famous sight and a must on the backpacker trail of Southeast Asia is the temple complex and historical sites near Siem Reap. Of course, we're talking about Angkor Wat, Bayon Temple, Ta Prohm and Angkor Thom. Try to wake up early for a sunrise visit, or if you can't wake up in time spend the whole day exploring and stay for sunset.
Other sites commonly visited include the Royal Palace of the capital Phnom Penh, the Killing Fields of Choeung Ek and the quant colonial era style city of Battambang. If you can't resist the temptation of more beach-going head to Sihanoukville.
Off The Beaten Track in South East Asia
Philippines: The Philippines while still being very much in Southeast Asia is a bit further afrield when compared to the above places, so it's not on that typical Southeast Asia backpacking route. Nonetheless, if you do make it over you will be rewarded with a choice of hundreds of islands. Go diving at Tubbataha Reef, see the Mayon Volcano, see whale sharks at Donsol, and see the incredible The Chocolate Hills on Bohol island. You must see the Banaue Rice Terraces, and stop by an island like Boracay to top off your holiday.
East Timor: Just a few decades since gaining independence from Indonesia, East Timor is still of course not the top destination on a classic Southeast Asia backpacking route. Nevertheless, if you go prepared to rough it you might be pleasantly surprised particularly by the natural beauty of the place.
Brunei: Located on the island of Borneo, Brunei is a wealthy country, although political control means the government has a dubious reputation at best.
Myanmar: Previously known as Burma and previously pretty much off-limits to tourists, Myanmar is finally starting to open up and that may mean that in the future it will be far more touristy than it is now. Visit the Shwedagon Paya, stop by beaches, markets and islands while they're still relatively tourist free.
Read more about backpacking tips:
Classic Backpacking in South America Routes
Classic Backpacking in Central America Routes
Classic Backpacking in North America Routes
Classic Backpacking in Europe Routes
Classic Backpacking in Australia Routes
Classic Backpacking in the Middle East and North Africa Routes
Classic Backpacking in the East and South Asia Routes
Backpacking on a Shoestring Budget
Tips and Tricks for Backpackers
How to Make Friends While Backpacking Solo
9 Beginner's Mistakes Backpackers Make (and How to Avoid Them)
8 Surprising Things You'll Learn While Backpacking
Why You Must Backpack in Your 20s
How to Plan the Ultimate Backpacking Experience
Backpacking Tips if You're Older, Have a Child, Working or Taking a Dog
The Coolest and Most Unique Backpacker Hostels with a Difference