Adventure Travel in South America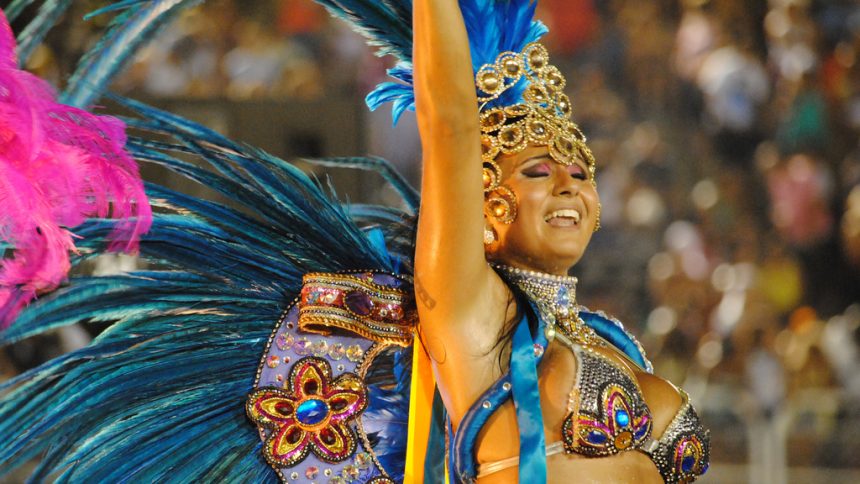 Pre-Lenten Festivals: Rio Carnival
February 5, 2016
Before the fasting period of Lent (that leads up to the Christian celebration of Easter), many Christian countries and cultures somehow celebrate Carnival. The Carnival period is usually in February and March – sometimes starting as early as January 6 –  when there are special parties and parades, but usually there is one specific Carnival week that marks the height of festivities. Carnival celebrations also include Mardi Gras – the day that is the culmination of Carnival, also known as Fat Tuesday. This occurs just before the Lenten fasting period begins, although this date moves around as Easter is not a fixed date in the calendar. In our new series we look at Pre-Lenten festivals around the world. We start with the most famous of them all: Rio Carnival.
About the Rio Carnival
The Rio Carnival is a huge party in Brazil's most famous city Rio de Janeiro. Millions of people head to Rio for the carnival where there are colorful floats, gorgeous samba dancers doing choreographed routines to Brazilian music, and other street festivities. The main parade takes place in the Sambadromo and surrounding areas, with other parties taking place in Copacabana Palace and beach. The Ipanema street party is one of the most popular focal points. Take part in the street parties or walk with one of the bands, bring a stellar outfit if you wish too! Some of the events are ticketed, but there are a lot free events and sites too. The Carnival dates change each year, but take place in the several days leading up to Fat Tuesday.
The history of the Rio Carnival links back to Europe, where there are similar celebrations with music, costume and masks that are linked to welcoming spring and farewelling winter. The Portuguese brought this kind of celebration over to Brazil in the mid-1800s. Since that time the festival has changed a lot, and it's developed to become the best known Carnival in the world; against which all other Carnivals are measured!
Adventure Travel in Brazil
The Rio Carnival will undoubtedly be on your list of things to do in Brazil. While in Rio de Jainero make sure you visit the Chris de Redeemer statue, which has at times been listed as one of the 7 Wonders of the World. As you can see in the above images there are plenty of mountains around Rio that you can explore too, with Sugar Loaf the most well-known for hiking and climbing in the area. Then there are Rio's famed beaches, where sun-baking is the most iconic pass-time.
Further afield in Brazil adventure travelers will want to do some trekking or boat cruises in the Amazon Rainforest and Amazon River located in northern Brazil. 60% of this mighty jungle is located in Brazil, so it's your perfect base for seeing the world's greatest tropical rainforest. Head to Manaus and from there there are many options for what to do in the Amazon Rainforest.
Southern Brazil is also home to the famous Iguazu Falls, while in western Brazil you could visit the Pantanal tropical wetlands. Finally, head to the islands of Fernando de Noronha in the Atlantic Ocean that are also UNESCO World Heritage Listed.
Adventure Sports in Brazil
Given Brazil's natural attributes, it's no surprise that it's a mecca for adventure sports. With almost 8000 kilometers of coastline, it's little wonder Brazil has some great surfing. Head to the aforementioned Fernando de Noronha Island for enormous swells that will be a good challenge even for experienced surfers. The group of 21 islands that make up Fernando de Noronha are also Brazil's best location for Scuba diving. Get in the water for the chance to see sharks like the amazing hammerhead, schools of tuna, turtles and other sea mammals. You might even be lucky and see some dolphins!
The Barra de Guaratiba neighbourhood in Rio offers rappelling opportunities for adventure travelers. Rappelling is basically where you let yourself go over a cliff with the aid of ropes. It's kind of like abseiling and pretty safe if you go with pro guides. While in Rio you can also go caving and cascade canyoning particularly in the Tijuca Forest National Park. While in the Amazon go white-water rafting, while in one of the coastal areas go windsurfing, tandem paragliding or hang gliding, or even wake-boarding.
Other Pre-Lenten Festivals Around the World:
Sydney Mardi Gras in Australia
Barranquilla's Carnival in Colombia
Fiesta de las Flores y las Frutas in Ecuador
Carnival of Santa Cruz de Tenerife in the Canary Islands 
New Orleans Mardi Gras in the United States