Adventure Travel in Western Europe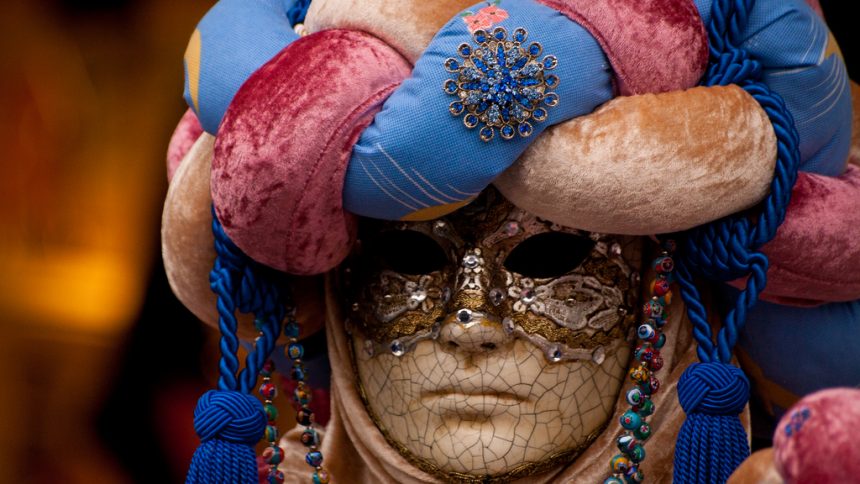 Pre-Lenten Festivals: Venice Carnival
February 8, 2016
Before the fasting period of Lent (that leads up to the Christian celebration of Easter), many Christian countries and cultures find a way to celebrate Carnival. The Carnival period is usually in February and March – sometimes starting as early as January 6 –  when there are special parties and parades, but usually there is one specific Carnival week that marks the height of festivities. Carnival celebrations also include Mardi Gras – the day that is the culmination of Carnival, also known as Fat Tuesday. This occurs just before the Lenten fasting period begins. Just like the dates for Carnival move around, the date for Mardi Gras also isn't fixed as it depends on exactly when Easter is each year. In our new series we look at Pre-Lenten festivals around the world. Here we look at the iconic Venice Carnival with its famous masks and romantic gondola rides around the canals of Venice.
About Venice Carnival
The Carnival of Venice is most famous for its elaborate and beautiful masks. It starts about two weeks before Ash Wednesday, which is the day after Shrove Tuesday/Mardi Gras. The best time to visit Venice during Carnival is at the weekends – the final weekend especially, when this romantic city comes to life with masked men and women and masquerade balls. There are a few different kinds of masks including the "Medico della peste" with its long beak; the highly decorated "Colombina" that covers just the wearer's eyes and nose and is usually covered with gold, silver, crystals and feathers; the "volto" covers the whole face and is often a bright wide with some simple gold and silver decorations; and finally there are other less colourful masks that are made out of wood or leather like the "moretta" or the "pantalone."
In terms of Carnival events there is the Volo dell'Angelo ( or "flight of the angel" in English) when a beauty pageant winner zip-lines into St Mark's Square – how very adventure sports of her!!! There are also numerous masquerade balls (both ticketed and open) where you can join in in a mask and costume of your own. For most people though St Mark's Square will be the central location of Carnival shenanigans and if you come in a wonderful costume, you might even get picked in the best costume competition.
Just as interesting aside the word Carnival stems from the word Carnevale, which translates to meat ("carne") farewell ("vale"), referring to saying a goodbye to meat ahead of the 40 days of Lenten fasting that precedes Easter when Christians don't traditionally eat meat.
Adventure Travel in Italy
Italy is an adventure traveler's dream with plenty of history and diverse natural landscapes. One day you might be skiing in the Dolomites, or trekking Mont Blanc, next you might be hiking the Cinque Terre on the Italian Riviera or scaling cliffs along the Amalfi Coast; then you might be picking grapes along the lolling hills of Tuscany; or visiting the volcanic areas of Mount Etna or Mount Vesuvius. There probably isn't a more beautiful and vivid country in the world than Italy.
Months wouldn't be enough to properly explore all that Italy has to offer, but for adventure travelers especially the landscapes of Italy offer limitless inspiration. Aside from the Italian Alps (where you'll find Mont Blanc), there is the charming Lakes District (Lake Maggiore, Lake Garda and Lake Como are the best known) and even rivers (like Po, Tiber, Arno or Ticino to name just a few).
The best thing about Italy is that while there is plenty to do, the distances aren't impossible, so if you go to Venice for Carnival you can add on a few weeks to your holiday and see loads of great sites like Rome, Florence, Milan, Perugia and Pisa. Then add on some of the adventure travel destinations listed above, or try some adventure sports in Italy that we describe below.
Adventure Sports in Italy
Most people think of history and culture, and food and wine when they think of Italy, but Europe's "boot" is actually one of the continent's adventure sports meccas as well. People come from all over Europe and further afield to enjoy sports of all kinds in the temperate climate of Italy. Here are our favourites:
Hiking and Mountaineering: Aside from those we've already mentioned head to Valle d'Aosta's beautiful snow-capped mountains in the Western Alps where you can go skiing or snowboarding in winter and hiking in summer. Hiking in the Val Grande National Park in Piedmont, is another popular choice.
Water sports: The Noce river in the Dolomites, the Marmore Falls or the river Corno are great for white-water rafting. We highly recommend canyoning at the gorges of Alcantara. Basically, canyoning involves getting down a river using the following skills: walking, climbing, abseiling or rappelling, zip-lining, jumping or sliding. Given Italy has 7,600 kilometers of coastline, surfing and windsurfing are also a possibility at spots like Lazio, Campagnia and Puglia Molise. Although with surfing remember to go in the colder months of autumn to spring as during summer the seas are pretty flat. Also check up to date wind and swell forecasts and be prepared to go wherever the good conditions are.
Air sports: In the mountains of Basilicata in southern Italy you can try something called the "Flight of the Angel," which is basically a zip-line wire linking two villages. The cool thing about it is that you can harness up in a prone position so it's really like you are actually flying. Head to Monte Baldo, Norma or Calascio for great paragliding, or for those who want to try bungee jumping head to the iconic Viaduct of Valgadena.
Other Pre-Lenten Festivals Around the World:
Sydney Mardi Gras in Australia
Barranquilla's Carnival in Colombia
Fiesta de las Flores y las Frutas in Ecuador
Carnival of Santa Cruz de Tenerife in the Canary Islands 
New Orleans Mardi Gras in the United States