Adventure Travel in Oceania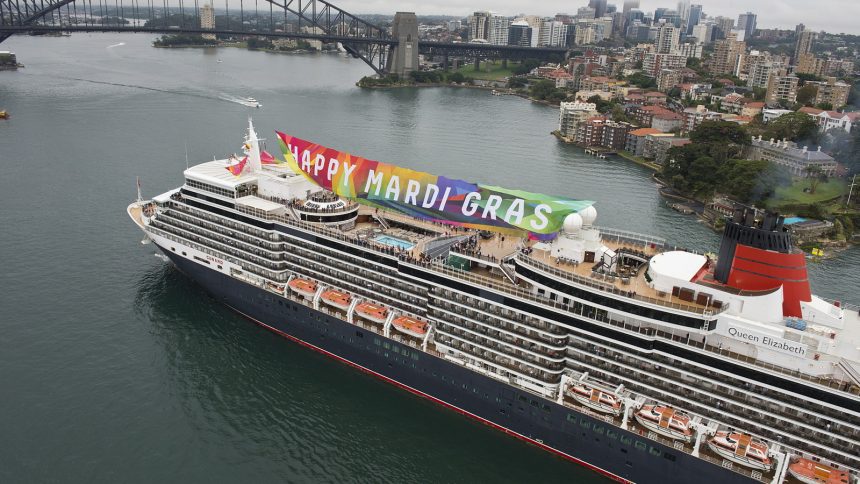 Pre-Lenten Festivals: Sydney Mardi Gras
February 15, 2016
Before the fasting period of Lent (that leads up to the Christian celebration of Easter), many Christian countries and cultures find a way to celebrate Carnival. The Carnival period is usually in February and March – sometimes starting as early as January 6 – when there are special parties and parades, but usually there is one specific Carnival week that marks the height of festivities. Carnival celebrations also include Mardi Gras – the day that is the culmination of Carnival, also known as Fat Tuesday. This occurs just before the Lenten fasting period begins. Just like the dates for Carnival move around, the date for Mardi Gras also isn't fixed as it depends on exactly when Easter is each year. In our new series we look at pre-lenten festivals around the world. This instalment is a little different because the Sydney Mardi Gras, known officially as the Sydney Gay and Lesbian Mardi Gras, isn't so much about pre-Lent festivities and saying goodbye to winter (remember Australia is in summer at this time of year), as celebrating the LGBTQI community. Known locally simply as "Mardi Gras," it is one of Sydney's major tourist attractions.
About the Sydney Mardi Gras
The Sydney Mardi Gras dates back to the late 1970s, when it started as a parade for gay and lesbian rights that was actually quashed by police. Since that time it's grown into a huge event bringing hundreds of thousands of people to the streets of Sydney for the parade and parties that follow. It's been named one of the world's best costume parades, with about 10,000 participants dressing up and joining in on one of the colorful, themed floats. The parade does have a political element, for instance campaigning for same sex marriage to be allowed in Australia, but it also has a large dose of fun, plus an emphasis on acceptance.
The Sydney Mardi Gras is a little different from some of the other pre-Lenten festivals we have covered in this series as it's not linked to Lent or Easter in any real way. In fact the parade is not even held on Mardi Gras (Shrove Tuesday) – in fact it's usually held on the first Saturday of March with lead-up events for about three weeks beforehand. The post-parade part is also huge with tens of thousands of people turning out and famous singers such as Kylie Minogue (see above) performing.
Adventure Travel in Australia
Australia is a magical island continent that is one of the most naturally beautiful countries in the world. From beaches to deserts, rain-forests to reefs, multicultural cities to outback Aussie towns, Australia has plenty to offer to adventure travelers. Sydney's Mardi Gras takes place at the end of summer or start of autumn (remember Australia is in the southern hemisphere, so the seasons are the opposite to that of the northern hemisphere), and this time of year is a great time to be in Australia. It's still quite hot, but perhaps won't be 40 degrees every day. Sydney is a little more humid than say Melbourne or Adelaide so the temperatures are a little more bearable.
Some of the top things to do in Sydney include sun-baking on Bondi Beach, climbing the Sydney Harbour Bridge and seeing the harbor views from Tarronga Zoo. Sydney is located in the state of New South Wales and contrary to many people's beliefs, it's not the capital of Australia. In fact the capital is Canberra, which is located in New South Wales but is not part of the state. Other things to do in NSW include visiting the Blue Mountains (pictured above), visiting the outback mining town of Broken Hill and heading north to Byron Bay for surfing and music festivals.
Heading Down Under? Check out our other tips:
Adventure Sports in Australia
One of the main adventure sports in New South Wales is the Sydney to Hobart Yacht Race that takes place on Boxing Day each year. Then there's surfing, which you can do at Byron Bay, the Central Coast, or southern coastal towns like Woolongong. You can go whale watching at spots like Tweed Heads, Huskisson or Narooma, and you can go scuba diving at the South West Rocks. Drive along the coastline from Sydney and you'll stop by the Central Coast, Newcastle, Port Macquarie, Coffs Harbour, before getting to Byron Bay and then you've reached the state of Queensland, which offers plenty more to do for adventure sports lovers as you can access the Great Barrier Reef from there. Despite popular belief it's possible to go skiing and snowboarding in New South Wales. Two of the best spots are the Snowy Mountains, Jindabyne or Thredbo.
Other pre-lenten festivals Around the World:
Sydney Mardi Gras in Australia
Barranquilla's Carnival in Colombia
Fiesta de las Flores y las Frutas in Ecuador
Carnival of Santa Cruz de Tenerife in the Canary Islands 
New Orleans Mardi Gras in the United States