Adventure Travel in Central America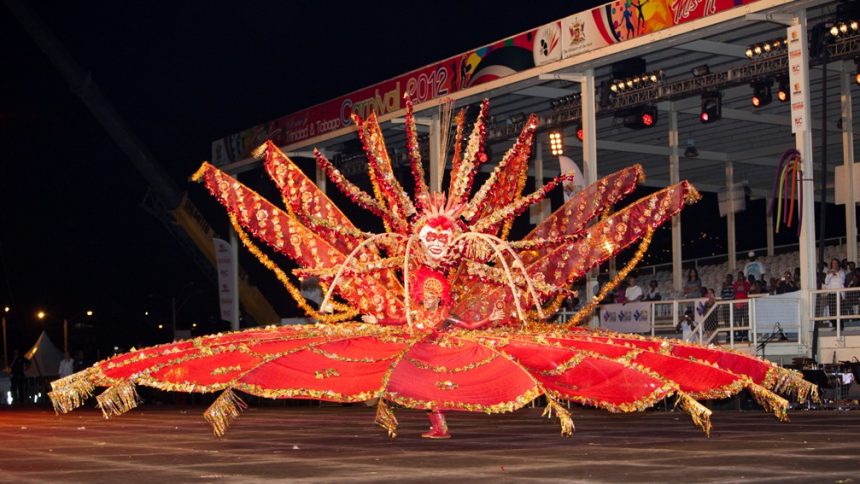 Pre-Lenten Festivals: Trinidad and Tobago Carnival
February 10, 2016
Before the fasting period of Lent (that leads up to the Christian celebration of Easter), many Christian countries and cultures find a way to celebrate Carnival. The Carnival period is usually in February and March – sometimes starting as early as January 6 – when there are special parties and parades, but usually there is one specific Carnival week that marks the height of festivities. Carnival celebrations also include Mardi Gras – the day that is the culmination of Carnival, also known as Fat Tuesday. This occurs just before the Lenten fasting period begins. Just like the dates for Carnival move around, the date for Mardi Gras also isn't fixed as it depends on exactly when Easter is each year. In our new series we look at pre-Lenten festivals around the world. Now we head to the Caribbean to the twin island country called the Republic of Trinidad and Tobago, where they have a wild Carnival on the Monday and Tuesday before Ash Wednesday. TT's pre-Lenten festival is probably the most famous thing about this Caribbean powerhouse, so read on!
About the Trinidad and Tobago Carnival
As Trinidad and Tobago's official tourism website says, the Trinidad and Tobago Carnival is "a time for release and everyone is invited to join the party." Well thanks for the invite Trinidad and Tobago because to that we say Yes! The Trinidad and Tobago Carnival could just be the greatest show on Earth with masquerade bands, spectacular costumes, pulsating music and partying that seems never to stop. In face Trinidad's Carnival is probably the country's cultural highlight and premier tourist attraction.
Trinidad's Carnival is held on the Monday and Tuesday before Ash Wednesday, so it really is the last hurrah before 40 days of fasting is meant to begin as part of Lent for those Christians who hold this tradition. As one of the major events for Trinidad, everyone on the island is either partying or helping with preparations; tourists are just as welcome to take part – in fact it's almost mandatory! Calypso and Soca are the main musical styles, and the costumes are as bright as they come. Exuberant stick fighting and limbo are some of the main activities.
Of course there is a parade where both locals and tourists join in, and each parade is led by a King and Queen who wear especially large costumes. The King and Queen are chosen on Carnival Sunday. Music is a massive part of this festival and Band of the Year is also chosen from among the bands playing on Carnival Monday and Tuesday.
The opening event, called J'ouvert, is when people head to the streets early in the morning with loud music trucks blaring out music, and people throw mud, oil, and paint at each other. While during the Monday and Tuesday Mas the event is inspired by Indian, African and some European cultural influences, with people dancing and letting loose before Lent.
Adventure Travel in Trinidad and Tobago
Trinidad and Tobago are two islands (but one country) located in the Caribbean, just north of the South American country of Venezuela. It's considered one of the richest countries in the Americas, and it's not overly reliant on tourism, which means that you won't be overrun by other tourists, and the island's natural habitat is relatively unspoilt. Trinidad is more the business center, while Tobago is more for tourism; although both islands have natural beauty and attractions for visitors. The islands enjoy a tropical climate with a rainy season from June to December; the rest of the time is drier with temperatures (°C) in the 20s and 30s. Both islands have gentle mountains and hills, there are rivers and streams to explore, there are lush valleys, and there are corals in the seas near "TT" as well. The capital is called Port-of-Spain and the main international airport is located near this city.
If you stay long enough after Carnival you'll be around to see the Easter tradition of goat racing, kind of like horse racing but of the Trinidad and Tobago variety. Also around Easter, Leatherback Turtles come onto Trinidad's Matura Beach to lay their eggs, together with a conservation group you can see these endangered turtles do their thing in peace. Obviously being islands, there are numerous sandy beaches with clear blue water to enjoy, if you need some rest and relaxation along the way.
Adventure Sports in Trinidad and Tobago
Trinidad and Tobago is all about outdoor activities, and adventure sports are a large part of that. From SUP (stand-up paddle boarding), to snorkelling, and even horse riding there's much to do. Other adventure sports include zip-lining that you can do at Chaguaramas and Arouca. Mountain biking is also growing in popularity particularly among sports tourists who come to TT to take advantage of its mountainous and hilly terrain. Tobago is the place to go for Scuba divers – head to the islands off Chaguaramas for the best diving. Canoe or kayak along TT's rivers especially in the wet season when the rivers are overflowing with water. Then there's also sea kayaking particularly in the relatively sheltered Williams Bay. Sailing from Chaguaramas out into the rest of the Caribbean is also a popular water sport, with sailing season typically from about November to June. Then November to March there are also good swells for surfers, particularly on the northern coastlines, although surfing conditions aren't necessarily great every day.
Other Pre-Lenten Festivals Around the World:
Sydney Mardi Gras in Australia
Barranquilla's Carnival in Colombia
Fiesta de las Flores y las Frutas in Ecuador
Carnival of Santa Cruz de Tenerife in the Canary Islands 
New Orleans Mardi Gras in the United States