Adventure Travel Destinations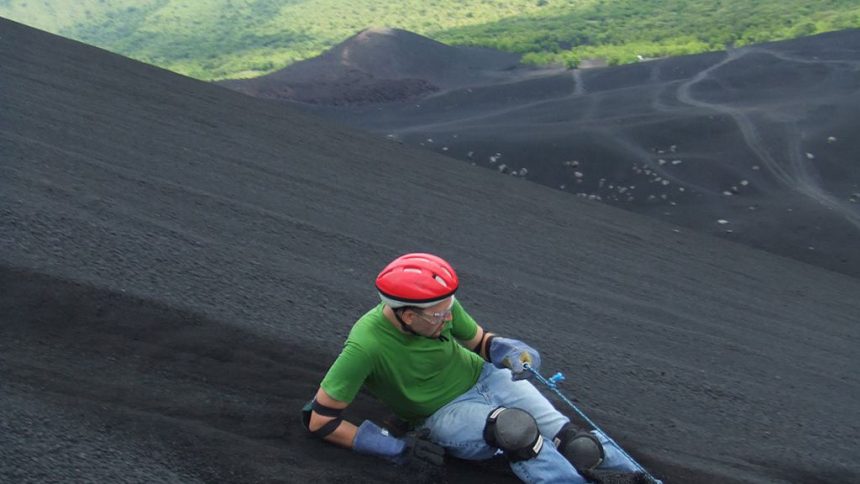 Where to Go Volcano Boarding
December 13, 2017
Some of us are drawn to volcanoes, which can be as hypnotically beautiful as they are dangerous. As numbers of travelers undertaking extreme travel adventurers increases these days, so do numbers of those venturing on treks and hikes to volcanic sites, and even participating in volcano climbing. Maybe you've climbed a volcano. But are you crazy enough to try volcano boarding? Volcano boarding, also known as volcano surfing or ash boarding, is definitely one of the gnarliest niche extreme travel adventures to try before you die. Find out where to go volcano boarding and what to expect.
The most popular destination for volcano boarding is Leon, Nicaragua, on Cerro Negro. Although this is an active volcano, the last eruption was in 1999. Nicaragua is home to a number of volcanoes in every kind of state, from active to dormant to extinct, and offer a wide range of excellent volcano hiking and climbing activities.
Interestingly, in 2016, an unusually large number of the active volcanoes, including Cerro Negro, showed more seismic activity than usual, but their crankiness has since died down again.
One of the more unknown extreme sports, volcano boarding is also practiced on a more dangerous volcano, Mt Yasur in Tanna on the tiny island of Vanuato. This is where Zoltan Istvan, a National Geographic reporter credited with inventing the sport, first curiously careened down the side of the volcano with a snowboard in 2002. He describes the experience in this archived article found on the Nat Geo website.
"I don't really know what qualifies as a new extreme sport. Some people argue it involves competition; others say it depends on the number of people who engage in it. A few base jumpers I know say a new extreme sport must be unique, repeatable, and dangerous. This fits the bill." – Zoltan Istvan on volcano boarding.
The threat of an eruption in September of this year forced a mass evacuation of the 11,000 local inhabitants. Thankfully, the threat has since been downgraded, with the eruption detected to occur inside the volcano and activity now dropping.
It just goes to show how important it is to check volcanic conditions before arriving to volcanic adventure travel destinations.
Volcano boarding was popularized by Aussie tour guide, Darryn Webb, who founded Bigfoot Hostel in Nicaragua in 2005. After experimenting with barreling down the gravelly slopes on mattresses and fridge doors, as locals had done before him, he developed the plywood sledges that volcano boarders use today.
Where to Go Volcano Boarding in Nicaragua and What to Expect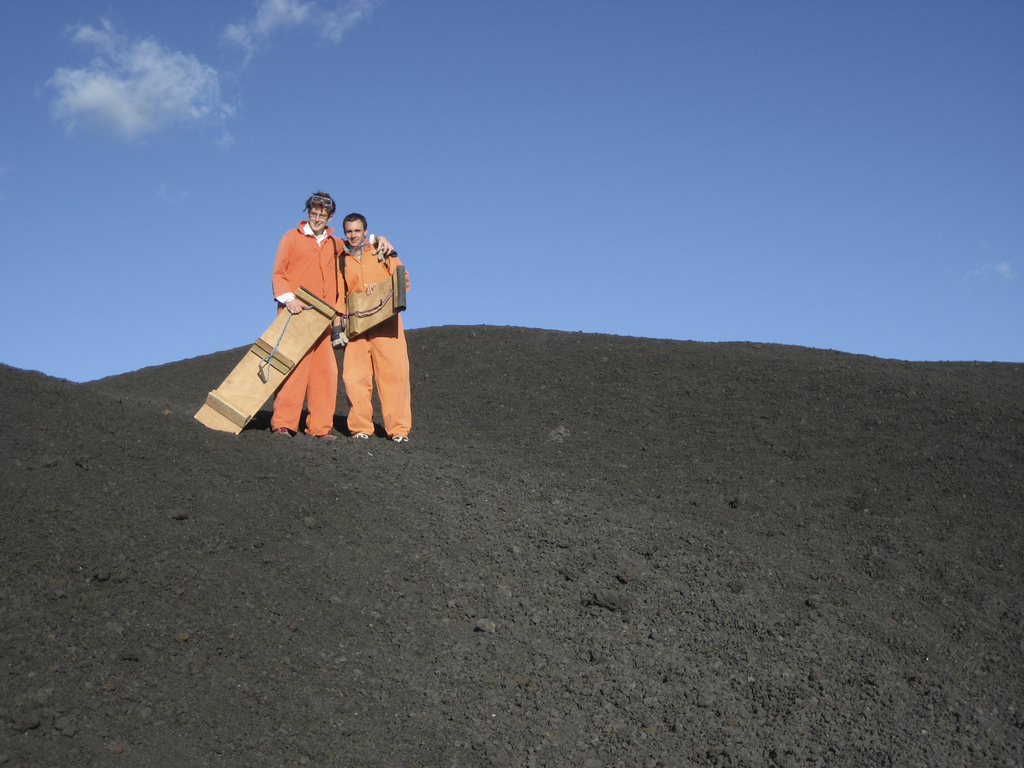 Photo by: Pete License: CC
The best way to get to Cerro Negro is to fly to Mangua and then take a one-hour bus ride to Leon. In Leon, there are a number of operators who organize volcano boarding trips, the most popular being the aforementioned Bigfoot, and the cost is around 30 USD. Their package offers a day of complimentary beer and mojitos for a fun-filled adventure from start to finish.
To slide down the volcano, you will first have to go up. This means a one hour, moderately challenging uphill hike. Make sure to bring at least a litre of water per person, plenty of sunscreen and if you want to keep your toenails, closed toe shoes are a must. Goggles and a bandana to protect your eyes and face are also advised as you can expect plenty of volcanic ash, dust and gravel to fly at you.
Once you reach the top change and change into your protective jumpsuit and take a moment to appreciate the views, which may not be so easy considering the adrenaline that is likely pulsing through you! It's now time to throw yourself down a seemingly near-vertical 728-metre high monster's back, for a ride that lasts a respectable three minutes.
Riders can reach speeds of up to 50 km/h, even 60 for the real speed freaks. The speed record is about 95 km/h. Expect more friction than with snow and don't try to stand up.
You use a leaning technique to speed up or slow down and at first, you can use your legs to break. However, once you reach a certain speed there's no going back and trying to stop will only result in wiping out and receiving a mouthful of volcanic rocks. Instead, lean back and enjoy the ride. And make sure to get some photos!