Adventure Travel in Western Europe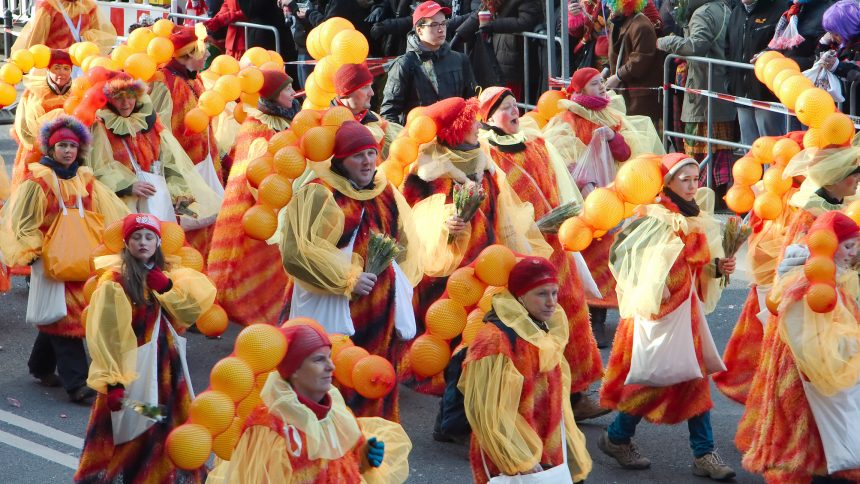 Pre-Lenten Festivals: Cologne Carnival
February 23, 2016
Before the fasting period of Lent (that leads up to the Christian celebration of Easter), many Christian countries and cultures find a way to celebrate Carnival. The Carnival period is usually in February and March – sometimes starting as early as January 6 – when there are special parties and parades, but usually there is one specific Carnival week that marks the height of festivities. Carnival celebrations also include Mardi Gras – the day that is the culmination of Carnival, also known as Fat Tuesday. This occurs just before the Lenten fasting period begins. Just like the dates for Carnival move around, the date for Mardi Gras also isn't fixed as it depends on exactly when Easter is each year. In our new series we look at pre-lenten festivals around the world. Next we head to Germany, to the northern city of Cologne which takes Carnival seriously and as a result hosts Europe's largest street party as part of the Cologne Carnival.
About the Cologne Carnival
The Cologne Carnival starts much earlier than many of the other Carnivals, it begins on the 11th minute of the 11th hour on the 11th of November, picking up pace on January 6 (Epiphany) and culminating in the days leading up to Shrove Tuesday with the pinnacle on so-called Rose Monday. This period is actually considered the "5th season" in Cologne – that's how big Carnival is to the locals. The street carnival period, with parades, is known as the "crazy days" and these are held between the Thursday (Women's Carnival Day) before Rose Monday and ends on Ash Wednesday. Other than the street parades, the whole carnival season is filled with fancy dress parties and masquerade balls. But if you're heading to Cologne for the main event here's what to expect (specific dates change depending on when Easter is held each year):
Women's Carnival Day (Thursday): Women in fancy dress all head to the Alter Markt at 11.11am to kick off the Carnival crazy days. There are traditional plays, parties and parades all afternoon stretching late into the evening.
Carnival Friday is kind of a hangover day, but there are parties through the day.
Carnival Saturday: start the morning with a 10.30am drink. Don't worry, it's tradition. Then revellers head to Neumarkt for "Funkenbiwak." Being Saturday night it's obvious what you have to do: find a party or masquerade ball to drink at.
Carnival Sunday means a parade through the city, and more evening revelries.
Rose Monday is the day for the official parade starting at about 10am. In addition to the parade there are stalls selling all kinds of local delights, plus about a million people come – in fancy dress – to watch on. You really should wear a costume to be a part of it.
Carnival Tuesday marks the last of the parade days, and there's some pretty theatrical weeping to mark the end of Carnival season. Nubbel – a life-size straw figure is burnt to mark the end of festivities and the beginning of Lent.
Finally, on Ash Wednesday eat fish and try to cure your hangover from what's been about a 5-6 day bender. Besides you'll need all of your strength back if you're to continue your adventure travel in Germany.
Adventure Travel in Germany
Anyone that's been on an adventure vacation in Europe will know that you always cross paths with Germans on hiking trails, ski slopes, bike paths and on the lakes. Germans seem to really love their adventure travel. They're always so fit and wholesome in their adventure travel wear, it's obvious they come from a country with adventure travel options aplenty.
In Germany there's much 20th century history to explore, but it's important to note that the east-west divide is not as strong as the north-south differences. The north is more reserved with financial hubs and business districts, where the south – where Bavaria is – is more cultural in the sense of the famous Oktoberfest, the killer beer- bratwurst-sauerkraut combination, lederhousen costumes and more.
The German landscape is filled with mountains, rivers and lakes. It's dotted with gorgeous castles (for example Neuschwanstein Castle) and perfectly manicured German villages. Germany is the perfect place to hire a car and go from town to town, although the trains are famous for being great (albeit expensive). If you are hiring a car one of the must-see sights is the so-called Romantic Road; a 350 kilometer route through the forests and mountains of Bavaria and Baden-Württemberg.
Adventure Sports in Germany
These are the best spots to go for adventure sports in Germany:
Skiing and snowboarding: Head to the Bavarian Alps or the mountains of Zugspitze for first-class ski resorts. The Harz and the Sauerland areas are recommended for cross-country skiers, while Allgäu is Germany's largest ski area with 500 kilometers (!!) of slopes.
Hiking and walking: Germans love hiking, walking or even the relatively newly popular Nordic Walking. There are well-marked trails at Zugspitze, near the Eifel crater volcano, the Bavarian Forest and the Black Forest among many others. Thuringian Forest offers one of the country's most scenic walking trails.
Water sports: Germany has coastlines, plus is dripping in lakes, rivers and creeks. All in all it really is a pretty "wet" country in that regard. Kayakers and canoe-ers should head to Müritz National Park particularly if you're prepared or a multi-day adventure with quite a bit of camping. Sailing, windsurfing and kitesurfing can be done along the north coast at either the Baltic Sea or the North Sea. Other spots  to try water sports include the Rhine River, Chiemsee (a famous recreation area), Lake Constance and the stunning Eibsee lake.
Cycling: Germany actually has hundreds of marked long distance cycling routes, so if you're a bike rider Germany is a dream. Try the Elbe Cycling Route or if you're a mountain biker try the Mountain Bike Rennsteig, which tracks near the aforementioned Thuringian Forest walking route.
Climbing: head to Saxon Switzerland (not in Switzerland, but in Saxony) where you can do climbing around the Elbe Valley region.
Other pre-lenten festivals Around the World:
Sydney Mardi Gras in Australia
Barranquilla's Carnival in Colombia
Fiesta de las Flores y las Frutas in Ecuador
Carnival of Santa Cruz de Tenerife in the Canary Islands 
New Orleans Mardi Gras in the United States