Extreme Sports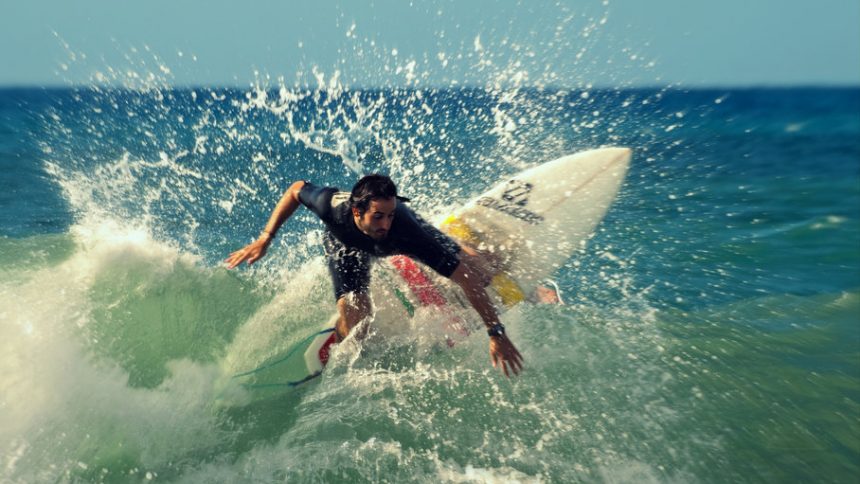 The Most Dangerous Surf Spots (That Are Still Worth It)
February 25, 2016
There's probably not much scarier that facing a big wall of water as it comes racing toward you at break-neck speed. For surfers who are on top of their game and who want a challenge they're likely to want to grab their board and jump right in and conquer their fears. So what makes for dangerous surf? Tall waves, massive swells, unexpected obstacles, and maybe a few hairy extras like sharks. Read on surfers!
Pipeline, Hawaii (US)
Located on the Hawaiian island of Oahu on the North Shore, the Banzai Pipeline or known simply as "the Pipe" is probably one of the scariest and most coveted waves of them all. Be pretty confident of your surfing skills because not only are the waves intense, there are often a pack of people waiting as well. You don't want to drop in on any one else's ride and there are some regulars there whose turf you probably shouldn't get involved with. The waves here break on one of three reefs, meaning that giant waves form in thick curls creating a pipe-style wave where surfers can ride in the tube. This surf spot is one of the world's deadliest and the average wave is about 3 meters tall (but can be much taller). The spot is also popular with bodyboarders.  Plus, the pop cult surf movie Blue Crush was filmed here.
Mavericks, California (US)
Mavericks is a surfing spot in California located about 3 kilometers from the shoreline at Pillar Point Harbor. Waves break on an underwater rock formation, and can be as tall as 24 meters! Big wave surfers – a specialty within surfers who can surf giant waves like those at Mavericks – come to this location during the winter months. There's even an invite-only surf contest called Titans of Mavericks. Given the challenge posed by this adrenalin-rush-inducing mammoth wave, this wave is for those that have plenty of big wave experience, otherwise it could prove deadly!
Teahupo'o, Tahiti
Located on the southern end of the island of Tahiti (in French Polynesia), is one of the world's most dangerous waves called Teahupo'o. The reason this wave is so intense is that the earth goes from very deep to very shallow. So something like 150 meter deep water very quickly becomes 2 meter deep water, which means that the huge flow of water coming toward the beach curls into wave after huge wave as they break over the reef there. Teahupo'o is popular with bodyboarders, kite surfers and windsurfers too. It's considered one of the heaviest waves in the world, and getting caught in a wave like this could be deadly. Teahupo'o, Mavericks and Pipeline could all be described as "Heavy" waves just for the best surfers.
Cyclops, Australia
As with most of the spots on this list, Cyclops near Esperance in Western Australia is reserved for pros or those with plenty of surfing experience. You have to get a boat to the surf spot, and you'll likely be stacking quite a few times as part of the surf day. Some call it the "most hyped least surfed wave in the world." It's considered Australia's heaviest wave.
New Smyrna, Florida (US)
New Smyrna off the coast of Florida, is not the most challenging in the world, but it's made this list because it's one of the most shark infested surf spots in the world. It's also kind of considered the "shark attack capital of the world" if you could name such a place. While the surf itself won't be as challenging as some of the others in this list, that could soon change if you come face to face with a set of shark teeth.
Puerto Escondido, Mexico
Next we head to Mexico, where the Puerto Escondido wave is among the world's most dangerous surf spots. Known as "the Mexican Pipeline." The surf is variable; but if you want BIG waves it's best to go in the wet season. Beach Break is the wave to try at Puerto Escondido if you want the biggest challenge. However, the Far Bar end of the beach is where the most dangerous surfing is at Puerto Escondido with injuries and even death occurring here from time to time.
Dungeons, South Africa
Dungeons (located at Hout Bay) is dangerous for two reasons. Number 1 it's one of the biggest big wave surf spots in the world, two there are lots of sharks that hang out outside of the reef. Swells of up to 15 meters tall are known to happen here especially in winter. Jet skis normally take surfers out to the surf spots, alternatively some surfers paddle out instead. This is one of the "sharkiest" big waves in the world, and sharks have been known to jump out of the waves. Yikes! Oh by the way there is a seal colony nearby (and who likes eating seals if not sharks!!) and Great Whites are known to hang out at Dungeons too. But if the thrill of one of the world's best big waves is enough of a drawcard for you then perhaps not even shark infested waters will stop you from surfing Dungeons.