Adventure Travel in Central America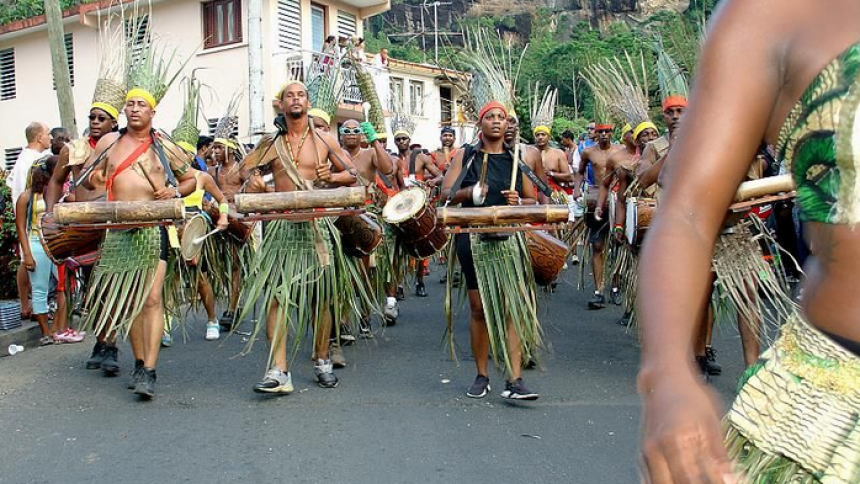 Pre-Lenten Festivals: Carnival Martinique
February 17, 2016
Before the fasting period of Lent (that leads up to the Christian celebration of Easter), many Christian countries and cultures find a way to celebrate Carnival. The Carnival period is usually in February and March – sometimes starting as early as January 6 – when there are special parties and parades, but usually there is one specific Carnival week that marks the height of festivities. Carnival celebrations also include Mardi Gras – the day that is the culmination of Carnival, also known as Fat Tuesday. This occurs just before the Lenten fasting period begins. Just like the dates for Carnival move around, the date for Mardi Gras also isn't fixed as it depends on exactly when Easter is each year. In our new series we look at pre-lenten festivals around the world. Martinique is a French island in the Caribbean, and their Carnival has both European flavour and Creole influences, find out more about this little island that packs a big Carnival punch.
About Carnival Martinique
This festival is one of the longer Carnival celebrations lasting from the first Sunday after Epiphany (January 6) to Shrove Tuesday (aka Mardi Gras). There are street parades and parties that get more and more elaborate and celebratory as the Carnival weeks progress to their rising crescendo. The 5-day Carnival Parade involves the end of normal life on the small island with about 300,000 inhabitants and this gives way to Carnival parades and parties that last all day and all night. A Carnival King and Queen lead the parade; these two figures are chosen from among the nominees from the various villages on the island. Musical groups pour live music into the streets across all corners of Martinique ensuring that no matter where you are you know it's party time (although the festivities are concentrated in the Fort-de-France region). Masks and costumes are a must, which each day having a distinct theme and flavour (like Burlesque Weddings, or devils and devilettes). This period of extravagance is followed by the fasting period of Lent where music and dancing aren't really done.
Adventure Travel in Martinique
Beaches, mountains (literally) of rain-forests and the Mount Pelee volcano are the dominant features of Martinique's breathtaking natural landscape. One of the tourist "attractions" is the remains of the former capital, Saint-Pierre, that was flattened by Mount Pelee's 1902 eruption. Today it's an open air museum, and a good reminder of the tremendous force of Mother Nature. For adventure travelers Martinique reflects both French and Caribbean influences; in fact as one of the departments (kind of like a state) of France French is the official language, they use Euros as currency, and of course Martinique is part of the European Union! Of course this is reflected in food and culture too, so adventure travelers are in for a real delight. Being in the Caribbean, Martinique shares in the tropical climate with relative warm temps, the rainy season is June to October, and the island is prone to severe cyclones so just make sure you check weather forecasts. If you're doing a big of a Caribbean island-hopping adventure vacation, there are some ferry services which can take you to Martinique from nearby islands…that is unless of course you're sailing around in your own yacht… in which case just sail on up and remember to have your EU Passport or Schengen Zone visa handy.
Adventure Sports in Martinique
There is plenty of adventure sports to do in Martinique. Start by getting your bearings and get a view of the whole island from the lighthouse at Presqu'ile de la Caravelle. For those into hiking it's possible to hike up the still active volcano, Mount Pelee. For water sports lovers there are coral reefs and marine life to explore either as a diver or snorkeler. Snorkelers will be able to find reefs teeming with colorful fish from pretty much anywhere off the shoreline, while scuba divers can dive reefs and wrecks. The most interesting thing about wreck dives here is that many of the ships were downed by the Pelee eruption meaning you get a special glimpse at the level of destruction this volcano caused. Divers usually head to Diamond Rock dive site for its exceptional diving. There are plenty of tour operators offering kite-surfing and windsurfing lessons from the endless coastline. Don't forget to head out to Josephine's Bath where you can bathe in the warm waters of this sandy shallow. Going sailing is another great option (day trips or longer boating trips in the Caribbean are available). If trekking and camping in the rain-forests of Martinique are your things, head to spots like Coeur-Bouliki. After all the adventure sports your heart desires, Les Salines is probably the most popular beach, where you can rest, bathe and sunbake. To picture Les Salines, imagine white sandy beaches, clear blue water and coconut trees: postcard perfect!
Other pre-lenten festivals Around the World:
Sydney Mardi Gras in Australia
Barranquilla's Carnival in Colombia
Fiesta de las Flores y las Frutas in Ecuador
Carnival of Santa Cruz de Tenerife in the Canary Islands 
New Orleans Mardi Gras in the United States