Adventure Travel in North Africa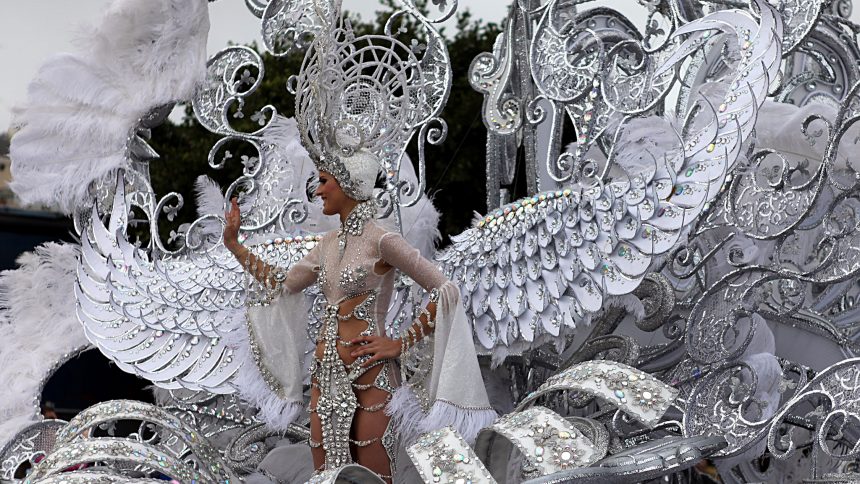 Pre Lenten Festivals: Carnival of Santa Cruz de Tenerife
February 19, 2016
Before the fasting period of Lent (that leads up to the Christian celebration of Easter), many Christian countries and cultures find a way to celebrate Carnival. The Carnival period is usually in February and March – sometimes starting as early as January 6 – when there are special parties and parades, but usually there is one specific Carnival week that marks the height of festivities. Carnival celebrations also include Mardi Gras – the day that is the culmination of Carnival, also known as Fat Tuesday. This occurs just before the Lenten fasting period begins. Just like the dates for Carnival move around, the date for Mardi Gras also isn't fixed as it depends on exactly when Easter is each year. In our new series we look at pre-lenten festivals around the world. Next we head to the Spanish territory called the Canary Islands, off the north west coast of Africa, to the Canary Island's capital city where they hold the Carnival of Santa Cruz de Tenerife.
About Carnival of Santa Cruz de Tenerife
One of the world's largest Carnival festivals is the Carnival of Santa Cruz de Tenerife, it's also Spain's largest Carnival festival. The events start on Friday before Lent starts, concluding on Ash Wednesday. There's something extravagant to see and do each day of Carnival. On Friday the so-called Announcement Parade is held, where all participating groups march through the major streets of Santa Cruz announcing the arrival and beginning of Carnival. The street carnival begins on the Friday night, thus setting off the 4-5 day festival. Saturday is dedicated to dance, with dance venues including official venues, open-air stages, side-streets and even cars that set up with blaring music. Monday is a day of feasts and electronic music, while Tuesday is the Grand Finale with carnival floats and parades. On Tuesday there's a tourist show in the afternoon that people from nearby islands come to see. A weird thing happens on Ash Wednesday (the first day of Lent) the city transforms to mourning-mode and a giant paper sardine is burned.
Adventure Travel in the Canary Islands
There are half a dozen islands that make up the Canary Islands, Gran Canaria is the largest of the islands and home to one of the Canary's two capitals, Las Palmas de Gran Canaria. The other capital is where the pre-Lenten Carnival takes place – Santa Cruz de Tenerife – on the island simply called Tenerife.
The Canary Islands are a mecca for adventure travelers, particularly from Europe, because they have Spanish/European influences, while also being relatively isolated off the coast of Morocco in the Atlantic Ocean. For European adventure travelers, they're an exotic vacation, combined with temperate weather year-round, and plenty of adventure sports to enjoy while taking a short vacation.
While many adventure travelers head to Tenerife, other options include Lanzarote for its volcanic landscape, Fuerteventura, La Gomera, La Palma or El Hierro. All in all this Spanish archipelago is relatively easy to get to from many major cities in Europe with discount airlines flying most often to Tenerife. Plus, once you get there, it's quite easy to get a ferry between the islands.
Obviously if you want to get to the Canary Islands in time for the Carnival of Santa Cruz de Tenerife then it's best to arrive in the week before Lent, but generally speaking the best time to go is from between March and May and from September to November when the weather is still great but you can avoid tourist crowds. The Christmas and summer periods are the two tourist peak seasons, if you go then be prepared to share the landscape and the beaches with swarms of others. Still, don't let that hold you back!
Adventure Sports in the Canary Islands
The Canaries are great for surfers, some of the best surf spots include: El Quemao for experienced surfers, the Bubble on weekdays to escape the weekend crowds, the isolated Los Lobos if you want to commit a whole day to surfing, and Morro Negro for those experienced in reef surfing and who also want to combine surfing with a road-trip. September to April are great for surfers, although the best swells are really from November to February.
Volcano-lovers will also love the Canary Islands. On Tenerife you'll find Spain's tallest mountain, Mount Teide, which is a volcano that can be snow-capped during winter creating one of the most photographed scenes in the Canaries. Mount Teide is quite a challenging climb if you want to hike to the summit. It involves a trek of about 22 kilometers, plus spending about 5 hours in high altitude conditions. For a person of average fitness, going with a group the climb can take the whole day.
The Canary Islands island of Fuerteventura is a magnet for windsurfers (head to Pajara for instance), while for paragliding Adeje is worth visiting. Los Gigantes on Tenerife is a site of huge cliffs rising up out of the water, and it's a great locale for whale and dolphin watching. El Medano also on Tenerife is also great for wind surfing and kite surfing.
For walkers, La Gomera is probably the best bet, while there is trail running at Santiago del Teide and Guia de Isora. The mountainous area around Masca (on Tenerife) is also great for hikes, although can hire a car and experience its winding roads on a bit of road-trip. If you want more of this type of thing head to the Buenavista del Norte area.
Obviously being a series of six islands there are plenty of beaches to laze on, or do some SUP, or go snorkeling. If Scuba Diving is your thing, the Canaries boast some of Europe's best dive sites. With warm clear waters (think a visibility of about 30 meters) and some beautiful corals and marine life. The Canaries actually have a number of marine reserves so you can be sure you're seeing the very best of nature in a protected environment. Once you're under water you might see sea turtles, whale sharks and even dolphins! If you need more encouragement consider that you can also see some genuinely breathtaking underwater cliffs and caves.
The Canary Islands offer an abundance of activities and adventure sports for even the most experienced adventure travelers. Stay a week, or two, or three…
Other pre-lenten festivals Around the World:
Sydney Mardi Gras in Australia
Barranquilla's Carnival in Colombia
Fiesta de las Flores y las Frutas in Ecuador
Carnival of Santa Cruz de Tenerife in the Canary Islands 
New Orleans Mardi Gras in the United States