Adventure Travel in South America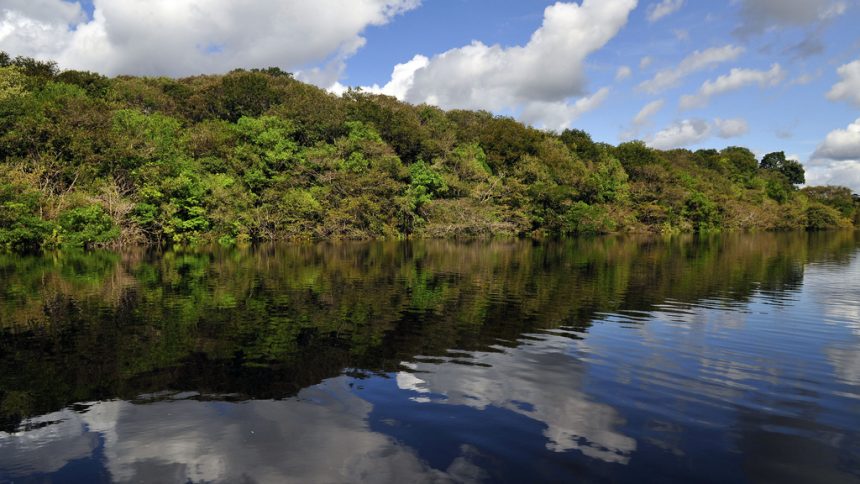 The Amazing Amazon Rainforest
February 3, 2016
The Amazon Rainforest is that famed jungle covering a huge part of South America, that alone makes up more than half (!!) of the world's rainforests. It's also the most bio-diverse tropical rainforest in the world, plus it is home to vast swathes of untouched and unexplored land. The mysteries of the Amazon Jungle offers ample adventure travel opportunities for both seasoned explorers and first-timers discovering the highlights of wonderful South America.
 Photo By: CIAT
About the Amazon Rainforest
The Amazon Rainforest covers a huge swathe of the northern part of South America stretching from the Atlantic Ocean in the east to the Andes mountain range in the west. About 60% of the huge rainforest is located in Brazil while the rest reaches into Peru, Colombia, Venezuela, Ecuador, Bolivia, Guyana, Suriname and French Guiana. Obviously, being so big there's not just one way you can see the Amazon; all of the countries where the Amazon reaches will have their own offerings and suggest different activities you can do. If you are going to South America specifically to see the Amazon then Brazil is probably  your best bet, although if you're travelling around in any of the aforementioned countries then  you can do side-trips of a just a few days or even a few weeks into the Amazon Rainforest.
Before we go on, let's just stop for a minuted to consider that there are almost 400 billion individual trees in the Amazon Jungle. It's huge! So during your stay you're likely to see just a tiny portion of it, and vast tracts of the Amazon haven't really even been explored by anyone at all. Another incredible thing about the Amazon is that each year about 182 million tons of dust from the Sahara desert blow over the Atlantic Ocean with almost 30 million tons of that dust reaching the Amazon. NASA research suggests this dust from the Sahara helps feed the plants of the Amazon. Incredible we know! Check out this video for more on this amazing natural occurrence:
What to See in the Amazon Rainforest
The Amazon has unparalleled biodiversity with millions of different insect species; tens of thousands of plants; thousands of birds, mammals and fish types; as well as hundreds of kinds of amphibians and reptiles. If you head out on a trek or cruise keep your eye out for the following: black caiman (a kind of crocodile), giant anacondas, electric eels, piranhas, scarlet macaws (beautifully colorful parrot-esque birds), Howler monkeys, Emperor tamarins, and literally thousands of other species of animal and plant-life.
Another way of looking at Amazonia (another name for the Amazon Rainforest) is by considering that the rainforest covers most of the Amazon River Basin where the Amazon River and its tributaries drain into the Atlantic Ocean. Actually, "course" into the Atlantic Ocean might be a more apt way of describing it because fresh water from these rivers can be found miles out in the ocean – that is how strong the water currents from the Amazon River pulse into the Atlantic.
What to Do in the Amazon Rainforest
The first thing you'll want to do is book a tour of the jungle, make sure you're going with someone who is reputable for sustainable travel. It's important to pick a guide who'll be able to point out the many interesting times of flora and fauna, plus try and do at least a one night stay so you can see the Amazon at night as well.
Include a cruise along the Amazon River or one of its tributaries to see water-life and the magnificent banks of the river. And if you're in Brazil, perhaps head to Manaus from where you can see the meeting of the waters where the black waters of the Negro River converge with the milky coloured water of of the Rio Solimoes in what's called rivers "confluencing."  If you're in Manaus also go on a live-aboard to the Anavilhanas Archipelago, which is a series of little islands amid the Negro River. Keep in mind that Manaus is the biggest city in the Amazon and considered the heart of the Amazon so if you're in Brazil this could be a good base for your Amazonian discovery.
With so many rivers and waterways snaking their way all over the Amazon as they head to the Atlantic, it will probably come as no surprise that there is plenty of opportunity for things like white water rafting. For rafting we recommend heading to Peru's Apurímac River or Tambopata River both of which offer multi-day rafting opportunities. For more experienced rafters head to Cotahuasi and Colca Canyons (also in Peru's portion of the Amazon) as these are among the world's deepest canyons and will give technical rafters a thrill.
For those who want to do some adventure sports on the river, but a bit more low-key than white-water rafting go on a canoe or kayaking trip.
Other adventure sports in the Amazon include canopy walks and zip-linging, or make like a monkey and swing around with a group like Tropical Tree Climbing who organise tree climbing single day or multi day trips, hikes and wilderness exploration tours.
Amazon Rainforest Conservation
One of the main issues facing the Amazon Rainforest is deforestation and to a much lesser extent damage done by tourists. Try to choose tour companies and guides that place conservation and sustainable travel at the center of everything they do. This could include things like staying at eco-lodges, and trying to minimise damage when you go trekking out in the rainforest. To do more than just take an Amazon Rainforest vacation, consider volunteering at a wildlife sanctuary or a environmental conservation group. To find out more about sustainable travel read our recent article on the 7 cardinal rules of sustainable travel or our tips on volunteering abroad.