Adventure Travel in North Africa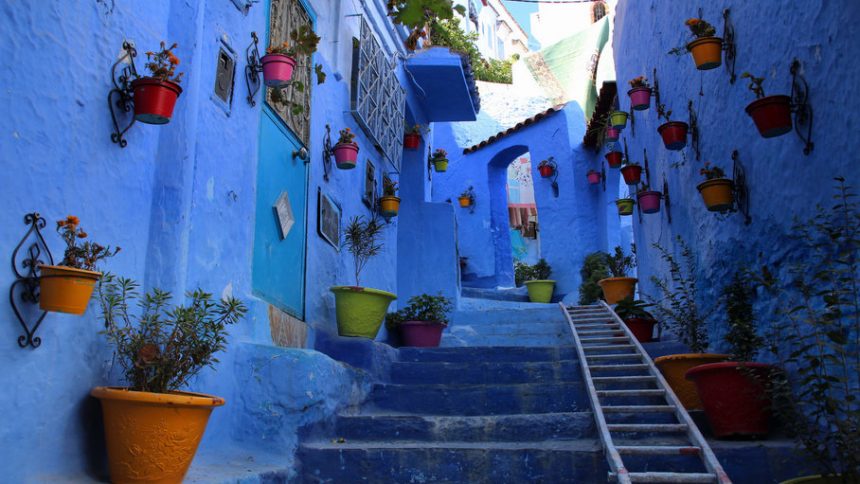 Classic Backpacking in the Middle East and North Africa Routes
March 7, 2016
Lately the Middle East and North Africa have been in the headlines for all the wrong reasons. But for backpackers who are ready to jump in the deep-end and visit some of the most vibrant, and historically and culturally important sites in the world then read on! There are still many countries in the Middle East and North Africa you can safely visit. Although, of course, you should always check travel warnings. From traditional Moroccan riads to the pyramids of Giza and the beautiful site of Petra to the wonders of Jerusalem, to one of the most famous mosques in the world, North Africa and the Middle East should be on every intrepid backpackers hit list. Here are the most popular destinations for backpackers and what you simply must see while backpacking in the Middle East and North Africa.
Morocco
First stop for most backpackers in Morocco will be Marrakech. Opt to stay in a beautiful traditional riad (Moroccan-style home) instead of a typical hostel. Although many hostels will be in riads anyway. In the warmer months you can get the cheapest beds on the rooftops of riads with communal bathrooms – there's nothing like sleeping under the stars in Morocco! The main square and market are the main attractions here. From Marrakech you can do side-trips to the Sahara, the majestic Ait Bouguemez Valley and the High Atlas mountains. When at the High Atlas mountains you'll likely visit the town of Ait-Benhaddou where the mud-brick homes are UNESCO listed and the stunning Todgha Gorge.
Meknes and Fez are two nearby cities worth visiting that are kind of like mini versions of Marrakech. They both have their own style, walled cities and beautiful Moroccan architecture. Fez is probably the crazier of the two with its famous tannery, while Meknes is less touristy and provides a more laid-back Moroccan feel – if there can be a "laid back" version of Morocco!
You must visit Chefchaouen (pictured in the cover photo of this article). The white washed and blue walls of pretty much all the homes in the town make it stand out against the Rif mountains. Walking the winding streets and watching a few lazy sunsets will be just what you need.
Essaouira is a pretty cool old walled town, although for surfers and other water-sports lovers head to nearby Taghazout instead for a bit of chill. If you're out of time, you can probably skip cities like Casablanca and the capital, Rabat.
Egypt
Listing the main tourist sites in Egypt is like a laundry list of cliches. Yet as the home of ancient Egypt, there's a reason why the tourist attractions here are on everyone's to-do list. There's only one place you can see the Pyramids of Giza, or to take a photo kissing the nose of the Great Sphinx of Giza, or walk in the Valley of the Kings, or see the temples at Abu Simbel, or see the Luxor temple. You get the idea, Egypt is a must for backpackers if for no other reason than to see the most famous sites of ancient Egypt.
Start off in bustling Cairo where famous sites like the Pyramids of Giza and Tutankhamun's mask in the Egyptian Museum are to be found. Then head on a multi-day tour of the Sahara Desert where you should camp for a few nights and meet some local Berbers. Here you can go sand-boarding and ride in a jeep across giant sand dunes, or bathe in an oasis. Next up head on a boat cruise up the Nile to Luxor where you can see the Valley of the Kings including Tutankhamun's tomb. Other sites like the unbelievably impressive Luxur Temple and Abu Simbel can be seen from here. They will give you a glimpse of the wonder of ancient Egypt that will leave you wanting more. Treat yourself to a hot air balloon ride over the Valley of the Kings – you won't soon forget it!
Finally, check travel warnings, but head over to the Sinai Peninsula if you can. From towns like Dahab or Sharm el-Sheik (we prefer Dahab) you can visit some of the world's best scuba diving spots found in Egypt's portion of the Red Sea. Dahab is a great spot to stay and get your scuba diver's license too!
Jordan
The two major sites in Jordan are undoubtedly Petra and Wadi Rum. You can generally cross the border from Egypt's Sinai Peninsula (by briefly entering Israel), cross into Jordan from Israel at one of several border crossings, or fly into the capital of Jordan, Amman and travel south to these two major sites.
Petra is an ancient city carved out of sandstone and you can either by a 1 or 2 day ticket to see this giant site. If you're accommodation is there, then one day is potentially enough, although if you want to spend more seeing everything in detail then a two day ticket may be better.
The Wadi Rum desert with its granite cliffs offer plenty for bouldering enthusiasts. We recommend camping at least one night there. There's nothing like watching the sunset and sleeping under the stars at Wadi Rum. You can do tours from coastal city of Aqaba on the Red Sea or from Amman.
Another place to go is the Dead Sea – which has the most saline water on Earth. This essentially means that the water is VERY salty. Two things about this. One, it's famous for being very floaty, because the water is so "thick" with salt. Two if you have any cuts or scrapes or have just shaved, the water will be very painful on any open cuts – no matter now small. Don't get the water in your eyes! Right near the Dead Sea there are some famous mud baths, which are allegedly very good for your skin.
For those interested in religious and historical sites visit Bethany Beyond the Jordan – where Jesus is said to have been baptized. Amman is a cosmopolitan capital, but other than a good transit point and base location, not too many backpackers linger here.
Israel
Israel is home to some of the world's most important religious sites that are extraordinarily important to Jews, Christians and Muslims. But more than that these same sites are important to people of no faith too because of the relevance these sites have on history and even on modern day politics and society.
For backpackers there party life and beautiful beaches found in Tel Aviv are a must. Tel Aviv is a modern, vibrant city with a bubbling arts and culture scene.
Backpackers also spend time seeing the many religious and historical sites to be found in Jerusalem, then there's the beautiful Sea of Galilee where you can do bike riding trips, visit the Bahaii Gardens in Haifa, bathe in the Dead Sea from Israel (if you haven't from Jordan), or spend some time touring the Negev Desert.
If you're on the historical sights trail visit Bethlehem (which is the Palestinian Territories, not Israel but can be accessed from Israel) or Nazareth. Finally, if you didn't party enough in Tel Aviv, head to Eilat on the Red Sea from where you can go scuba diving or party until dawn!
Turkey
Turkey is a little bit in Europe too but we've included it in this Middle East/North Africa route planner because of its geographical proximity. Backpackers, for example, could just as easily find a cheap flight from mainland Europe as from another nearby country like Jordan or Egypt.
For backpackers Istanbul is undoubtedly the first-stop, seeing the stunning Blue Mosque, the Hagia Sophia and the Topkapi Palace. Undoubtedly you'll spend time shopping in the Grand Bazaar and tasting Turkish Delight and drinking strong Turkish coffee. Don't miss taking a boat cruise on the Bosphorus!
Australian and Kiwi backpackers will want to head to Gallipoli. Everyone else will likely head straight to sights like Troy, Ephesus, Izmir, and the white pools of Pamukkale. With huge – and beautiful – coastlines along the Aegean Sea and the Mediterranean Sea stop by Bodrum or Antalya for a bit of rest and relaxation. Then when you have your energy again head to Central Anatolia for famous spots like Konya and Cappadocia. Sleep in a cave in Cappadocia, and wake up early for a hot air balloon ride over the incredible rock formations (aka "fairy chimneys") here.
Read more about backpacking tips:
Classic Southeast Asia Backpacking Routes
Classic Backpacking in South America Routes
Classic Backpacking in Central America Routes
Classic Backpacking in North America Routes
Classic Backpacking in Europe Routes
Classic Backpacking in Australia Routes
Classic Backpacking in the East and South Asia Routes
Backpacking on a Shoestring Budget
Tips and Tricks for Backpackers
How to Make Friends While Backpacking Solo
9 Beginner's Mistakes Backpackers Make (and How to Avoid Them)
8 Surprising Things You'll Learn While Backpacking
Why You Must Backpack in Your 20s
How to Plan the Ultimate Backpacking Experience
Backpacking Tips if You're Older, Have a Child, Working or Taking a Dog
The Coolest and Most Unique Backpacker Hostels with a Difference