Backpacking Tips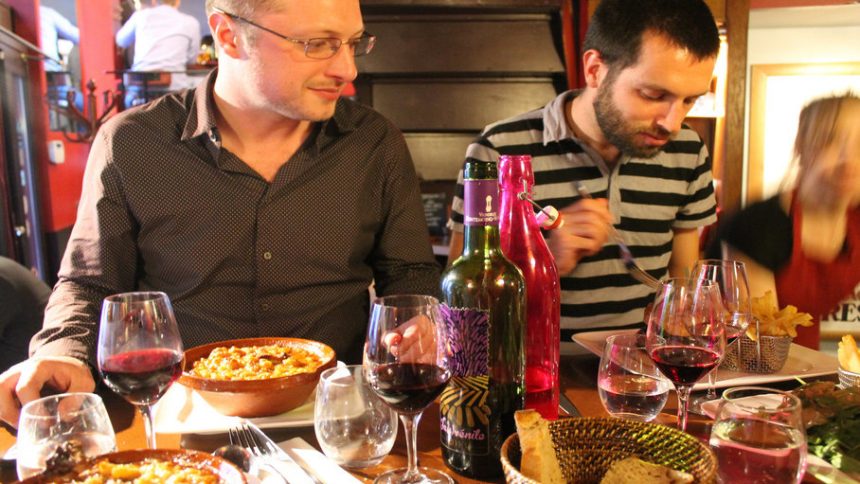 How to Make Friends While Backpacking Solo
March 16, 2016
Backpacking by yourself is a very cool life experience. When backpacking solo, you're more open to meeting new people and getting out of your comfort zone because your friends aren't there as a security blanket. BUT backpacking alone doesn't mean you have to be lonely, and meeting people while backpacking can result in some of life's most memorable experiences – and even new life-long friendships! Here's how to make friends while backpacking solo.
Join a Group Tour
Normally we don't recommend filling your backpacking trip with group tours because often you can do it much cheaper and have a more authentic and eye-opening experience when organising it yourself. But, if you're travelling solo and keen to make friends, then doing a couple of group tours will thrust you together with like-minded travellers, and you'll be bonding over tones of shared experiences. Plus, you might also be able to travel onward together with people on your group tours if you happen to strike up a nice friendship.
Stay in Hostels
Unlike hotels and motels, hostels offer you a chance to meet others in the bathroom, in the bedroom, in the common room and pretty much everywhere! Hostel front desks can also be a conduit for group activities. Staying in a hostel is the best way to meet others, and then you can arrange to do touristy stuff together, or grab a meal together. No one's saying everyone you meet in a hostel will be a life-long friend, as you might meet dozens of people and some of which will be boring or annoying. But you might also meet dozens who will be a bit of fun to hang out with, outgoing, interesting and some – maybe even – will become friends you'll stay in touch with for years. The key is to be open!
Do Hostel Activities
Hostels often arrange group activities like cooking nights, games nights, parties, trivia nights, drinking games and more. Do these, as they are the top opportunity to interact and strike up conversations with other travellers. You can suggest doing things together the following day, or head out together later that night.
Make the First Move
Sitting next to someone at a hostel event? Start talking to them. You're not the only shy one – ask where they've been, where they're going, what they recommend seeing in the city you're in – travelling offers the perfect opening lines.
Find a Travel Buddy
Once you've met some fun and interesting people, why not suggest seeing the sights or travelling onward together. It doesn't mean you need to do the rest of your trip with them, but if you're both heading to the same city next, why not go together? If nothing else, you'll have someone to share the train ride with.
Stay in a Mixed Dorm
Sometimes for security or privacy reasons (or just to take a break from the boisterous boys) women select to stay in womens-only dorms. While it's actually cheaper to stay in mixed dorms, as a woman you're also able to meet a whole lot of new people if you stay in mixed dorms as you're not locked off from 50% of the population.
Go on Pub Crawls
Pub crawls can be organised by hostels, but also by special pub crawl companies that you'll often find advertising these tours in the main square or in the hostels. While it can be hard to meet others on a free walking tour while everyone's concentrating on the talk, pub crawls are the perfect chance to meet others – partly because after a few shots you might be more brave about striking up a conversation. Try to lock in a shared plan for the next day, before everyone gets too drunk!
Do Short Courses
If you're staying for a longer time in a city or town, you can do a scuba diving course, teach English or learn a language, as this way you're far more likely to meet – and form friendships – with people. This is simply because you'll have a longer time to settle in, get comfortable and make more serious friendships. Then once you're done with the course you can opt to travel onward together.
Use Social Media
You all know how to use social media, but make sure you add people you travel with – you'd be surprised how many people you stay in touch with from your travels as you reminisce over shared experiences. Plus, you'd be surprised how many people you organise to catch up with again months or even years later. It's these special friendships, that come together by chance in the randomest of settings that can be life's sweetest treasures.
Be Open to "Unlikely" People
So, someone may not be your type, or the kind of people you'd hang out with back home. But travelling is all about being opening to new experiences and learning about the world. You won't step out of your comfort zone and grow as a person if you just want to seek out familiar people who are just like your friends back home. You might as well not go backpacking, and hang out at the mall at home. So even if someone is older or younger than you, or doesn't speak your language so well, or has a different skin colour, different clothes or different life story – give them a chance. You might learn more, and have more interesting backpacking stories if you open up to new people. Plus, in the world of Facebook and Skype, who cares if someone is from the other side of the world? It's easier to stay in touch than ever before.
Read more about backpacking tips:
Classic Southeast Asia Backpacking Routes
Classic Backpacking in South America Routes
Classic Backpacking in Central America Routes
Classic Backpacking in North America Routes
Classic Backpacking in Europe Routes
Classic Backpacking in Australia Routes
Classic Backpacking in the Middle East and North Africa Routes
Classic Backpacking in the East and South Asia Routes
Backpacking on a Shoestring Budget
Tips and Tricks for Backpackers
9 Beginner's Mistakes Backpackers Make (and How to Avoid Them)
8 Surprising Things You'll Learn While Backpacking
Why You Must Backpack in Your 20s
How to Plan the Ultimate Backpacking Experience
Backpacking Tips if You're Older, Have a Child, Working or Taking a Dog
The Coolest and Most Unique Backpacker Hostels with a Difference