Backpacking Tips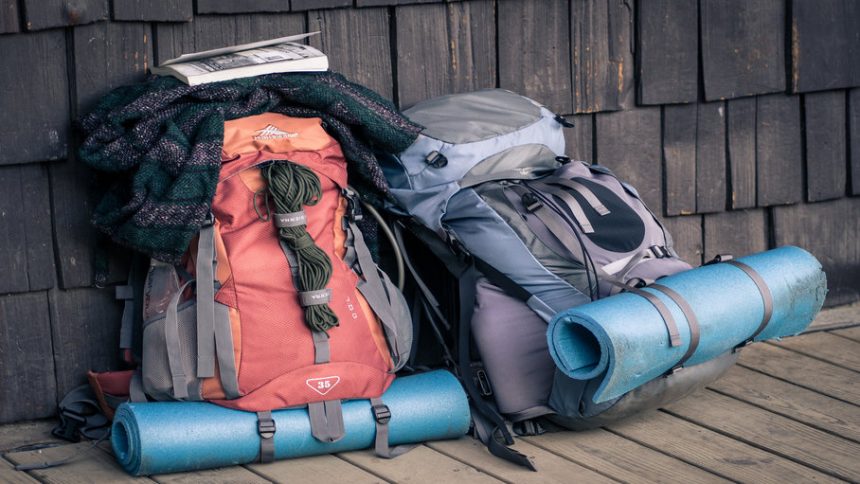 How to Pack for Backpacking
March 16, 2016
How to Choose a Backpack
Head to a luggage store and try on loads of different backpacks. Size will be in liters but we recommend taking no more than 10-12 kilograms, so ask store staff what size backpack is appropriate for you. A lot will depend on what size and strength you are. Pick a backpack that also has waist straps as that will take a long of weight off your shoulders and upper back. Try to make sure the backpack itself isn't too heavy so go for one that doesn't have too many extra pockets, zips and straps as all this adds to its weight meaning you'll be able to pack less before you hit the maximum.
You'll also need to decide what you need the backpack for, for example are you going to be adding a roll-up foam or using it for hiking and other activities, or are you just using it to take your stuff from city to city. Some backpacks have a small detachable day-pack, which is handy for day-trips. Some backpacks zip around so they open up like a traditional suitcase – handy for finding things. Others open at the top, which makes it harder to find things stuffed at the bottom. Some backpacks are water proof, which is handy if you're going somewhere where you might be getting wet! Some backpacks, have an extra casing that you can pull over the backpack to waterproof it.
These days there are millions of kinds and styles of backpack so head to a store with your purpose in mind a find one that suits. If you're backpacking for a long time, the backpack is not where you want to save money – it needs to be comfortable, functional, and durable. And a good backpack can be quite expensive.
Consider airline limits and the typical size of storage lockers both in terms of weight and size – you want to make sure your backpack is ok for airline transport plus that it will fit in lockers. Remember comfort is important and you might be wearing your backpack for hours on end and pulling it on and off trains and ferries. If it doesn't feel good in-store when it's empty and when you've put it on for just 5-10 minutes how will it feel when it's packed and you're walking 40 minutes from the train station to your hostel!?
Pick a visible colour too – almost everyone has black, navy or khaki green backpacks – easy to mix up at an airport carousel or in a pile of backpacks on a ferry. Choose red or yellow or something bright or patterned. Also, make sure it's easy to close and has a very sturdy zip. The last thing you want is to be hurrying to the airport and your zip breaks. #nightmare
What to Pack for Backpacking
Consider your destination, so if you're going to the Middle East you'll need more conservative clothes. If you're going to Nepal you'll likely need hiking boots. If you're going to Europe you're more likely to need city clothes than outdoor-wear. If you're going island hopping bathers and shorts are probably the most important. If you're going skiing you'll need different things to going Scuba diving – pack with purpose.
Keep in mind backpacking is NOT a fashion contest, you need durable clothes that are comfortable, don't crease, that you can wear over and over without needing to wash and iron after each wear. You'll be using not-that-great hostel washing machines so don't take anything that requires delicate care.
Use a travel packing checklist like the one below:
Underwear and socks
Pyjamas
Pants, jeans and/or leggings
Shorts
Tops
One dressier shirt if you're a man or dress/skirt if you're a woman
Jumper or cardigan
Waterproof jacket or coat
One set of sportswear if you plan on exercising
Shoes (the kind you need depends on where you're going!)
Thongs
Sunglasses
Hat
Travel towel
Toiletries: toothpaste, toothbrush, shampoo, conditioner, body wash, Deodorant, hair dryer, brush, sunscreen, insect repellent, small first aid kit, any other products you specifically need like make up or medicines
On a needs basis: bathers, hiking boots, runners, beach towel, beanie, scarf, gloves etc
Other bits and pieces: Phone and phone charger, international adapter, travel pillow, eye mask and ear plugs
Passport, money, bank cards!
Day pack or handbag if required
A small bag of washing powder and a travel washing line
How to Pack Your Backpack
How you pack your backpack very much depends on the kind of backpack you buy, and how you travel – you'll become a pro at packing your backpack within a few weeks anyway so no need to stress over this. A few tips:
Have a toiletries bag but always have your toiletries in a sealed plastic bag. At some point one of your bottles of shampoo will accidentally open and squeeze out on everything. It's easy to wash off your toothpaste and other items within the plastic bag – less fun if your shampoo has drenched all your clothes.
Have a little bag within your backpack for laundry – this means your stinky clothes won't make your fresh clothes smell, and will make it easier to do your laundry as you know exactly what's dirty.
Have your bigger items packed then stuff small items like underwear and socks in all the nooks and crannies.
IMPORTANT: Weigh your backpack when you're finished packing before you head to the airport, if you're over or close to the max take some stuff out. Be really critical. Do you really need three pairs of pants? Probably not.
Read more about backpacking tips:
Classic Southeast Asia Backpacking Routes
Classic Backpacking in South America Routes
Classic Backpacking in Central America Routes
Classic Backpacking in North America Routes
Classic Backpacking in Europe Routes
Classic Backpacking in Australia Routes
Classic Backpacking in the Middle East and North Africa Routes
Classic Backpacking in the East and South Asia Routes
Backpacking on a Shoestring Budget
Tips and Tricks for Backpackers
How to Make Friends While Backpacking Solo
9 Beginner's Mistakes Backpackers Make (and How to Avoid Them)
8 Surprising Things You'll Learn While Backpacking
Why You Must Backpack in Your 20s
How to Plan the Ultimate Backpacking Experience
Backpacking Tips if You're Older, Have a Child, Working or Taking a Dog
The Coolest and Most Unique Backpacker Hostels with a Difference