Watersport Adventures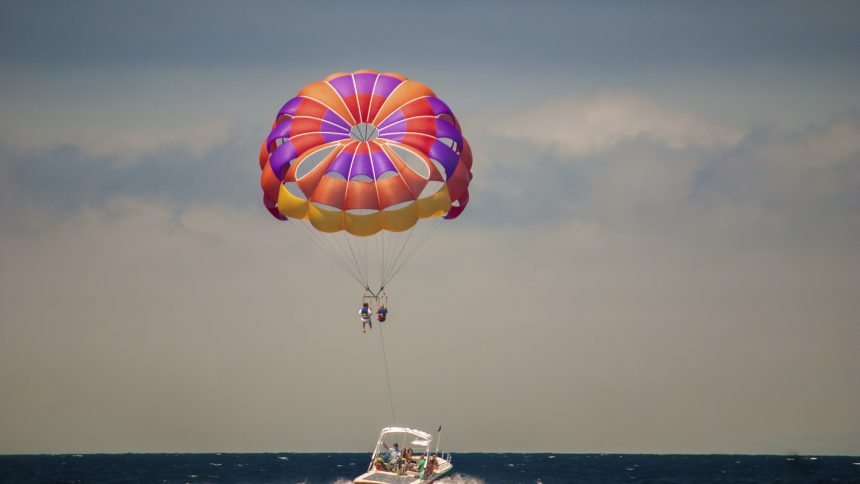 Explainer: Parasailing Vs Kitesurfing
May 31, 2016
Parasailing and kite surfing are often mixed up. Both take place on the water and both use a sail of sorts to catch the air  – but these are two completely different water sports. Find out what the differences are between parasailing and kite surfing are here.
What is Parasailing
With parasailing you're in a harness that's attached to a boat, and dragged behind the boat high up in the air. A parachute-esque canopy called a parasail wing soars high above you making sure that you sail high in the air. To land the  boat slows and you make a soft landing usually in the water. Usually this is a fun ride, and the person parasailing doesn't control the way the parasail goes because the boat is in control of the direction. Usually, one person parasails at the type, however, some operators allow two people to parasail together at once.
Parasailing should also not be confused with paragliding or hang gliding – both of which we wrote about here.
Where to Go Parasailing:
There are loads of beaches and lakes that offer parasailing, although in some locales it's more common than others:
What is Kitesurfing
Unlike paragliding, with kitesurfing the rider has full control over their direction. This is a technical water sport that involves serious skill. You have to be able to ride the waves on the board, also controlling the canopy staying in the air. The sport lends itself to all kinds of tricks like jumps and 360 degree turns. There's a bar you hang on to with one hand or two, which connects the kitesurfer to the canopy via a rope. For beginners, you will need lessons in kitesurfing before you go out on your own. Knowing how to control both the kite and the board safely is essential. Kitesurfing should not be confused with windsurfing, which is done on the water using a sail that is attached to a board.
Where to Go Kitesurfing:
Many touristy beach holiday destinations offer kitesurfing, although it's a specialised sport so check before you head off that there will be a good operator offering lessons. Here are some of the best areas to check out:
Tatajuba, Brazil: Great conditions for kitesurfing and not too many people to get in the way.
Dakhla, Morocco: Where oceans meet sand dunes, a great spot for kitesurfing and other adventure sports.
Ulcinj, Montenegro: More than 10 kilometers of beaches to explore – plenty of room for beginners and experienced kitesurfers wanting to stretch their wings.
Essaouira, Morocco: Great for surfers and kitesurfers alike – especially March to October.
Jambiani, Kenya: Great flat-water kitesurfing.
Other articles on travel destinations by the water and water sports adventure travel ideas:
Where to Scuba Dive with Big Animals 
The Best Scuba Diving Specialities
How to Get Your Scuba Diving License 
Where to Go Sea Kayaking this Summer
A Short History of Canoeing and Kayaking
A Short History of Deep Diving
Lovely Spots to Horse Ride on a Beach
The World's Biggest Waterfalls
Most Adventurous Water Parks for Young and Old
Prime Wind Surfing Destinations
Beautiful and Giant Rivers to Cruise Down