Water Sport Adventures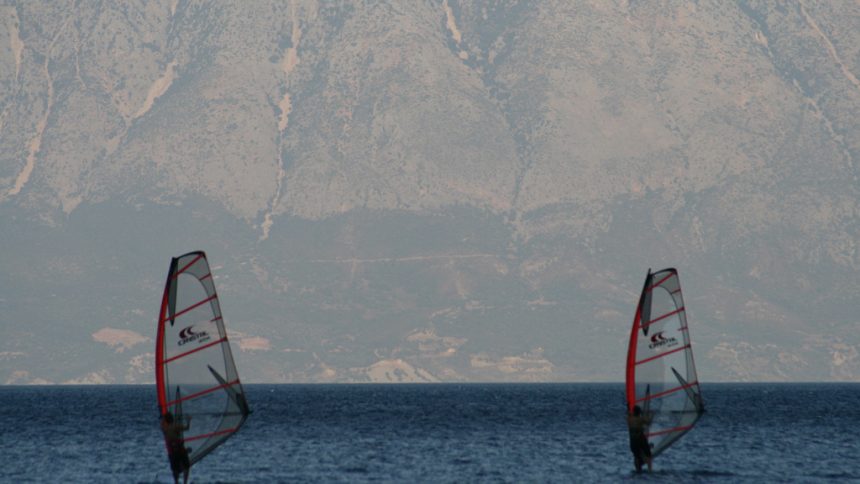 Wonderful Windsurfing Hotspots
May 21, 2016
Windsurfing is in that sweet spot between surfing and sailing. It uses a board and uses a sail that's attached to the board to propel forward. Windsurfing can be done in both relatively small waves and in bigger waves, plus if you're a beginner you can master the art of sailing forward, while if you're a more experienced windsurfer you might progress to jumps, inverted loops, spinning manoeuvres and other freestyle moves. Here are the world's wonderful windsurfing hotspots to check out this summer.
Windsurfing Lake Balaton, Hungary
Hungary's Lake Balaton, about two hours from the capital city Budapest, is Europe's biggest lake and also very popular with windsurfers. It is one of the best windsurfing destinations in Central Europe. If the wind is up the waves can pick up considerably (yes, lakes get waves!), but often there's a moderate level of waves on the lake so it's good for beginners wanting to learn and experienced windsurfers just wanting to practice tricks. The shores of Lake Balaton are dotted with small towns and camping grounds – many of which have their own windsurfing schools and rental spots from June to August, but the bigger towns like Siofok, Fured and Tihany have plenty of rental options too. Remember, the Balaton is typically 'on' in summer, and most people go for  week and camp by the water, waking up to do adventure sports like bike riding, walks, windsurfing…or just sunbaking!
Windsurfing Lake Arenal, Costa Rica
Lake Arenal, in Costa Rica, is one of the world's best windsurfing spots. For intermediate to experienced windsurfers the high winds at Lake Arenal will send windsurfing sailing across the water at high speeds. The peak season for windsurfing at Lake Arenal is December to March, and the western part of Lake Arenal is the most popular part of the lake for windsurfing. It's also possible to go kite surfing here, and you can rent your equipment on site. If you're wanting some relief from water sports and looking for some on-land activities, then head to the nearby Arenal Volcano.
Windsurfing Maui, Hawaii
Maui is an island in the Pacific Ocean and is part of the Hawaii. It also happens to be a SUP, surf and windsurf mecca. There are plenty of rental companies on the island that will give you all the equipment you need, all you need is your swimwear and sunscreen. There are operators where you can get lessons and rent equipment, but many also provide windsurfing tours where you can get taken to the best windsurfing spots. The weather in Maui is pretty good year-round, so the Hawaiian island is a windsurfing destination 365 days a year. Hawaii is one of the best water sport destinations in North America; it is a must for water sport enthusiasts.
Windsurfing Naxos, Greece
The Greek islands are not just about hedonistic sunbathing, up-all-night clubbing, Mediterranean food and exclusive sailing. The Greek island of Naxos is the island to head to if action water sports is your thing. There are windsurfing spots in Naxos that offer both flat-water and waves, and it's a good place for beginners, experienced and expert windsurfers. With waves at some sites of about 2 meters, if you're progressing with your windsurfing you can surf and jump these waves nicely. There are windsurf rental spots in Naxos that offer windsurf clinics and island windsurf tours that take you around to the best spots.
Windsurfing Boracay, Philippines
Boracay in Philippines is the ultimate summer island destination in Southeast Asia. Just remember that the Philippines has tropical weather with a wet and dry season. Boracay offers turquoise water, white sandy beaches and palm trees – it's the epitome of an island getaway. There are different water sports to try in Boracay – including windsurfing and kite surfing – before enjoying an evening of nightlife and chill, just to start all over again the next day. Perfect, right? Most of the rentals on Boracay can rent you windsurfing equipment for a few hours, days or even a whole week. Some even offer 3-day course led by experienced instructors so that you'll be super confident to head out on your own. Although there are plenty of sites to go windsurfing on Boracay, we recommend Bulabog Beach among others. Enjoy!
Other articles on travel destinations by the water and water sports adventure travel ideas:
Where to Scuba Dive with Big Animals 
The Best Scuba Diving Specialities
How to Get Your Scuba Diving License 
Where to Go Sea Kayaking this Summer
A Short History of Canoeing and Kayaking
A Short History of Deep Diving
Lovely Spots to Horse Ride on a Beach
The World's Biggest Waterfalls
Most Adventurous Water Parks for Young and Old
Prime Wind Surfing Destinations
Beautiful and Giant Rivers to Cruise Down