Water Sport Adventures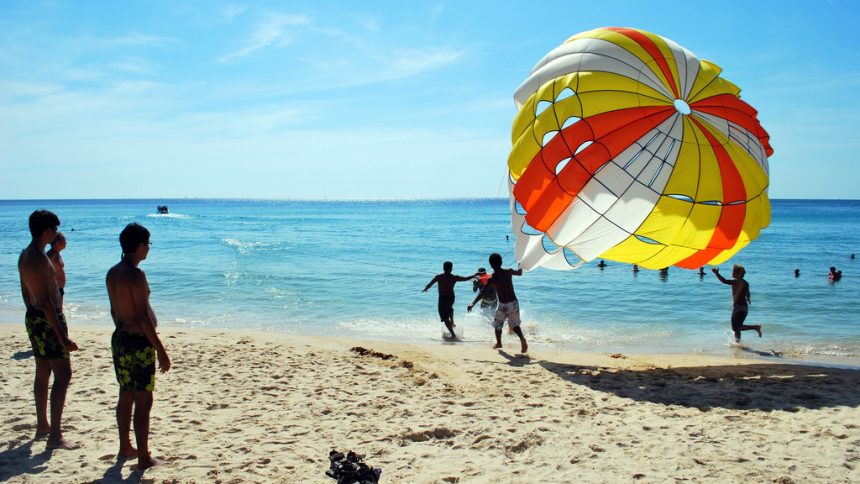 Best Beaches Known for Water Sports
May 22, 2016
No doubt you're heading to a beach this summer, but if you're more into adventure sports than sun tanning on the sand all day, then one of these best beaches for water sports should grab your attention. Or, you could criss-cross the globe and check out all of these beaches 😉
Martinique
Martinique is an overseas region of France, and is an island in the Caribbean. Martinique's beaches are stunning and are filled to the brim with fantastic water sports. There are about a dozen top dive sites, snorkelling, sailing and boating. While you can laze on the beach and sunbathe you can also get active with kayaking, windsurfing, and waterskiing. Martinique's most popular beaches for water sports include Grande Anse des Salines, Anse Noir and Plage du Diamant.
Guadeloupe
Like Martinique, Guadeloupe is another overseas territory of France, also in the French Caribbean. Snorkelling is very popular and can even be done straight of the beach. From October to February head surfing at beaches like Grande-Terre at Le Moule, Port Luis and Anse Bertrand. SCUBA diving at Pigeon Island is one of the world's best dive sites. You can get lessons in windsurfing at Guadeloupe, but there are even windsurfing competitions that take place here, so you know the conditions are top notch even for experienced wind surfers. For those with a need for speed you can find water ski hire spots dotted along the beaches.
Byron Bay, Australia
Byron Bay on Australia's east coast is a mecca for hippies and surfers. But you don't have to be an amazing surfer to get amongst the waves at Byron. There are plenty of surf schools to choose from, so even if you're a beginner you can hit the waves. SUP (stand-up paddle boarding) is becoming increasingly popular at Byron as well. You can also go SCUBA diving, snorkelling and kayaking, and if you head further up north the whole Great Barrier Reef and Queensland coast is at your fingertips. With all these opportunities it offers, Australia has to be listed among the best water sport destinations in the world.
Lagos, Portugal
In the south of Portugal in the Algarve region is the city of Lagos, which is a gorgeous sea town with a party vibe, lovely beaches, horse riding and plenty of rock climbing opportunities. But from the beach you can also go surfing, sailing, snorkelling, SCUBA diving, wake boarding, kite surfing and windsurfing, plus there's also sea kayaking if you want to explore Portugal's Atlantic Coast from a kayak.
Phuket, Thailand
Phuket is one of Southeast Asia's most popular tourist destinations, and while Phuket isn't everyone's favorite Thailand destination, for those into water sports and a massive tourist vibe then Phuket is a good option. Phuket boasts long sandy beaches that are packed with people and excitement. One of the most popular water sports is to go parasailing where you grab a life vest and get dragged behind a jet ski in the air. You can book your turn right on the beach. November to April are perfect for snorkelling in calm waters, while May to October are great for surfing, wind surfing or kite surfing when the waves pick up. May to October are also great for sailing. You can hire a Hobbie Cat as well, the most popular time for this is November-May.
Essaouira, Morocco
Essaouira is an increasingly popular beach holiday spot on Morocco's Atlantic Coast. It's known for its surfing, wind surfing and para sailing, as well as being a great spot for jet skiing. May to September are the best times to go to Essaouira, although even in the winter months it doesn't get too cold, so it's a great quick escape from the northern hemisphere winter. Plus, you can also ride camels along the beach there, which is pretty cool!
Other articles on travel destinations by the water and water sports adventure travel ideas:
Where to Scuba Dive with Big Animals 
The Best Scuba Diving Specialities
How to Get Your Scuba Diving License 
Where to Go Sea Kayaking this Summer
A Short History of Canoeing and Kayaking
A Short History of Deep Diving
Lovely Spots to Horse Ride on a Beach
The World's Biggest Waterfalls
Most Adventurous Water Parks for Young and Old
Prime Wind Surfing Destinations
Beautiful and Giant Rivers to Cruise Down