Watersport Adventures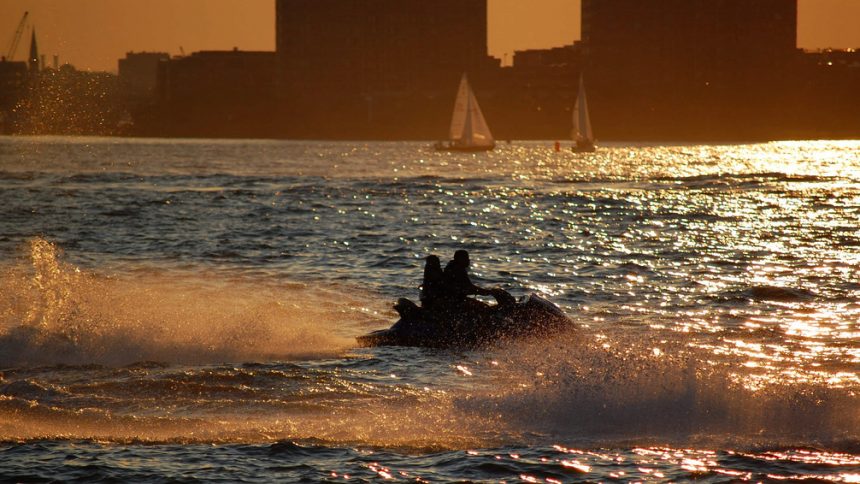 Jet Fuel: The Ultimate Guide to Jet Skiing
June 2, 2016
Jet skiing essentially combines the fun of both a water sport and a motor sport. Find out where to go jet wkiing this summer to satisfy your need for speed on water.
What is Jet Skiing
Jet skis are more formally referred to as "personal water crafts" because the term "Jet Ski" is actually a brand name of Kawasaki personal water craft. However, for most people the term jet ski is used no matter what brand water craft you're riding. We'll use the term jet ski, for easy understanding. Some jet skis involve sitting down for one or more riders, while others you can stand on with your legs astride the seat. Kind of like a motorbike on water, jet skis have a handlebar from where you can steer, accelerate and break. Having experience in driving or motorbike riding will help you, but where you rent your gear from will likely also be able to provide instructions. If you don't feel comfortable you can jet ski tandem with someone who knows the ropes. Most lakes, rivers or beaches where jet skiing is allowed will have it specifically established where jet skiers can go. There have been dozens of accidents where jet skiers have injured or killed bathers or snorkelers in the water – so make sure you follow the rules closely. There are also noise and pollution claims against jet skiing, so make sure you only jet ski where it's allowed.
Why Go Jet Skiing
Jet skiing is a pretty common holiday water sport because it's a lot of fun! But it can also be an extreme sport – check out this guy high-speed jet skiing between canyon walls that are just far enough apart for him to fit through.
From 0.48 seconds it's genuinely hair-raising! Jet skiing is not a particularly taxing water sport, although as we mentioned it helps if you already know how to drive or ride a motorbike. You will need to concentrate though as having an accident on a jet ski could be fatal – don't have alcohol or drugs before going jet skiing. Generally you'll go jet skiing on a lake, river or a beach, but if you're holidaying on a super yacht or a cruise-liner sometimes they'll have jet skis on board so you can jet ski in the ocean or a big sea like the Mediterranean. Some say jet skiing is good to improve your balance and coordination and can give your core muscles a good workout too.
Where to Go Jet Skiing
There are loads of places to go jet skiing, here are some of our favourite jet skiing spots from around the world:
Myrtle Beach (California), United States: A great vacation destination on the Atlantic Coast, with loads of water sports options including jet skiing.
Gold Coast, Australia: If the Wet 'n' Wild water park, SCUBA diving and snorkelling aren't enough grab a jet ski and go! (Check best adventure travel destinations in Ocenia)
Boqueron Beach, Puerto Rico: Explore the beautiful coastline on a one or two hour jet ski tour.
Phuket, Thailand: Great vacation water sports like parasailing and jet skiing are all available to hire and organise right on the beach. Just watch out for all the others in the water as accidents are common here. (Check best adventure travel destinations in Southeast Asia)
Balearic Islands: Spain's Mallorca and Ibiza are two of Europe's top jet skiing destinations.
Other articles on travel destinations by the water and water sports adventure travel ideas:
Where to Scuba Dive with Big Animals 
The Best Scuba Diving Specialities
How to Get Your Scuba Diving License 
Where to Go Sea Kayaking this Summer
A Short History of Canoeing and Kayaking
A Short History of Deep Diving
Lovely Spots to Horse Ride on a Beach
The World's Biggest Waterfalls
Most Adventurous Water Parks for Young and Old
Prime Wind Surfing Destinations
Beautiful and Giant Rivers to Cruise Down