Watersport Adventures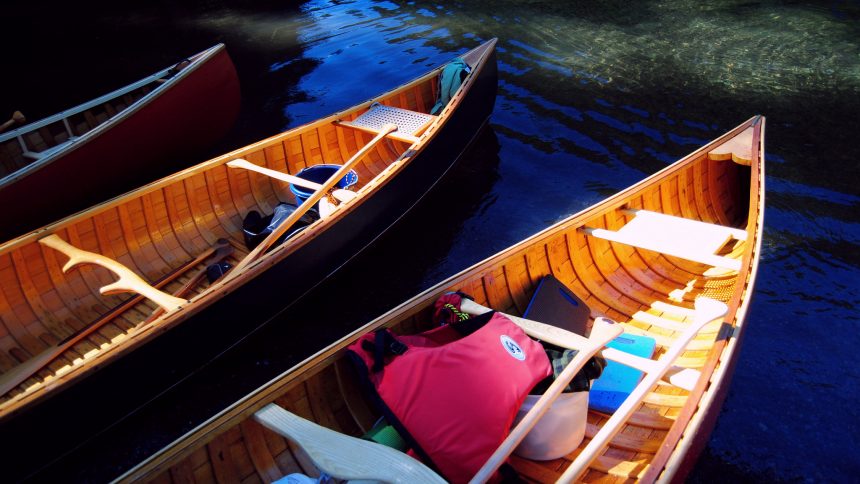 A Short History of Canoeing and Kayaking
May 13, 2016
With summer coming water sports are the becoming the best way to get fit and see the great outdoors. If you're considering trying canoeing or kayaking this summer, read this first.
The Difference Between Canoeing and Kayaking
So canoeing and kayaking seem pretty similar, and essentially they are – both involve sitting in a little boat and paddling – but there are some fundamental differences between canoeing and kayaking that are important to understand.
Canoeing: The canoe is a wider boat that is pointed at both ends and uncovered at the top. You sit or kneel in a canoe and use a single-bladed paddle to propel forward. The seat may be slightly raised, and often more than one person can use a canoe at once. With a canoe you often use just one paddle and the two people in one canoe would each paddle to one side.
Kayaking: When kayaking you sit with your legs straight out in front of you, and you use a double-bladed paddle. Unlike canoes, kayaks are for one person. Also, unlike a canoe, the kayak is often enclosed (covered at the top) and the kayak is also slimmer than a canoe. With a kayak you use a double bladed paddle and you paddle left and right with the one length of paddle.
Kayaking is often considered a subset of canoeing.
What You Need to Go Canoeing and Kayaking
Luckily, you don't need much to go canoeing or kayaking. Often in locations where it's popular to go canoeing or kayaking you can hire the boat and the paddle. It's a good idea to where a life vest in either boat and under the life vest you can just wear bathers or shorts and a t-shirt. And, that's pretty much all you need! However, if you're using your canoe – or more likely kayak – to go on a multi-day camping trip you're going to need to store all of your stuff in the storage section of the kayak. It's a good idea to have everything stored in waterproof bags as water will inevitably get in – or in the worst case scenario if your kayak capsizes – you want  your things to remain dry.
One other thing you'll need in either sport is the ability to swim because falling overboard or having the boat capsize is a hazard of these boats. The kayak is more likely to capsize, particularly if you're a beginner, but thankfully it's not too hard to turn it over again as these are lightweight boats.
It should take more than about an hour for a guide or the person from whom you're renting the canoe or kayak to give you basic training on how to get in and out of the boat and how to paddle and steer so you can control speed and direction. Once you're on the water it's just a case of practicing to become better and stronger.
A basic level of fitness is desirable when you start, but you'll soon become quite strong as kayaking and canoeing are both intensive on your arm, shoulder, back and core muscles. Finally, one note on footwear – most people wear reef-shoes or flip flops but you can also wear old runners you don't mind getting wet or go bare foot.
Where to Go Canoeing and Kayaking
Anywhere there is a sea, river or lake you can go canoeing or kayaking and it's a sport that really can be done summer or winter (however, let's be honest in summer is much more appealing). You can likely find canoeing or kayaking rental shops in most places where there is a big body of water and a water sports culture. Here are some of our favorite canoeing and kayaking spots for adventure travelers:
Lake Malawi, Malawi: Lake Malawi is one of Africa's biggest lakes and there are plenty of spots along the shores from where you can go on a canoeing or kayaking expedition. We recommend Monkey Bay, Nkhata Bay or Nkhotakota as jumping points. Laka Malawi coincidentally is a great scuba diving spot so you can combine these water sports here.
Dalmatian Coast, Croatia: Setting off from the walled old city of Dubrovnik kayaking and canoeing is very popular along the Dalmatian Coast. You can get away from the tourist hordes and see the magnificent Croatian coastline from a different angle. Plus, the azure waters will be inviting should you accidentally capsize!
Amazon River, Brazil: One of the best ways to see the magical Amazon Rainforest in Brazil is by taking a multi-day canoeing or kayaking tour of the mighty Amazon River. We recommend using a reputable tour provider, as tour guides will ensure you won't get lost and can point out the amazing wildlife, birds and plant-life that makes the Amazon so incredible.
Okavango Delta, Botswana: The Okavango Delta is the largest delta in the world, and those who want to experience an African safari in a slightly different way should opt to canoe or kayak the Okavango Delta. Get close (but not too close) to white and black rhinos, maybe even meet a few friendly hippos, and see the other animals on the banks that Africa is famous for like cheetahs and lions.
Mekong River, Laos: Spending several days canoeing or kayaking down the Mekong River in Laos has got to be one of life's best experiences. You'll see a laid back and slower pace of life on the shores as you see local children playing in the water, women washing clothes, or men bathing. You'll also see animals and glorious sunsets and sunrises. There's so better way to see the Mekong than by boat, and no better boat to pick than a canoe or a kayak!
Other articles on travel destinations by the water and water sports adventure travel ideas:
Where to Scuba Dive with Big Animals 
The Best Scuba Diving Specialities
How to Get Your Scuba Diving License 
Where to Go Sea Kayaking this Summer
A Short History of Canoeing and Kayaking
A Short History of Deep Diving
Lovely Spots to Horse Ride on a Beach
The World's Biggest Waterfalls
Most Adventurous Water Parks for Young and Old
Prime Wind Surfing Destinations
Beautiful and Giant Rivers to Cruise Down