Watersport Adventures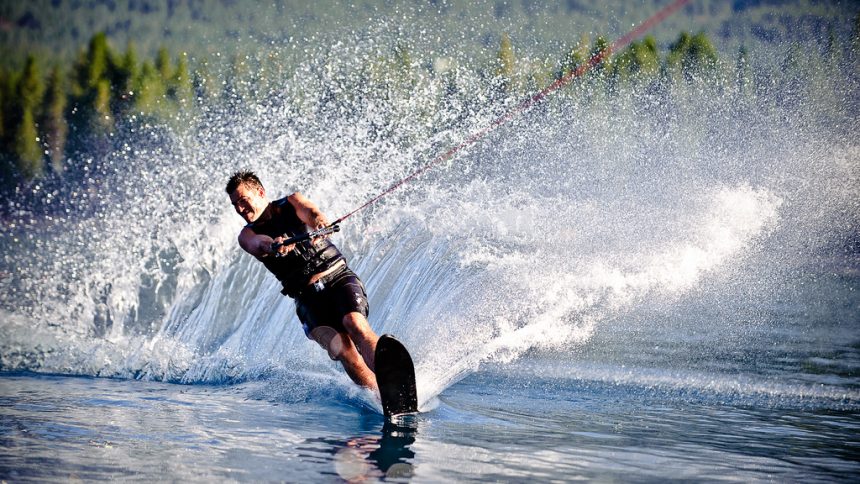 Explainer: Water Skiing and Wakeboarding
June 1, 2016
While water skiing and wake boarding are often confused, it's easy when you think of it like the difference between skiing and snowboarding. Same same, but different. Our guide on both below will clear any confusion right up, and you can decide, which is best for you – or try both!
What is Water Skiing
Water skiing is what's called a surface water sport, where you ski on one ski (called slaloming) or the more common two skiis, whilst being dragged behind a boat via a cable or strong rope. You can just water ski for fun and speed, or do all kinds of tricks, obstacle course races, jumps or show (which features acrobatics-style performance). Water ski racing is becoming increasingly popular too, with the crew on the boat and the water skier working together to be the fastest or get through a circuit the quickest. Water skis resemble skiing skis, while wakeboarding boards resemble the boards used in snowboarding – more on wakeboarding below.
Before you read on though, check out this video of insane barefoot water skiing – yes, you read that right – the guy is skiing on the water just on his feet!!! Incredible!
What is Wakeboarding
Wakeboarding combines elements of water skiing, snowboarding and surfing. It is a kind of variation of water skiing that has grown in popularity – just like snowboarding has in comparison to traditional skiing. As with water skiing, while you are wakeboarding you are towed behind a motor boat at speeds of up to about 40 kilometers per hour. You hang onto a bar to steer your direction, which is connected to the boat with a cable or strong rope. Some say that water skiing is easier to pick up, so perhaps try wakeboarding once you have some water skiing experience under your belt. Other than just straight forward need-for-speed wakeboarding there are dozens of tricks you can try like jumps, and 360 degree spins, grabbing the board, plus you can use one hand or two to hold onto the bar for even more options. Check out this video for some serious wakeboarding inspiration.
Where to Go Water Skiing or Wakeboarding
Always check local rules about water skiing and wakeboarding as if it's done in the wrong spot these water sports can be very dangerous for bathers, snorkelers etc. Sometimes you might be only able to water ski or wakeboard in a specific part of the lake or river. The operator you hire from will be able to tell you what's ok. In terms of which body of water is best, lakes and rivers often offer the best conditions for water skiing and wakeboarding, so here are some of our favorites:
Chain of Lakes (Florida), United States: A chain of 16 lakes, that is considered the water skiiers capital of the world.
Echuca on the Murray River, Australia: Explore rural Australia and check out Australia's famous Murray River from a water ski. Water skiing is fairly popular in Australia so you should be able to find equipment and rental easily in the town of Echuca.
Lake Tahoe (Nevada and California), United States: We recently wrote about the world's great lakes for watersports and Lake Tahoe surely made the list.
Lake Powell (Utah and Arizona), United States: Wakeboard or water ski surrounded by a classic United States scene of canyons and desert.
Lake Bled, Slovenia: Lake Bled at the foot of Slovenia's Julian Alps, has a tiny island in the middle with a castle on it. You can do a big loop of this island on your water skiies or wakeboard, which is pretty damn cool! (Check best adventure travel destinations in Eastern Europe)
Other articles on travel destinations by the water and water sports adventure travel ideas:
Where to Scuba Dive with Big Animals 
The Best Scuba Diving Specialities
How to Get Your Scuba Diving License 
Where to Go Sea Kayaking this Summer
A Short History of Canoeing and Kayaking
A Short History of Deep Diving
Lovely Spots to Horse Ride on a Beach
The World's Biggest Waterfalls
Most Adventurous Water Parks for Young and Old
Prime Wind Surfing Destinations
Beautiful and Giant Rivers to Cruise Down