Extreme Sports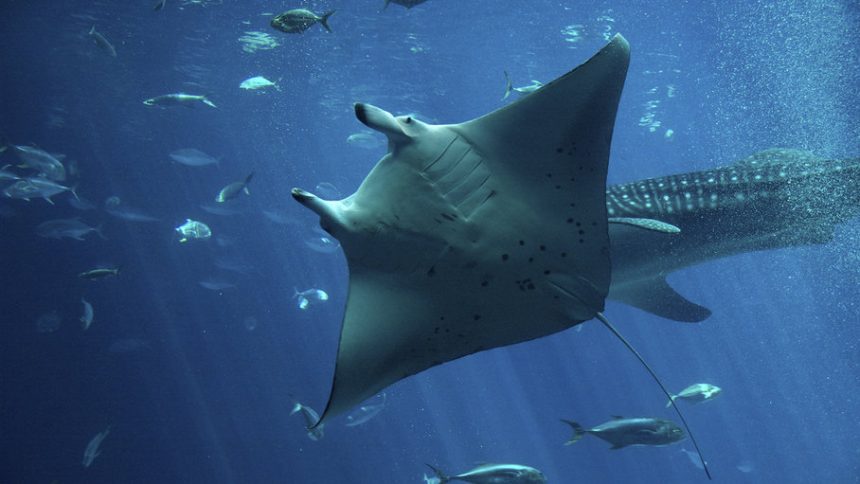 Where to Scuba Dive with Big Animals
April 25, 2016
You never know what you will find living underwater. That's the thrill of scuba diving, you never know if you'll find a Moray Eel poking out of the corals, or a sea turtle swimming along, or a jelly fish floating by. Sometimes, however, we know what kinds of big fish are found in certain areas at certain times of year, and these dive destinations are popular with those wanting to swim with a whale shark, or a dolphin or a manta ray. Our guide on where to scuba dive with big animals, will inspire your next diving holiday.
Sharks
Many reef dives will include coming across some reef sharks. These relatively small sharks, live around the reefs and pose little threat to divers – unless you get too close – as they go about their lives. There are a few different types like the white tip reef shark, the black tip reef shark and the grey reef shark. Of course, give how humans are conditions to fear sharks, seeing even a small reef shark will make your heart beat a little faster. There's something incredible about being near one of these feared creatures, even if they're paying no attention to you at all. You can find different types of reef sharks all around the world in dive sites in Australia, Southeast Asia, the Red Sea and Central America. In some coastal areas it's possible to encounter brown sharks, which can be attach humans. So it's not recommended diving in areas where brown sharks have been spotted. You can dive with tiger sharks in the Bahamas from October to January, but because they hunt largely at night it's important to dive with them during the day. If you're diving in the Americas (from North America down to South America) you might come across some lemon sharks. For those with an adventurous streak diving in South Africa, you can dive with mako sharks and blue sharks, generally from November to February. The Apex Shark Expeditions group also organises cage diving with Great Whites. That's because in terms of the Jaws shark, the apex predator of the ocean – the Great White Shark – you can generally only go cage diving with them. You really don't want to come across a Great White without a cage protecting you!
Whale Sharks
We have covered where to swim with Whale Sharks in detail here, some of the spots include Ningaloo Reef in Australia, Koh Tao in Thailand and Gladden Split in Belize. Beware that generally it's often better to go snorkelling with Whale Sharks as they often come to the surface, and you're a bit more agile when you're snorkelling. Please note that despite the name, Whale Sharks are not actually whales or sharks but big fish! They are gentle giants and pose no threat to humans, but they are startled easily and if you scare them they will swim down and away very fast.
There is debate about whether snorkelling or diving with whales is harmful to their natural environment, most conservationists argue that whale watching tours are the best way to see these animals without disrupting them too much. Tonga, for instance, offers some permits for swimming with Humback Whales; while it's possible to free dive with Orcas (aka Killer Whales) in Norway. If you're diving in the Great Barrier Reef of Australia you might get lucky and swim across a Minke Whale. And from Dominica it's possible to swim with Sperm Whales.
Dolphins
While some scuba divers get lucky and go on a standard dive and happen to have a dolphin glide by, there are some dive sites that are more dolphin friendly than others. Here are some of the sites to head to for a dolphin dive: Raja Ampat (Indonesia), The Grand (Bahamas), Hurghada (Egypt), Ningaloo Reef (Australia), The Big Island and Oahu (Hawaii), and Kaikoura (New Zealand). You might find dolphins are quite friendly and they might come up to say hello. Just remember not to feed, touch or attempt to 'ride' them!
Manta Rays
Like Whale Sharks, Manta Rays are one of the big animals that are most scuba diver's bucket list. Manta Rays are in the ray family, int he same grouping as sting rays. There are several types of rays, but Mantas are one of the most beautiful. Manta Rays can reach up to 7 meters in width, they have unique black and white patterns on their under sides. They have eyes at the front, and a mouth that acts like a filter-feeder, with two flaps on either side to funnel in more water. They do have a barb-like tail. Manta Rays are beautiful to dive with and often if the diver is stationary hanging on to rocks in strong currents a group of Mantas will hover on top enjoying the bubbles of the tank tickling their tummies. Here are some of the spots you can dive with Manta Rays: Lady Elliot Island, Great Barrier Reef, the Maldives, Kona at Hawaii, Cabo Marshall at Galapagos, Yap in Micronesia, and near Komodo in Indonesia.
Hammerhead Sharks
Yes, hammerheads are a type of shark but they're also a big animal of the ocean that is a must-see for many divers. Remember, they can be aggressive if they feel under threat, and while they won't specifically go after humans, if you get in their way or annoy them then you could become their target. There are many spots you could see them including the Maldives, the Bahamas, Cape Verde, Granada, Mexico, Egypt, the Philippines and the Cayman Islands.