Equestrian Adventures & Animal Power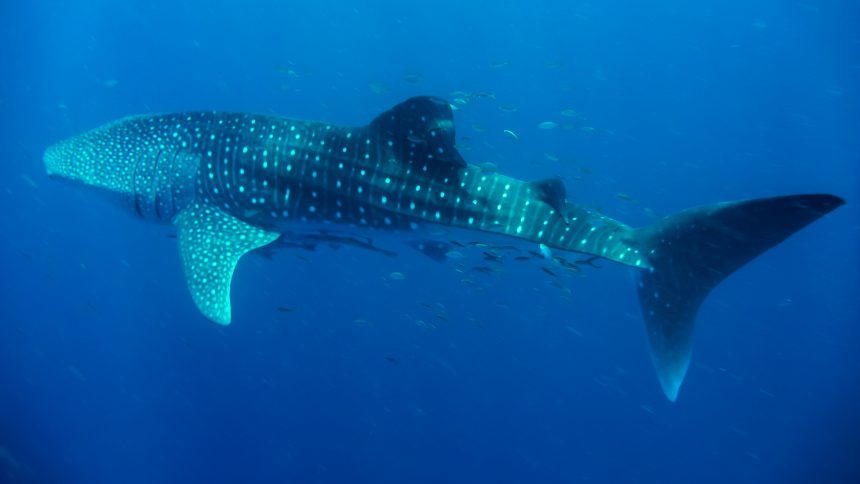 Where to Swim with Whale Sharks
September 29, 2015
Is it a whale? Is it a shark? No, this beautifully majestic giant of the ocean is actually a huge fish, NOT the scary "Jaws" kind of shark – despite its name. Famous for their spotty complexion and their big mouths they're filter feeders, meaning they open up wide and let water rush into their mouths getting nutrients from the small bits of plankton in the water. So they're gentle giants and not at all likely to attack people.
Whale sharks like open water in more tropical climates, which is great if you want the adventure of trying to swim with one combined with a relaxing holiday. They're migratory, moving from place to place during feeding and breeding cycles – meaning you should check your destination's whale shark season before heading off.
These are gentle animals despite being terrifyingly big, but it's important to remember to respect these animals. Don't get too close or "ride" on them because it can disrupt their natural behaviors and scare them away. The best advice is to swim a bit further back from the big fish and stay at its side (not in front or directly behind it). That way you can hopefully stay with the relaxed whale shark for as long as it wants to hang around.
If you frighten or startle it, the illusive animal is likely to swim down deep disappearing from view. If you're using an underwater camera remember to turn off the flash. These animals spend much of their time deep in the ocean (about one kilometer below sea level!),  where it's very dark and their small eyes can be startled by a bright flash. Remember to slide into the water without making a big splash or loud banging noises, these too are likely to frighten the whale shark away – and once it's gone, it's not likely to come back!
Finally: what's the best way to see a whale shark? Well in the water, of course! It sounds like a truism but once you're in the right location you have to be in it to win it. Be flexible and patient and head back into the water a few times if at first you don't succeed. The effort will be truly worth it.
And to get your adventure started, check out our list of the best spots, where to swim with whale sharks!
Ningaloo Reef, Australia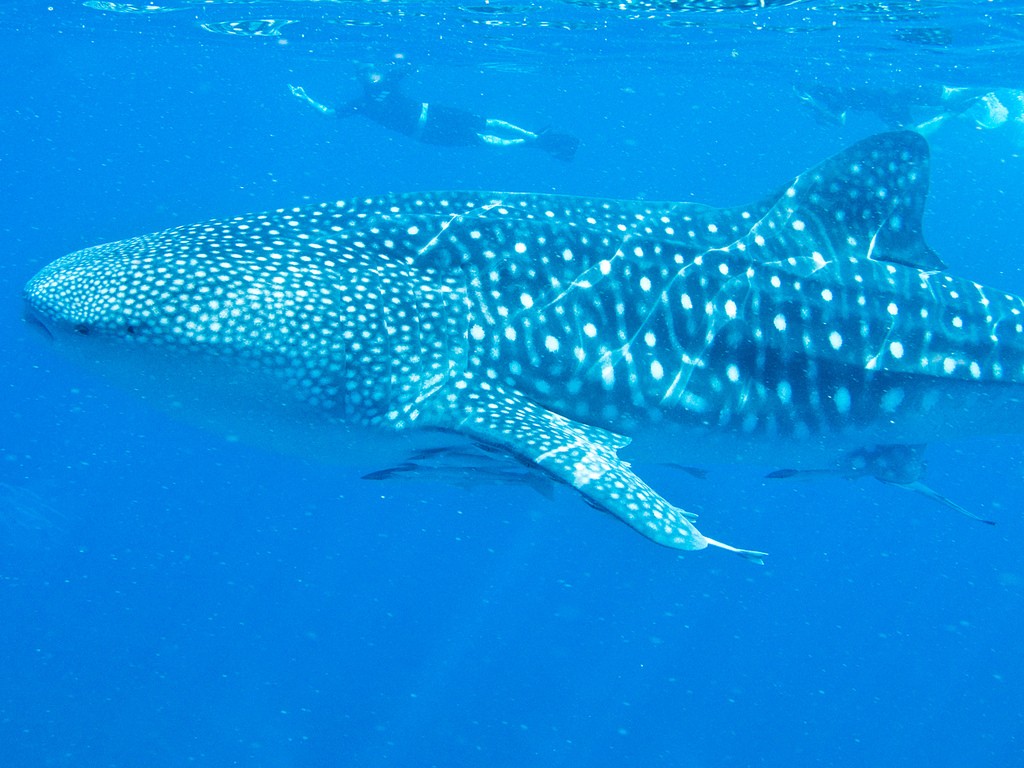 Snorkelers keep up with a whale shark as it swims by. Photo by Julie Edgley.
Day tours depart most days from Coral Bay and Exmouth on the western coast of Australia from April to July. Most tours head out in the morning with spotter planes helping to locate where the whale sharks are along the Ningaloo Reef. You'll jump in the water and be able to hang out with the giants of the ocean for about a few minutes (or as long as the fish stays around). Best yet, if there's more than one whale shark in the area you might get multiple swims! Normally snorkelling is the way to go here, because when whale sharks migrate to this area for feeding, they stay relatively close to the surface so scuba diving to depths won't be of much use. The other thing is, the whale shark might only stay for a few minutes before you jump back on the boat to head elsewhere – snorkeling is a much more agile option. Don't forget this is a relatively remote part of Australia – to give you an idea it's a 12 hour drive from Perth to this location.
Koh Tao, Thailand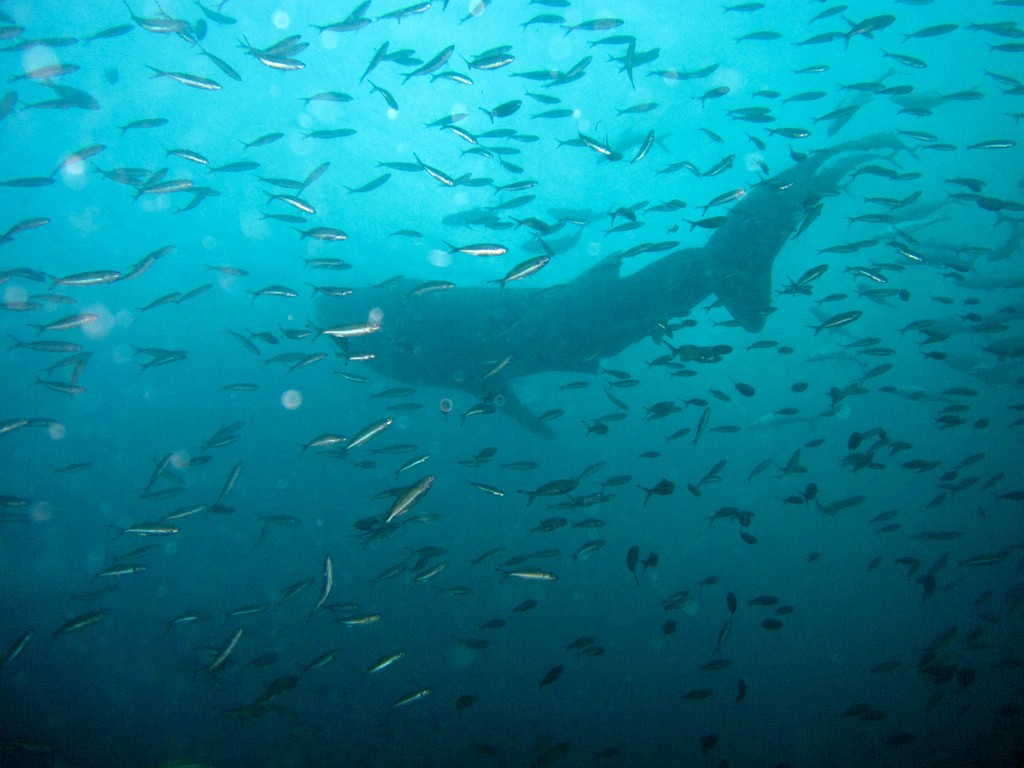 Whale shark in the waters of Kho Tao. Photo by Ryan Lackey.
It's not always advisable to scuba dive to see whale sharks because often they hover more at surface level and diving below with your tank bubbles tickling their bellies can disturb them. But sometimes, for instance in Koh Tao, a popular tourist island in Thailand, diving is one of the main ways to get a glimpse of a 10 meter spotted beauty of the sea. For instance, at one of the dive sites called Chumphon Pinnacle, you might be in luck and see a whale shark up close. Obviously here, having an Open Water or (even better) an advanced scuba diving certificate is the way to go!
South Mahe, Seychelles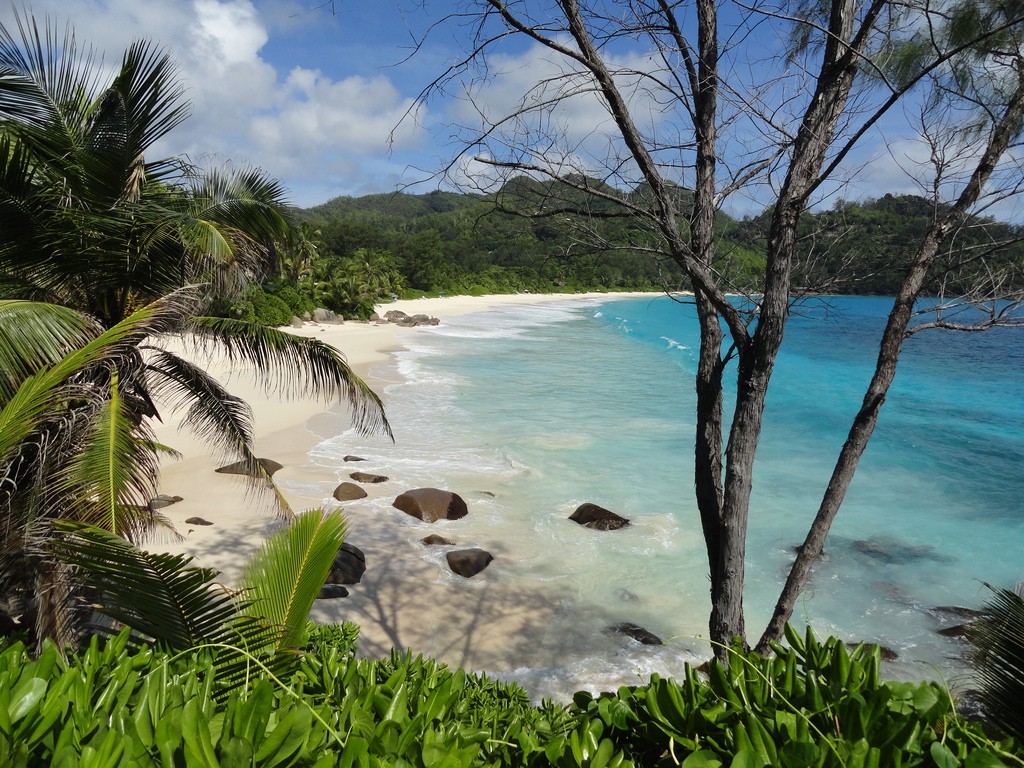 Beach paradise on the Seychelles. Photo by Fabio Achilli.
Head to the south west of Mahe from September to November, with your best chance of sightings in October. This spot is located on the migratory paths of whale sharks, so with a little luck and plenty of time spent in the water, you'll likely get a glimpse of these wonderful animals. The Seychelles are located off the coast of east Africa and we recommend a guided tour. Check out the Marine Conservation Society for additional info.
Gladden Split, Belize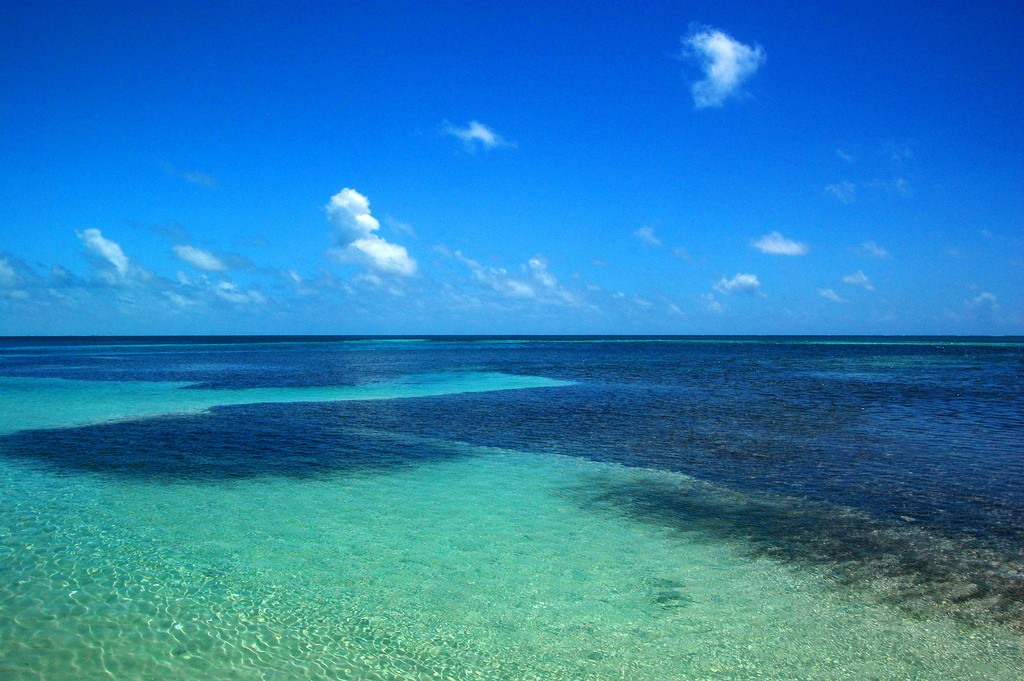 The clear waters of Belize. Photo by James Willamor.
Heading to Central America? Stop by Belize in April or May and you're in with a pretty good chance to spot a whale shark (they can also be seen in March and June, although conditions can be less favorable). For scuba divers heading to Gladden Split could be a good option to get some under water hours clocked AND see a whale shark. Find out more here. But you don't have to be a scuba diver to take part in this experience – snorkelers can also get involved in the day trips. If you're in this general region another spot you could try from is Utila in Honduras. So jump in the warm Caribean waters and good luck!
Isla Holbox or Isla Mujeres, Mexico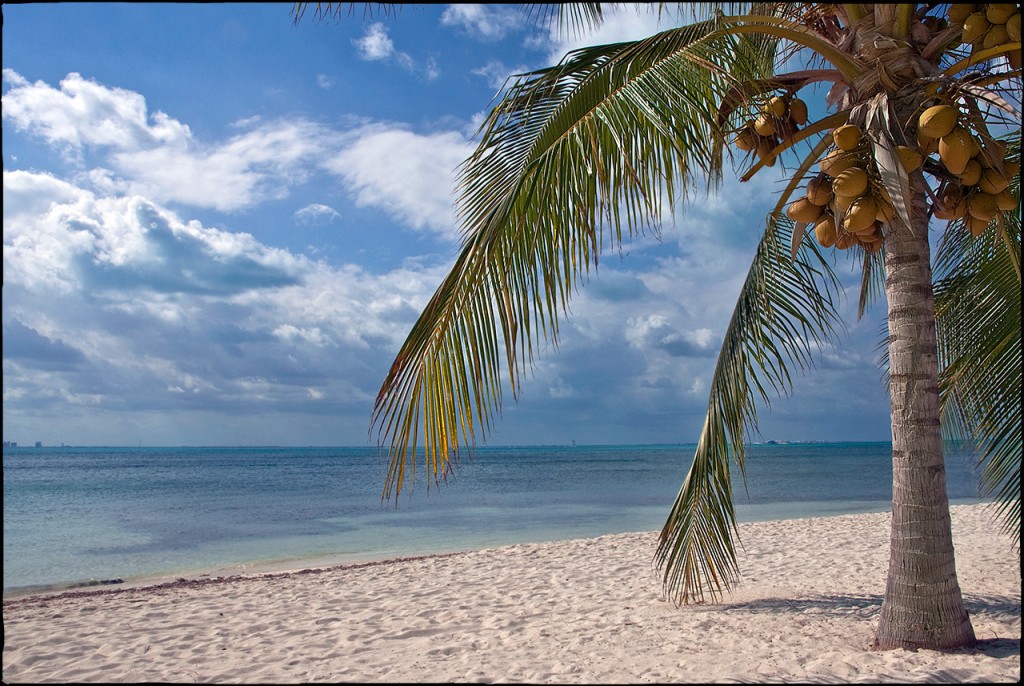 Rest in the shade of a coconut palm after a long swim. Photo by Mike McHolm.
Two spots where you can see whale sharks in Mexico during the "season" lasting from June to September are Isla Holbox, Isla Mujeres and Isla Contoy, but there are also others. Isla Mujeres, for example, even has a Whale Shark Festival, usually in July. July and August are considered the best months for underwater adventures, because that's when larger groups of whale sharks can be seen gathered in spots.
Oslob Cebu, Philippines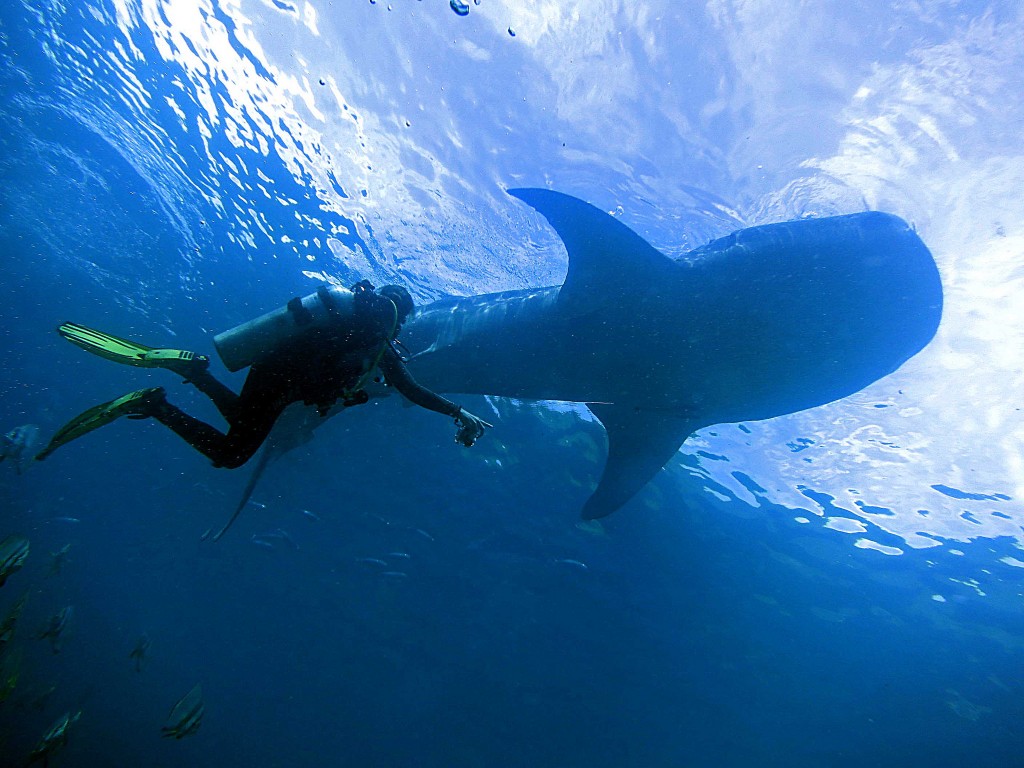 Diving with a giant. Photo by Lakshmi Sawitri.
After the devastating Typhoon Haiyan in 2013 parts of the Philippines have become difficult to travel to. However, Cebu is very much open for business and the local economies, which rely on the tourism industry, are hoping more and more people will return. Oslob is a day trip from Cebu City, on the island of Cebu, and it's where you have a great chance of spotting a whale shark. We have to forewarn you that there has been a questionable reputation for whale shark swimming in the area because some operators feed the whale sharks here. This could have a negative impact on their migratory patterns and creates an unnatural interaction with the animals. So, something to keep in mind is that there are, of course, other spots in the Philippines where you can see the whale sharks as they migrate more naturally. Another spot, as an example, is at Donsol Bay.