Adventure Travel in Central Europe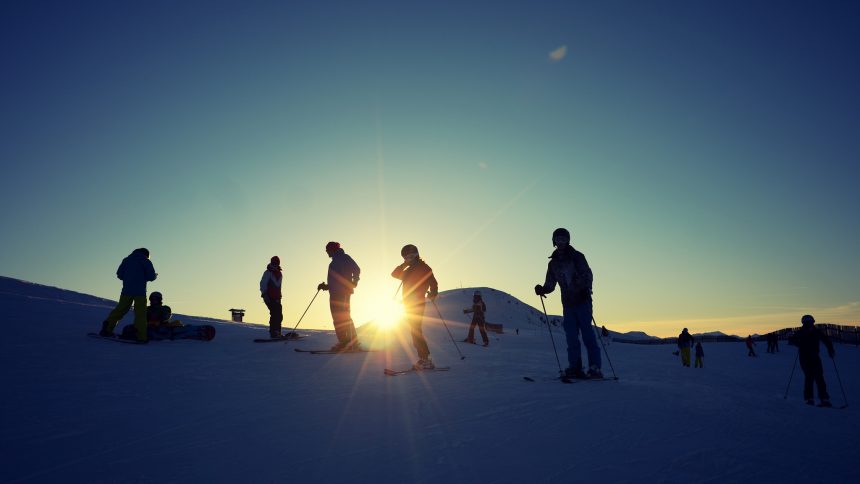 Where to Ski in Austria
November 9, 2015
The ski resorts of the Central Alps, aka the Austrian Alps, are a magnet for skiers and snowboarders from all over the world. Much of the eastern part of Austria is peppered with ski resorts, whether it's perfect powder, summer skiing or après-ski luxury you're after. With the winter season kicking off, and to help make planning your winter holidays easier, we've collected some of our favorite spots for where to ski in Austria.
St. Anton
Let's start with the resort the on-snow experts will love. St. Anton aka Sankt Anton am Arlberg is one of the top ski resorts in the entire Alps – not just the Austrian part. It has more than 300 kilometers of pistes as well as hundreds off off-piste opportunities. St. Anton is better for good to advanced skiers and snowboarders, but less so for beginners or those who are still a bit unsure on the snow. Located in Austria's Tirol region you can ski from the St. Anton slopes to nearby ones at St. Christoph and Stuben. The ski resorts of Zurs and Lech (mentioned below) are also part of the Arlberg region and can be accessed by the same lift pass. While in St. Anton, don't forget to stop by Krazy Kanguruh for some après-ski fun!
Lech
The "Ski Arlberg" ski pass that covers Lech and the aforementioned St. Anton, provides access to almost 100 cable cars and hundreds of kilometers of on- and off-piste skiing. At Lech there are free local buses that provide easy access between accommodation and the ski lifts. The famous White Ring ski circuit is a 22 kilometer run that is a major drawcard of the region, but beware you have to contend with being at 5500 metres above sea level as well as the slopes! There's even an annual White Ring ski race that you could join. The season at Lech is fairly long – starting in early December and lasting all the way through until early April. And, if you tire of skiing, you could try other winter activities here like snow hiking, tobogganing and horse-drawn sleigh rides.
Hintertux Glacier
If you're wondering where to ski in Austria all year round, then it's good to know that the Hintertux Glacier is one of those rare spots that offers summer skiing too! Only this ski resort and Zermatt in Switzerland offers skiing 365 days a year! There are gondolas and ski lifts that allow you to easily access the glacier. Once there, there are about 60 kilometers of freshly groomed slopes that are good for skiers of all levels. Another reason you should visit is the 360 degree view of the Alps.
Kitzbühel
For more than 100 years skiing at Kitzbühel has been an Austrian tradition. There are more than 30 kilometers of slopes and modern cable cars. Freeriders will also find the deep snow runs here alluring. One of the other cool things at Kitzbühel is the night skiing, where many of the slopes are flood lit so you can enjoy skiing the Alps under the night sky. Some ski aggregators rate this is one of the world's best ski areas, so make sure you give this location a try if you're in Austria for a cool winter holiday. Many come for The Streif – a famous downhill ski race track – that can be tackled by even intermediate skiers. Sections of this route like Mausefalle, Steilhang and Hausbergkante are marked as "extreme" for experienced skiers only, however, skiers that aren't that snow-sure can alter the route to find easier terrain.
Sölden
Sölden offers a very long ski season with snow guaranteed from October through until May, and with nearly 150 kilometers of groomed slopes this is a top destination in Austria. This is a great base to ski on nearby glaciers too with the Rettenbach Glacier and Tiefenbach Glacier easily accessible via the "Golden Gate to the Glacier" series of gondolas and lifts. Sölden is known for its impressive après-ski atmosphere as well, there are an assortment of restaurants, bars, clubs and cafes to ensure you have as good a time off the slopes as on them. There are even some great bistros and huts on the slopes should you wish to take a break in the sunshine, then head out again.
Ischgl
Skiing at Ischgl blasts off in November and lasts all the way through until May with more than 200 kilometers of slopes, state-of-the-art cable cars and lifts and more than 1000 snow cannons. Other than skiing and snowboarding there are Funparks where you can practice some tricks, and ample powdery snow for freeriding. The longest piste here is 11 kilometers, but it boasts the longest toboggan run of the entire Alps! From Ischgl you can even ski over to Switzerland for some cross-border action. While in Ischgl you could also go on a ski tour or a snow shoe hike.
Are you a first-time skier or snowboarder? Here's all the basic ski resort lingo you need to know before your first ski trip.
Need more inspiration on where to go skiing or snowboarding? Check out our other recent articles:
Where to ski in France
Where to ski in the Swiss Alps
Top 5 places to ski in Europe
Where to ski in Poland
Where to ski in the Baltic States
Where to ski in Canada
Where to ski in China
Where to ski in Japan
Where to Ski in the USA