Adventure Travel in North America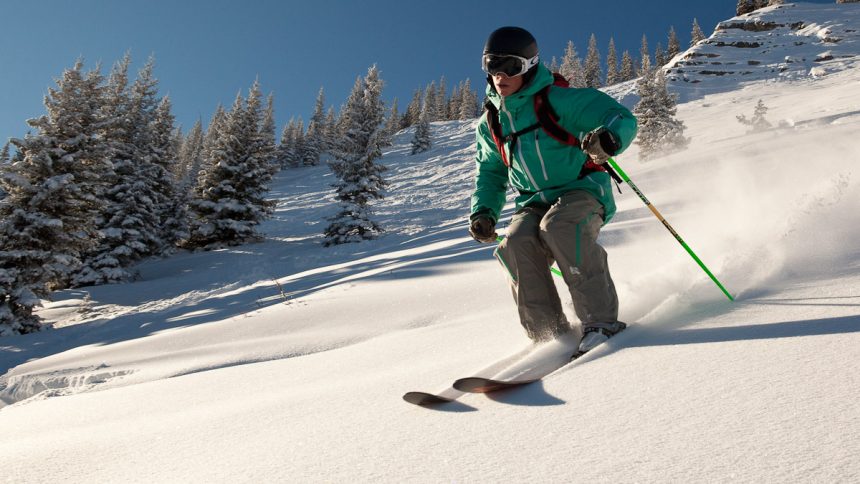 Where to Ski in the US
December 8, 2015
When you combine Canada and the US, the skiing and snowboarding opportunities in North America certainly rival that of the European Alps. But the United States is a vast country, and at first knowing where to head to ski can be tricky to figure out. Here we provide you with some of our favourite ski resorts in the States, so you'll know where to ski in the US this winter.
Jackson Hole
The Jackson Hole valley is located along the state border of Wyoming and Idaho, and the Yellowstone National Park is just a bit further afield. Jackson Hole village has its own airport so it's relatively easy to access from within the United States as well as some overseas cities that fly direct here. There are ski runs to suit all levels, including advanced (black diamond runs) and expert (double black diamond runs) skiers. We have to mention, for expert skiers, Corbet's Couloir – which is a steep drop that many skiers and snowboarders peak over but then retreat back from in fear. Check out this video to see how incredibly fearsome this drop is:

All we can say is OMG and good luck if you decide to give it a crack!
Head to Yellowstone (about a couple of hours away), Grand Targhee Ski Resort and Grand Teton National Park if you want a nearby side-trip.
Alta
In the west of the US in the state of Utah, you'll find one of the United States' oldest ski resorts (established in the 1930s). It gets a huge dump of about 13 meters of snow each season, but beware if you're a snowboarder – it's one of the few resorts remaining that don't allow boarders, just skiers. For skiers it has a pretty even mix of slopes for beginners, intermediates and advanced skiers. It's not a huge ski resort (especially compared to many resorts in the European Alps), but it makes up for this with it's excellent powder and some good vertical drops. Head up the road (so to speak) to nearby Snowbird Ski Resort as well to max out your skiing holiday.
Alyeska
Every adventure traveller knows that there are a few gold standard locations for some truly intrepid travelling, and Alaska is likely to feature in most people's minds as one of these. This state of the US, which adjoins the western edge of Canada actually offers some pretty good skiing not far from the city of Anchorage. As you can see in the image above, the ski resort has some great views down into the valley and water below. There's a good mix of ski runs with more than 70 pistes in total, including some black double diamond runs for expert skiers only. Thursday, Friday and Saturday nights there's also night skiing available. If you're a first-timer, you can get private or group lessons no matter whether you're new to skiing or snowboarding as an adult or a child, or even if you just want to brush up on your knowledge, or learn some new technical skills.
Mammoth Mountain
California might be associated with many things but skiing and snowboarding is probably not one! Nevertheless, Californians do nothing by halves, and they've got one very cool ski resort in the form of Mammoth Mountain. There's plenty of normal alpine skiing and snowboarding available with about 150 named trails, but there's also cross-country and snowshoe terrain to explore for more experienced skiers. You can also turn up the volume on your winter ski holiday by enjoying the snow play area and tubing, or why not do a snowcat tour, or a snowmobile ride. If you're an experienced skier, you can head off-piste and explore the Mammoth Lakes Basin on snowshoes or Nordic skis for something a little more adventurous.
Aspen/Snowmass
Of all of the ski resorts on this list, Aspen is in a different league in certain respects. The town of Aspen and the skiers that flock to the area during winter are akin to the more posh jet-set found in some parts of the French and Swiss Alps. Aspen itself is home to plenty of high-end restaurants and fancy boutiques. This guarantees that there's much to do off-piste as well as on. Of course, Aspen doesn't come cheap, but you'll be sure to spot some American "royalty" here as well as the jet-set crowed from overseas as well. The combination of ski resorts making the Aspen Snowmass ski area is located in western Colorado in the Rocky Mountains. The four ski areas are: Aspen Mountain, Aspen Highlands, Buttermilk and Snowmass. Together, Aspen/Snowmass is one of the biggest and most famous ski areas in the world. One lift ticket covers the whole lot so you can do as much exploring as you can possibly fit in.
In terms of skiing and snowboarding there's much to discuss. The biggest chunks of pistes are for intermediate skiers and then for expert skiers. So if you're a solid skier, or looking to challenge yourself then Aspen Snowmass is the place for you. As we mentioned, once you're done on the slopes there is a glittering array of après-ski opportunities and a solid nightlife. If you don't want to stay in Aspen, the alternative is staying in Snowmass Village – you can still access all four ski areas by short car rides from here too. Also in Colorado, if you still have time and desire for a skiing side-trip hit Telluride Ski Resort and/or Vail Ski Resort.
Are you a first-time skier or snowboarder? Here's all the basic ski resort lingo you need to know before your first ski trip.
Need more inspiration on where to go skiing or snowboarding? Check out our other recent articles:
Where to ski in France
Where to ski in the Swiss Alps
Where to ski in Austria
Top 5 places to ski in Europe
Where to ski in Poland
Where to ski in the Baltic States
Where to ski in Canada
Where to ski in China
Where to ski in Japan