Adventure Travel in Western Europe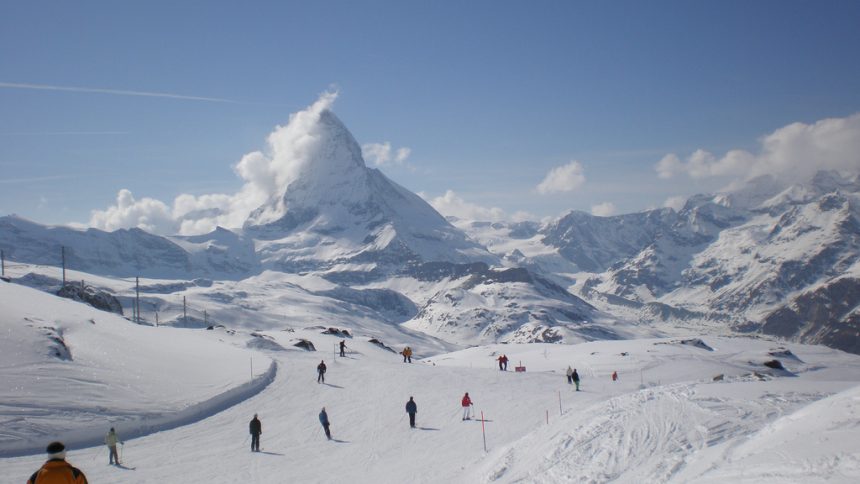 Where To Ski in the Swiss Alps
November 13, 2015
Winter in Europe is yet again upon us, and if the thought of the chilly weather and snowfall makes your heart melt, then you're likely to be preparing your skiing or snowboarding gear and planning your winter holidays. While Switzerland is not for bargain hunters, the Swiss Alps are undoubtedly home to some of the world's most premier skiing destinations. Here are our top tips for where to ski in the Swiss Alps, whether it's perfect power, views of the Matterhorn, or luxurious après-ski socializing you're after.
St. Moritz
The rich and famous come from all over (especially Russia) to see and be seen, but that doesn't mean the slopes aren't open to skiers  and boarders of all stripes to come and enjoy them. Besides, often those that have come along with the jet-set pack and to spot celebrities aren't likely to be spending the whole day sweating it out on the powder. There are three separate ski areas (Corviglia, Corvatsch and Diavolleza) accessible from the ski resort, and buses can take you between. Aside from skiing and snowboarding there are events like the Cresta Run, the Engadin cross-country ski marathon and polo-on-snow. If you have a bit of spare cash you could even skip the lifts and heli-ski to the peak and ski down. Stay in the spa region (if you don't want to spend a whole lot of cash on 5 star accommodation). If you're a serious adventure skier your best bet is to head to Diavolleza, here there's a marked freeride route which crosses two glaciers!
Verbier
Verbier is one of those Swiss ski resorts where the action heats up on and off piste. Its legendary (and pricy) nightlife, as well as its snow conditions – including plenty off piste terrain – have the faithful flocking back winter after winter. For a typical winter in Europe atmosphere Verbier is a great option, for example, there are row after row of classic wooden ski chalets. Here there are more than 400 kilometers of groomed slopes that make up the 4 Valleys Ski Area, including the Mont-Fort Glacier. Verbier is popular, so if it's wide open space and not too many other people that you're after then this may not be your best option. However, top skiers and snowboarders return to Verbier regularly so there's obviously a reason, and that's what keeps the masses flocking back too.
Zermatt
Near Switzerland's border with Italy, Zermatt is a wonderful location that has the Matterhorn looming large over its quaint streets and countless ski chalets. It's also a high-altitude skiers paradise, but also great if you like hiking, snow walking and other year-round mountain sports because there are dozens of mountains surrounding Zermatt that have peaks above 4000 meters. Zermatt – like many of the others on this list – is among the world's most expensive ski resorts (it is Switzerland after all), but the approximately 350 kilometers of pistes and generally terrific snow conditions ensure that everyone from beginners to experts return year on year. The sheer number of mountains surrounding Zermatt (you can even see the Matterhorn from the village), means that there's an endless amount of exploring to do so one thing's for sure – you'll never be bored.
Gstaad
Gstaad is the ultimate combination of posh, ritzy glamour and down-to-earth Alpine homeliness. The so-called Gstaad Mountain Rides includes more than 200 kilometers of pistes, and Gstaad also has the only glacier ski region in the Bernese Oberland. In addition to the incredible skiing or snowboarding opportunities, there are a number of winter sports schools, snow parks, a ski-cross run, a timed race course and a fun-slope. For snowboarders make sure you check out Snowpark Glacier 3000. Not only that, at Gstaad you can enjoy night skiing too where many of the slopes are flood lit so you can enjoy the sport even in the evening. Gstaad is fast becoming a top destination for snow-lovers, and with its well-groomed pistes and good conditions this is definitely a ski resort for winter sports lovers.
Klosters-Davos
The town of Klosters is about 10 kilometers from Davos and together they connect to the five ski areas of the Davos Klosters Mountains – one of the top skiing destinations in the world. For British royal watchers, Klosters is said to be the favourite ski resort of Prince Charles and one of the cable cars is even called the Prince of Wales. Prince William, Harry and other royals like Kate have often holidayed here. Davos, of course, is possibly most famous for the economic conference held there, but the Klosters-Davos ski area is not just for celebrity-spotting or international conferences; downhill fans, Nordic skiers, carvers, ice-sports lovers and winter walkers will all find what they're looking for here. Coincidentally, Davos is the city with the highest altitude in Europe, so you're very close to the mountain action. Together the Davos Klosters Mountains ski area includes 300 kilometers of well-groomed pistes, 140 kilometers of marked winter-walking trails and 140 kilometers of cross-country ski trails.
Are you a first-time skier or snowboarder? Here's all the basic ski resort lingo you need to know before your first ski trip.
Need more inspiration on where to go skiing or snowboarding? Check out our other recent articles:
Where to ski in France
Where to ski in Austria
Top 5 places to ski in Europe
Where to ski in Poland
Where to ski in the Baltic States
Where to ski in Canada
Where to ski in China
Where to ski in Japan
Where to Ski in the USA