Adventure Travel in South Asia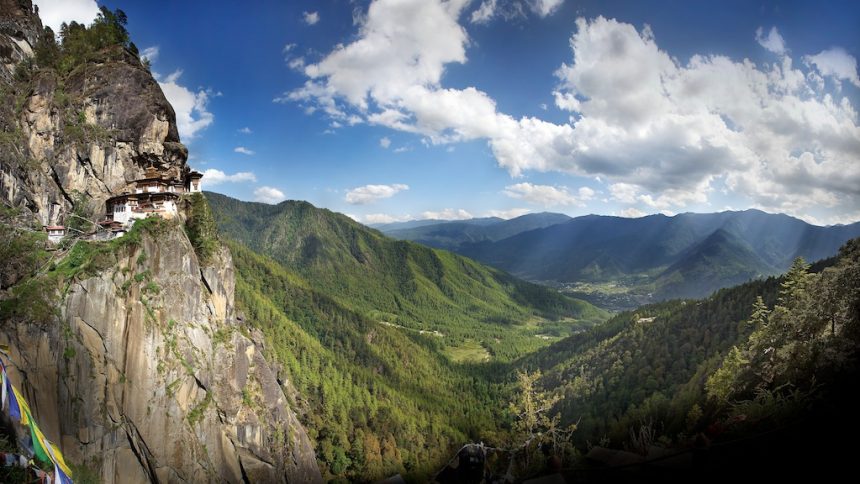 Mysterious Land of Bhutan Guide for Adventure Travelers
November 13, 2015
No matter whether it is your first ever adventure travel in life or your first ever step outside Europe, or your first ever trip to Asia – Bhutan has every reason to be on the top of your list. Is that just for its beauty? Not really. This land-locked, mountainous region has a harmonious blend of serenity and adventure to offer you with.  The adventure really starts as you land in the country, as this South-Asian Himalayan region has only one international airport that is surrounded by mountains, and there are only 8-10 pilots in the world who are authorized to make landing there. Whether you are looking for trekking, mountain biking, rock climbing, kayaking and rafting or just a hot air balloon ride – Bhutan has it all! Here is our Bhutan guide for adventure travelers if you are in search of a new destination to sooth your lust for adrenaline.
Mountain Biking
The entire country of Bhutan lies at the feet of the Himalayas, and the roads go up the mountains in all ways – mountain biking cannot get more fun in anywhere than this place. You can bike on the smooth and paved roads through the mountains or be more adventurous and travel to the off-road rough tracks. You will enjoy the breathtaking natural beauty and ancient lifestyle of the Bhutanese as you wind along with the trails through small towns and villages. You can also climb up above a mountain with your bike to enjoy the surreal landscapes around.
Kayaking and Rafting
Bhutan has a number of narrow, raging rivers – crystal clear and icy cold – fed by the glacial melts from the Himalayas. Six major rivers are scouted for kayaking and rafting. You can have the best experience if you try these sports during the months of March-April and November-December as water levels are a little too high during other times of the year. There are kayaking and rafting opportunities of various difficulty levels and at different places of the rivers – some with comparatively calmer and some with stronger currents.
Rock-climbing
Travel to the southwest part of Thimphu on a weekend for rock-climbing. There are several fixed routes to climb on The Nose, a rock face high above in Thimphu. There are 13 different safely bolted climbing routes in difficulty degrees from 4B up to 7B in lengths between 12 and 27 meters – so you can choose your route according to your preference.
Hot Air Balloon Ride
Take a six-hour long drive from Paro airport to reach Gangtey Goenpa Lodge, which is the first place in Bhutan to offer hot air balloon ride. You can drift over the Gangtey valley in the balloon, following the path of rivers and fortresses and pine forests. Then you will float over a village at the edge of the Black Mountain National Park, and meet the rare black-neck cranes circling above, which are sacred to Bhutanese people.
Trekking
Bhutan is one of the best places for trekking, does not matter whether you are looking for a day-long or month-long adventure. As you move through the country, you will encounter pristine lakes, massive glaciers, suspension bridges, the innumerable prayer flags brushing your face or deep forests that constitute around 80% of Bhutan's land area showcasing the rarest of species – all making your trekking experience totally worth it.
You should already have all the reasons ready to make Bhutan your next travel destination. Bhutan is stunningly ancient in that it will make you feel as if you have time-travelled to some faraway land before the waves of capitalism and consumerism set in. The people wear traditional dresses even to office, they eat traditional food, and you will find almost no international brands operating there. As the country is becoming more and more open towards tourism with its advent of democracy, it is in fact better to go there before it loses its unspoiled magnificence.
Image credit: Michael Foley