Watersport Adventures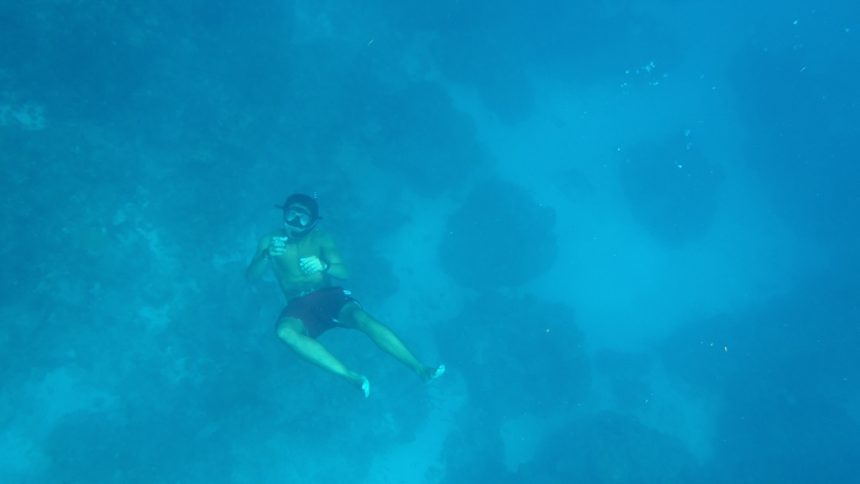 What is Free Diving?
November 25, 2015
Water sports lovers who are looking for a new challenge might want to try free diving next. It's a great adventure sport that doesn't require much in the way of additional equipment and can be done pretty much anywhere. All you really need is to be able to hold your breath (using the right technique) and dive down. So jump in if you want to find out just what is free diving.
What is Free Diving?
Unlike scuba diving, free diving – or breath-hold diving – relies on the person holding their own breath while diving down – not using an oxygen tank or other breathing apparatus like snorkels. While you can free dive for any reason – perhaps to dive down to see fish or corals, or to take a photo – others free dive as part of sports like underwater football or, more famously, synchronised swimming.
For those that like to take their adventure sports to an extreme level, they free dive to take on various competitive apnea challenges. So, holding a single breath under water for longer times, longer distances or deeper depths. Competitive free diving is governed by two bodies the International Association for Development of Apnea and the Confédération Mondiale des Activités Subaquatiques – World Underwater Federation. Of course, some just challenge themselves to their own "Personal Bests" in various diving environments.
Why Go Free Diving?
The benefits of free diving are predominantly in the greater agility and speed available as you're not wearing cumbersome scuba gear. It's also significantly cheaper than scuba diving as scuba comes with the relatively high cost of the ownership or rental of scuba gear. You can also descend much more often as there's no mandatory decompression time between deep dives as you have with a day of scuba diving. Some find the bubbles and sounds of the regulator distracting during scuba diving, and neither occur with free diving, so it's a peaceful and meditative sport for many.
Those who love free diving also do it for the challenge, and many who practice it regularly can often dive as deep as a normal scuba diver would do to see corals, fish or wrecks.
The only major downside is that a free diver must keep returning to the surface for air, whereas a scuba diver can stay down for the dive duration of 30 to 90 minutes exploring continuously.
Overall though free divers are sometimes also scuba divers, but just go free diving when they're looking for the new challenges of holding their breath and seeing how far down and how long they can go without resurfacing.
Are There Special Free Diving Techniques?
Absolutely! Increasing your time down below requires specific skills. There's training you can do on land to increase your lung capacity (ie your breath holding ability) so that you can hold your breath for longer underwater. Plus, there are many free diving courses (often held where scuba diving courses are held), and they'll teach you about your body's physiology underwater. The trainers will take you through the correct breathing techniques and provide you with training tips you can continue to do after the course itself is over. It's likely the course will also take you through not only how best to hold you breath underwater, but also how best to dive down (including the breathing exercises to do before diving down and correct finning techniques) so that you get the most out of your time underwater. It's likely your course will include static apnea, horizontal swimming and duck diving. Usually the starter course only takes about two to three days, but remember the course is good to do because it's likely they'll also teach you safety precautions and what to do if something goes wrong.
Where are the Best Free Diving Spots?
You can learn free diving at many of the spots that offer scuba diving courses. PADI – the main body offering scuba diving courses worldwide – offers the PADI Freediver course for example. It also offers some of the same extensions as with scuba diving, so for example the PADI Advanced Freediver and the PADI Master Freediver courses. To stat with you'll do both confined water sessions (like in a pool) and then open water sessions (out in the ocean, sea or lake).
Free diving is about mental endurance, and challenging yourself physically using the right techniques to stay underwater longer and deeper. But all this mumbo jumbo doesn't mean you can't just have a peaceful time underwater using these techniques to check out what's down below, so these are some of the most exciting places for free divers to check out:
SS Yongala Wreck, Western Australia: If you're an experienced free diver, this is one of the wreck's that you could discover while free diving. You might also come across some whale sharks too!
Mary's Place, Honduras: Check out walls of corals and reef fish during multiple duck dives down.
Sipadan Island, Malaysian Borneo: Borneo is filled with brilliant activities, but one of the musts is to dive off Sipadan Island. See schools of barracuda, sea turtles, and while you're enjoying the pristine clear waters explore the abundance of corals and reefs.
Great Blue Hole, Belize: Part of the UNESCO listed Belize Barrier Reef Reserve System, this dive is extremely popular among divers of all stripes. This hole is about 124 meters deep and about 300 meters wide, and provides hours of exploring. It's possible to catch nurse and reef sharks here, as well as corals and sealife.
The Bismarck Sea, Papua New Guinea: As we wrote recently, there are plenty of adventures in Papua New Guinea but don't miss free diving off one of the islands in the Bismarck Archipelago.