Adventure Travel in Oceania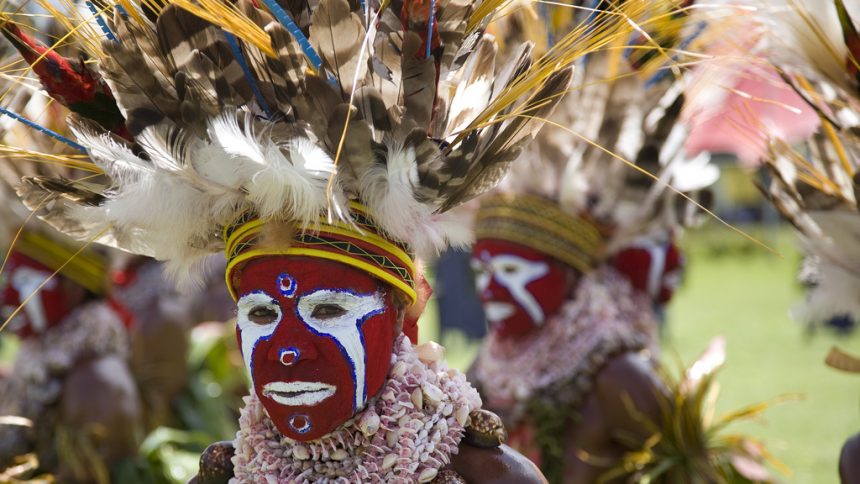 Adventures in Papua New Guinea
November 23, 2015
Papua New Guinea is a mysterious land that seemingly few know much about, and it's certainly not on the typical tourist-route. However, for adventure travellers – with plenty of planning and street smarts – Papua New Guinea is undoubtedly a treasure trove.
Just remember that Papua New Guinea is not 100% safe (although you could argue nowhere in the world is). But high levels of crime, and occasional unrest add to the challenges. As we mentioned, doing your research, staying in safer areas, and sticking with a knowledgable guide is a must. Plus, as always, don't flash your cash or expensive items as that's always a magnet for opportunistic thieves. Be particularly vigilant in the capital, Port Moresby, and other major cities for the so-called Raskols (local gangs). As always, check your country's up-to-date travel advice as well.
Now that we have that travel warning out of the way, we uncover the best adventures in Papua New Guinea for truly intrepid travellers.
Hike the Kokoda Track
The 96 kilometer Kokoda Trail links the southern and northern coast of PNG, it's of particular importance for Australians because the Australian army fought the Japanese here during World War II. It's a challenging hike across mountainous terrain, rainforest, overgrown jungles, and fast-flowing streams. The Kokoda Track takes up to about 12 days and poses significant challenges (although it can be conquered by a fit walker), but remember people have died of natural causes along the way, so it shouldn't be underestimated. Nonetheless, the strenuous walk has grown in popularity, and it's an ever-growing drawcard for those wanting to learn something of PNG's WWII history, see local villages and experience the varied landscape.
There are many other treks to do in Papua New Guinea, including hiking in the highlands of central PNG. Some popular treks include the Shaggy Ridge Trek or the Mount Wilhelm climb up to its peak of 4509 meters (the highest in Oceania).
Water Sports in PNG
Being an island country of the South Pacific, Papua New Guinea has some of the world's best scuba diving thanks to its deliciously warm waters, high visibility and some of the densest populations of marine life and living corals. For scuba divers, consider including dives off West New Britain, Rabaul, muck diving at Milne Bay, plus diving in Tufi, and Kavieng on your itinerary. If you have time, sign up for a liveaboard diving excursion and explore Eastern Fields. You can also try snorkelling in PNG with plenty of coral and colourful fish to see.
Many of the tourists who come to PNG head to Vanimo and nearby Lido for its terrific surfing. The surf season is October through to April, although in reality it might be much shorter. Stand up paddling (or SUP for short) is also very popular in Papua New Guinea, as is kayaking between and around the islands and inlets.
Cultural Discovery
One of the most adventurous aspects of travel to PNG is getting to known the local communities and cultures. One of the most famous is seeing the vibrant Goroka Show in the Eastern Highlands Province, which is a tribal gathering of more than 100 tribes. See the various customs, traditional dress, and song and dance of some of the local groups. There is also the Crocodile Festival or the Madang Festival, which are both popular with tourists.
Even as you simply go on organised treks in remote areas, it's worth stopping by the villages and seeing a slower, more traditional, pace and way of life. You might even see locals still hunting, collecting and fishing. There are thousands of different cultural groups in PNG, so there's no 'one' cultural experience – travel to PNG really is a case of choose your own adventure! Remember to always be respectful of the locals going about their everydays.
Volcano Watching
Rabaul volcano is one of the most active and most dangerous volcanoes in Papua New Guinea. The young cone called Tavurvur located within the caldera is often seen blowing ash high into the air. The volcanic arc stretches across northern PNG, with famous volcanos including Manam, Karkar, Lamington, Langila, Ulawun and Bagana. It's little wonder that Papua New Guinea has so many volcanos, after-all it's quite near the infamous Ring of Fire, which passes over much of neighbouring Indonesia.
Island Hopping
Although Papua New Guinea itself sits on a large island (the other half of which is the Papua and West Papua provinces of Indonesia), it's also recommended you check out some of the islands off PNG. Heading to the islands of the Bismarck Archipelago is a must, here's what we recommend:
East New Britain: Check out various relics of World War II and the aforementioned Rabaul volcano
West New Britain: Much less touristy than East New Britain so there's plenty of uncovering to do for the adventurous. Stop by the Walindi Plantation Resort if you're a diver!
Manus: The Admiralty Islands are great for divers and snorkelers with its rich marine life and divine corals.
New Ireland: A peaceful, mountainous region with plenty of beaches and relaxing to be had. There are various festivals here, which are a drawcard and a real love of sealife (both watching and eating).
North Solomon Islands: Comprised of Buka and Bouganville islands (and other smaller ones), come here to see wonderful flora and fauna and what feels like a really untouched way of life.