Adventure Travel in Central America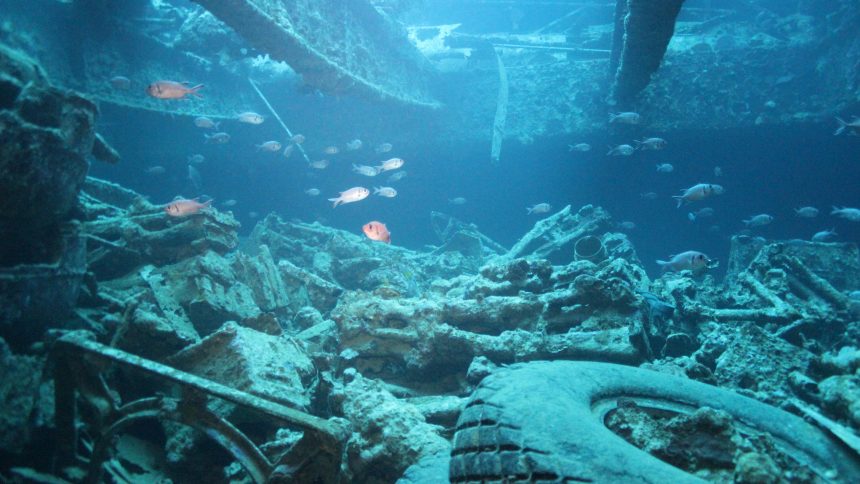 The World's Best Wreck Dives
November 23, 2015
The pleasures of the world's best wreck dives are many and varied. It could be to challenge yourself in terms of depth, buoyancy and navigation; or to discover what sea-life has made the sunken object home. For other divers, wreck dives are about seeing a snapshot of history, or to discover what objects might be hidden deep on the seabed.
Those with an advanced diving certificate can dive most of the world's best-known wreck dive sites; while some others are even accessible with just a basic diving certificate. Some, however, on this list require the specific wreck diving certification or other specialised training like the Nitrox Diver Course to take full advantage of the dive site. If you haven't yet done a wreck dive – or you have and you've caught the bug – here are our favourite 5 of the world's best wreck dives.
SS Thistlegorm, Egypt
The Red Sea, most popularly accessed from Egypt's Dahab or Sharm el-Sheikh, is home to some of the world's best scuba diving, and from among the dozens of dive sites one of the most popular is the SS Thistlegorm wreck dive. It's accessed by boat from Dahab, or more commonly Sharm, and the day trip usually involves one or two other dives in the deep blue with the hope of spotting something big.
The SS Thistelgorm was a British merchant navy ship, sunk in 1941. It sits at a depth of about 30 meters, meaning special diving training (other than the advanced certificate) isn't require to dive this site. It's possible to dive inside and around the wreck, but inside you will find the most exciting things, for example, trucks, motorcycles, boots and tires that are still filled with air. Getting around is an excercise in good buoyancy as you move in and around the various sections. You might also find barracuda, Morey eel, lionfish or sea turtle hovering around.
USS President Coolidge, Vanuatu
USS President Coolidge was a luxury US ocean-liner and then a troopship. She was sunk in 1942 by a naval mine. Divers here can see remnants of the largely intact luxury cruise liner and military ship, and divers are even able to swim in and around various holds and decks. In what is a sure contrast between the ship's two uses, divers will be treated to military equipment, cars, a statue, chandeliers and a mosaic fountain. Corals have overgrown the wreck, bringing with them reef fish too. Once in Vanuatu your best bet is to head to Luganville on the Island of Espiritu Santo, from where you can do USS President Coolidge as a shore dive.
USS Oriskany, United States
Unlike the first two on this list, the USS Oriskany was purposefully sunk, with the goal of creating an artificial reef, at a depth that would be accessible to everyday divers. Before being made into a dive site, the USS Oriskany had worked in the Pacific participating in both the Korean and Vietnam wars. The boat was sunk in 2006 off the coast of Pensacola (Florida). Dubbed the Great Carrier Reef (in a nod to Australia's Great Barrier Reef), a dive of the site will often surprise divers because the water is clearer and warmer than elsewhere in the area. Sometimes – depending on time of year and luck – whale sharks might also be visible. While diving the boat can be done by those with just the openwater certification, it's better if you have the advanced diving certificate; and those who want to go inside, or further down the boat should have specific training.
Jake Seaplane, Palau 
It's not just ships among the world's best wreck dives, Jake Seaplane, for example, is an example of an aircraft wreck that you can dive. Palau is an island country located in the western Pacific Ocean roughly east of the Philippines and north of Indonesia and Papua New Guinea. Palau is actually made up of hundreds of small islands. The most popular among tourists is Koror island, and Jake Seaplane is about a five minute boat ride from most of the dive-shops in Koror. The World War II aircraft sits at a depth of just 15 meters so you can do this wreck dive with the basic open water diving certificate. Paulau had a number of active Japanese seaplane bases, and it's thought this plane was either bombed or took evasive action and hit the reef (although no one's really sure). Once you dive down you can discover radios, ammunition and even a small bomb! It's sometimes possible to enter the cockpit and get a feel for what it might have been like for the Japanese pilots. As with ALL dives, remember not to touch or take anything. The Jake Seaplane is actually a great option for night dives too, and you could be in luck and see an octopus!
Hermes, Bermuda
Bermuda is most often associated with being a tax haven, or with the frightful "Bermuda Triangle" but the series of islands in the North Atlantic Ocean (east of North America) also offers some pretty spectacular diving. One of the world's best wreck dives is located off Bermuda thanks to the Hermes, which was a US Navy freighter, which had been carrying mixed cargo, but experienced engine troubles and was abandoned. The ship was later purposefully sunk to create an artificial reef for divers to explore. The ship is intact and upright, and the clear visibility makes this dive site great for underwater photography. Divers can explore the galley, cargo hold and propellor (among many other things). The Hermes remains in great condition, so add this to your bucket list of the best wreck dives that a diver simply must do!