Adventure Travel Destinations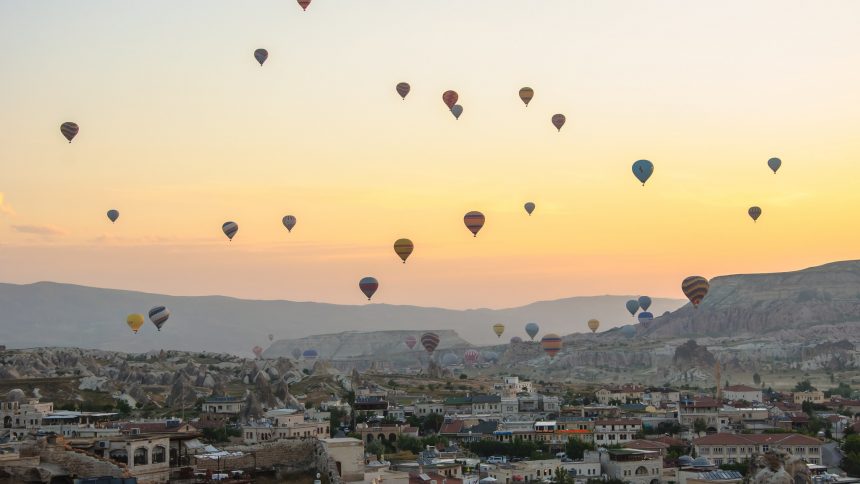 Adventurous Hot Air Ballooning Spots
November 20, 2015
There's something incredibly romantic about hot air balloon flights. The thought of silently floating through the sky in a huge basket, with simply the sound of the gas burner filling the giant, colourful balloon above, as you are steered over a majestic location has a certain tranquility to it. While hot air balloon rides can be done in many locations – and are often paired with a champagne breakfast to follow the early morning start –  for adventure seekers, we recommend you fly high in the sky at one of these adventurous hot air ballooning spots and soar over some of the world's most incredible landscapes.
Valley of the Kings, Egypt
The Valley of the Kings is an ancient and mystical location where – on foot – you can discover many of the temples and tombs of the Pharaohs of ancient Egypt. It's particularly famous for being where the tomb of Tutankhamun was uncovered. Yet it's also possible to see this incredible landscape from the sky. From a base in Luxor, you have to be up super early (pre-dawn), and take a boat to the west bank of the Nile river. Once at the launch-site your tour leader will take care of the details. You'll be up in the air for the approximately one hour flight, and you'll be sailing over surprisingly lush fields, temples and villages that slowly come to life at dawn. As you watch the sunrise over this important location in world history, you'll also be mesmerised by the countless other balloons dotting the sky. Landing is a thrill in itself!
While there have been fatal hot air balloon crashes here, and there have also been some safety concerns during periods of regional instability, your guides will do their best to ensure you only take off in the safest weather conditions. It's always best to check independent travel advice as well.
Cappadocia, Turkey
Undoubtedly, Cappadocia is one of Turkey's most famous natural landscapes. Located in central Anatolia, Cappadocia's incredible domed rock formations, and villages that seem to blend into the rocky surrounds, make a hot air balloon ride at Cappadocia and nearby Göreme National Park a must! Many come to Cappadocia to try this adventurous activity, so make sure you book a flight when you get there (or even beforehand). Again, like with most hot air balloon rides it's an early pre-dawn start, and most of the time a celebratory shared breakfast is included afterward. Some of the flight operators offer flights of up to 90 minutes, so you will have plenty of time to settle in and enjoy your time flying high. Don't choose sleep over this experience!
Serengeti National Park, Tanzania
The UNESCO World Heritage Listed Serengeti National Park in Tanzania is probably not somewhere you'd normally consider hot air ballooning – after all there's too much to see on the ground, right!? Wrong! Hundreds of meters up in the air is a great way to take in this African landscape, from the unusual trees and plantlife to potentially spotting herds of African wildlife that you might otehrwise miss on a safari. The pilot will use changes in altitudes and layers of air to guide the balloon, so each flight will be different and an adventure; the beauty of this is that you simply don't know what you will discover until you get up there! Look out for zebras, Thomson's gazelles, wildebeests, herds of buffalo, groups of elephants and giraffe, and maybe even lions and leopards. As fun as it will be to play a game of spot the game, it will also be incredibly humbling to see the golden landscape of the Serengeti Plains stretch out before you.
While hot air ballooning here isn't cheap, it's not a tour you'd want to miss while visiting the Serengeti. If a ride isn't included in your trip already, you should sign up in advance. Hot air balloons takes off all-year-round, but there are wet seasons (approximately March to June) when the ground will be a more luscious green, as you can see in the image above.
The Alps, Switzerland
While you might not think of one of the world's most mountainous regions as an ideal spot for hot air ballooning, you better believe that gliding over the Alps is one of the most unforgettable experiences you could have! Many hot air balloon flight tours start Gstaad, Switzerland. Balloon flights take off leaving the snowy landscape below you. As the Alpine ever-green trees become smaller, the expanse of the Alps will open up in front of you. Winter is the best time of year to try this activity so that you can see the snow-covered peaks of some of the world's highest mountains. Ballooning at other times of year is also possible.
You might be surprised to learn that Switzerland is a bit of home to hot air ballooning, since each year in January the International Balloon Festival takes place in Chateau d'Oex. During this event there are various fun rides as well as competitions.
Albuquerque, United States
Also with its own balloon festival, each year Albuquerque in New Mexico hosts the Albuquerque International Balloon Fiesta. Held in October this is an event draws hundreds of colourful balloons from all over the world, mesmerising those still on the ground with these moving dots in the sky. But you can still fly high in Albuquerque even if you're not there during the first week in October. Many call this spot the ballooning capital of the world, and not without reason. Fly above the Rio Grande river, and this great US landscape. If ballooning is on your bucket list, you should add a trip to Albuquerque to your adventure to-do list.