Adventure Travel News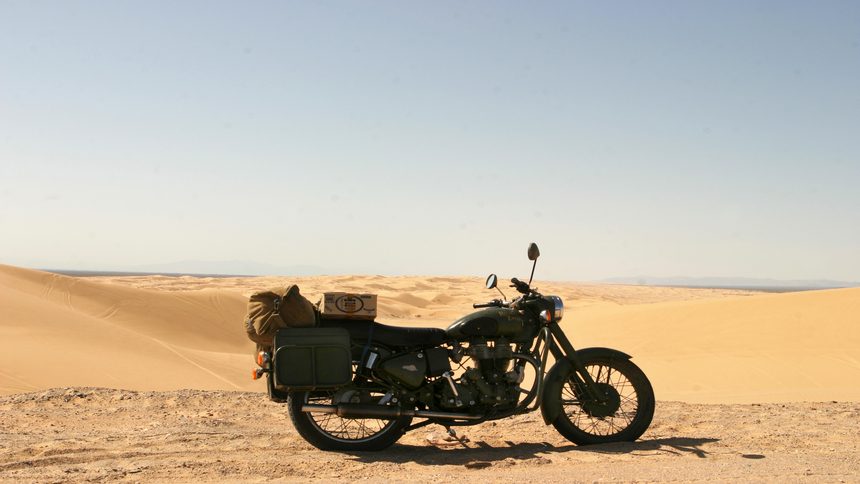 Join the Motorcycle Relief Ride in India this January
November 24, 2015
(Image Credit – Ben Lepley)
Get ready to join a new Motorcycle Relief Ride in India the coming January, 2016. The motorcycle journey will cover almost 1118 miles across the Thar Desert of Rajasthan on 500cc Royal Enfield motorcycles. Humanitarian adventure travel company Relief Riders International is arranging this tour as a part of its first motorcycle program in India.
The riding group will include 12 riders and two guides in total. They will facilitate in digging a well and building a bathroom at a local school as a part of the Sanitation Program, and also volunteer at a cataract and dental camp by helping the medical officers in administrative duties as a part of the Eye and Dentistry Program. The latter will offer as much as 50 free eye surgeries and 400 dental treatments in Alniyawas, a village near Pushkar.
However, the journey will not only include voluntary works, but there will also be scope for the riders to relax and unwind while staying at the beautiful ancient forts along the way. Riders will stay at Samode Bagh (surrounded by the Aravalli Hills), Vivaana Haveli (restored from the 19th century) and Sardar Samand Lake Palace (an Art Deco hunting lodge). Besides, they will visit Harasar Fort, Kumbhalgarh Fort, Lal Niwas Palace and Junagarh Fort, and take a ride through Tall Chapper Sanctuary.
Riders are entitled to carry a motorcycle license, bring their own bike and have riding experience of at least 2 years, which is not surprising considering how busy Indian streets are. Even so, if anyone gets tired of riding every day, they can make use of the Jeep that will follow the group with extra seats, snacks and the luggage all throughout the journey.
The tour will expand for 12 nights and start from January 16th of next year. The fees for per rider will cost $6400 which will cover full board, all meals, taxes, and gratuities and provisions for the two humanitarian programs. You can connect with Relief Riders International on the web www.reliefridersinternational.com.