Motoring Adventures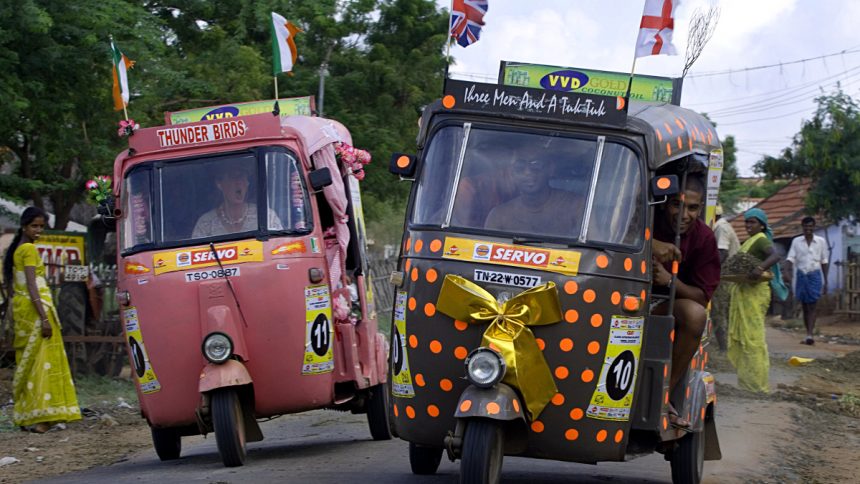 The Funniest Car Rallies in the World
June 28, 2016
Car rallies don't always have to be hyper competitive. Some of the funniest car rallies in the world are more about having a bit of a laugh and challenging yourself when things go wrong. But despite these amusing car rallies sounding sometimes absurd, don't be fooled – once you hit the road, even if it's in a rickshaw or a beat-up old car, your competitive instincts will kick in to get you over the finish line.
Rickshaw Rally Challenge
There are many rickshaw car rallies, but the Rickshaw Rally Challenge by the Travel Scientists is one of the first car rallies in this category – and one of the best. Travel on the three (precarious) wheels of these iconic Asian vehicles all the while  seeing remarkable landscapes, meeting the fascinating locals, and savouring the sights, sounds and tastes of Southern India. South India – in comparison to northern India's famous touristy sites like the Taj Mahal –  is less visited, which is why this area is the best for true adventure travellers looking to make some unique discoveries. This is a challenging adventure where you will have to step out of your comfort zone. You will get lost, you will break down and you will find yourself in parts of India where very few tourists pass through – but it will be worth it.
Crumball
The Crumball's Thunderball rally is one of the classic budget and banger car rallies, where you have to drive a car that's worth less than £200. So, given the high probability of car troubles you will need a sense of humour, quick thinking, and maybe the ability to do some quick DIY fixes on the side of the road. Crumball's upcoming "Thunderball" rally will next take place in September and takes courageous drivers into three countries (France, Italy and Switzerland) over three days. Like many car rallies this a very low assistance car rally – so you'll be fending for yourself no matter where (and when) your car breaks down.
Bullathon
Ok, so we know that this is technically not a car rally, but it still involves wheels, a driver, a road and a race so we're going to include it here anyway. Taking place in east India, and arranged by the experts at Travel Scientist, this four-day Bullathon race will go from Kadambavanam Resort to Muthu Nagar Beach. This is a truly quintessential Indian experience. The slow pace of travel means you'll truly get to soak up the atmosphere, and you'll travel on off-the-beaten-track back roads through tiny villages. Teams are usually made up of about three people, and the next Bullathon is waiting for you in January 2017.
Blind Man Car Rally
This rally has a feel-good factor like no other. To raise awareness about blindness and the capabilities that blind people still have. The day-long rally involves a blind person navigating the seeing driver on a pre-determined route. The aim is to reach the finish line at precisely the right time – not speeding to come in fast, or taking too long. The event takes place in Nagpur, which is essentially smack back in the middle of India. With the event just occurring in February 2016, we look forward to the 2017 edition of the Blind Man Car Rally, because is an incredible idea that places it firmly amongst the world's funniest car rallies.
Baja 1,000
The SCORE Baja 1000 race is a pretty famous car rally that takes place in Mexico. The race includes a point-to-point option from Ensenada to La Paz, or a loop starting and finishing in Ensenada. The longer race takes in more than 1200 kilometers over about four days. All kinds of vehicles can get involved such as motorcycles, cars, work vehicles, buggies, trucks, and customised race vehicles. Locals often create tracks and obstacles for contestants, which drivers also have to look out for. So what's weird about this race? It's a non-stop car race, where you're racing against the clock instead of other drivers. Plus the terrain is tough, and the aforementioned booby traps can make life difficult. You have to qualify for this race through a series of pre-races. At the moment the fastest completion time for a car was in 1990 where the team in a Chenworth Chevy completed the loop in 12 hours 30 minutes.
Other motor sports for adventure travellers articles:
Weirdest Motor Sports
Best Grand Prix to See  for Adventure Travellers
Motorcycle Diaries: World's Best Motorbike Riding Trails
All About ATV Racing
Rip Roaring Demolition Derby
Incredible Car Rallies That You Can Try Too!