Motorbike Adventures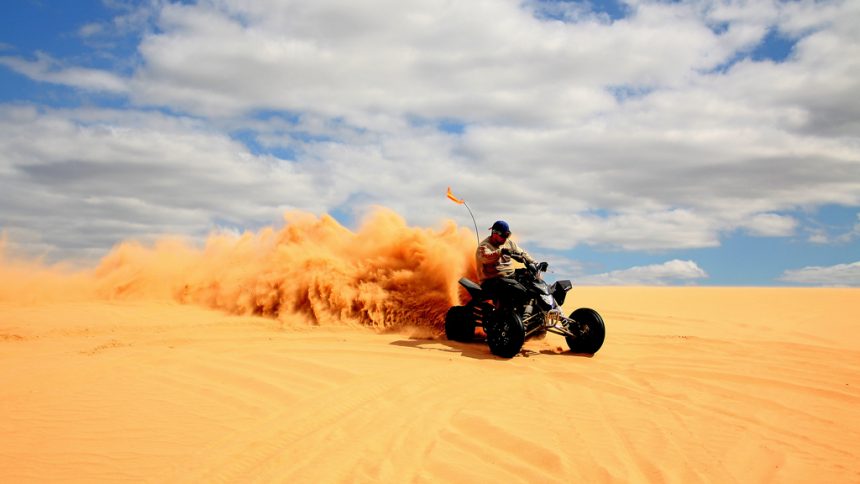 9 Weird Motor Sports
June 13, 2016
Motor sports are definitely not limited to those in the F1 Grand Prix or MotoGP categories. There are lots of weird and wonderful motor sports for competition and fun! Here are 10 of the weirdest motor sports around…
Mudding AKA Mud Bogging
Mud bogging (or mudding) is an off-road motor sport that is particular popular in North America. It involves racing another car or racing against the clock to get through a mud pit. Some of the races are done in natural mud pits, other's are man-made and include hills and pits to give drivers an additional challenge. Different races have different types of cars, but often it's a 4×4 or raised truck. You might think this is a small sport, but actually mud bogging races are attended by millions of people particularly in the United States and Canada, and there are even governing bodies like the American Mud Racing Association and the National Mud Racing Organization.
Tractor Pulling
Tractors and their riders compete to pull a sled a set length, the race is about who can pull the sled the furthest; and if more than one rider crosses the finish line then weights are added to the sled until there is just one winner whose made the longest distance with the heaviest weight. It's considered a power motor sport, because of the big engines added to the tractors to have the power to pull the heavy sleds. While this might sound like one of the weirdest motor sports around, it actually has a decades-long history since horse and cart and wagon races were used to show the strength of their horses – kind of like where the term "horsepower" came from!
Lawn Mower Racing
The ride-on lawn motor – usually used to easily mow the lawns of a large garden – has been transformed in recent years to a form of motor sport. Most of the time the lawn mowers are modified for speed and power. Lawn mower racing is particularly popular in Australia, the United Kingdom and the United States.
Swamp Buggy Racing
Not to be confused with mudding, swamp buggy racing involves swamp buggies, which are modified vehicles made particularly for traversing mudding waters. These vehicles are great at multi-tasking because they can typically propel through mud, drive over terrain from tall grass to logs, and float on muddy waters. There are specifically designed race tracks for those competing in swamp buggy racing, one of the best-known of which is Mile O' Mud in Florida, United States.
Rock Bouncing
If you're sick of all the usual motor sports, then rock bouncing is for you. There are plenty of clips on YouTube if there's nowhere to try rock bouncing near you. Using a modified truck, the aim – if you choose to accept it – is to make your wave over the roughest terrain, seemingly bouncing off the walls. Check this for inspiration:
Desert Racing
There are plenty of motor sports you can do in the desert with sand and sand dunes offering a great canvas for motor enthusiasts. You can either go 2-wheel or 4-wheel and everything including dirt bikes, to ATVs, troop carriers to dune buggies. The options are endless. Organised sports include desert rallies, sand drag racing, and dune bashing.
Formula Off-Road
While most of these weird motor sports stem from the United States, Formula Off-Road racing stems from Scandinavia – Iceland to be precise. 4WD cars are used to navigate steep hills and extreme terrain, showing off the precision driving skills of the drivers. Drivers have to navigate a set track, with points taken off for stopping or reversing.
Monster Truck Shows
While most motor sports are about showing off your driving skills on a tough terrain, or your high speed agility, monster truck shows are about your destruction skills. Monster trucks are modified pick-up trucks or dune buggies with giant wheels and good suspension. Monster truck shows are a popular form of motor sport that are often televised entertainment with the aim of showing giant trucks destroy smaller cars. Sometimes, though, monster truck shows take place in stadiums where big sand mounds are navigated by the giant trucks. Take a look at this for some examples of epic monster truck performances:
Truck and Trailer Racing
Truck racing involves the high-speed racing of truck trailers on a race track. These truck trailers can get up to speeds of more than 200 kilometres per hour. And if this sounds like pretty risky business to you, you're not wrong. Check out this video clip of frightening spills on the race track.  Then, slightly different, but in the same theme there is trailer racing. Which is one of the weirdest motor sports where you have to pull motor homes (aka caravans), or box trailers behind a car at high speeds around a race track. You can imagine with the trailer or motor home swinging behind the car what could go wrong. Watch this short video to find out.
Ice Racing
Ice racing involves picking your preferred motorise vehicle like a car, motorcycle, snowmobile, all-terrain vehicle or truck and heading out on some dry ice. Ice racing typically involves some modifications to the wheels like putting studs on the tyres so that there is a bit more grip. It can be done on frozen rivers, lakes or roads which is covered in thick frozen ice. There are famous races in Russia like the Northern Forest off-road race near St Petersburg,
Other motor sports articles:
A Brief History of Moto Cross
Motorcycle Diaries: World's Best Motorbike Riding Trails
Best F1 Races for Adventure Travellers
All About ATV Racing
Rip Roaring Demolition Derby
Incredible Car Rallies That You Can Try Too!
Weirdest Motor Sports