Three Wheel Adventures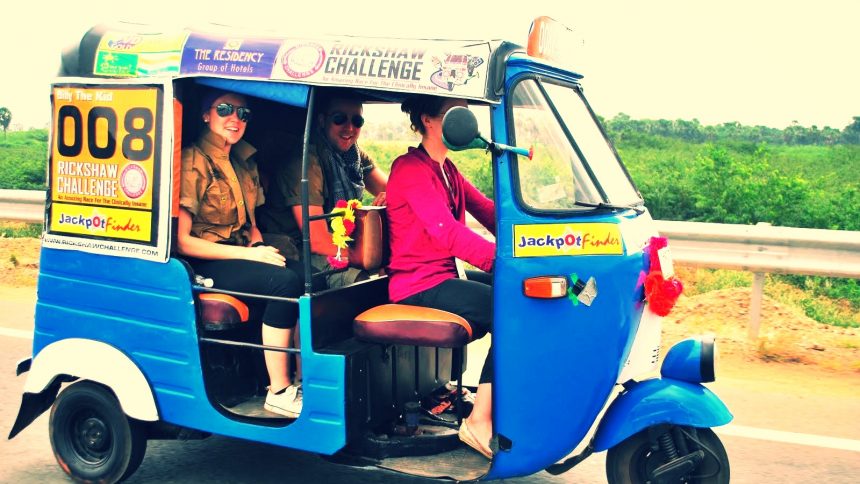 Driving with a Tuk-Tuk and Not Being Ripped Off in 4 Major Cities
September 15, 2015
Before you become an experienced tuk-tuk rally adventurer, most likely the first contact you'll have with the world of these three wheeled vehicles will be traveling across Southeast Asia and India. And driving in a tuk-tuk in one of the region's bustling cities with their overcrowded streets is certainly not an adventure that you should miss!
Our tips for driving with a tuk-tuk and not being ripped off in four of the most fascinating cities of the three-wheeler realm will provide you with some basic advice, so you won't have any excuse left, not to go for this tuk-tuk adventure!
Bangkok
There is hardly a city, which is so strongly connected to the iconic three-wheelers, that are roaming its streets around the clock. Being pushed aside in the last years by the metro system and fancy, air-conditioned cabs, they mostly used by tourist nowadays.
You'll find the tuk-tuks with a mostly blue body and black roof near all popular tourist destinations. Competition is high in Bangkok's capital, but that doesn't keep drivers from snoozing in their hammocks, hanging under the roof of their tuk-tuk. However, you'll be surprised how quickly they are wide awake again, when their sixth sense is telling them, that tourists are approaching.
Fitting in up to 3 people, tuk-tuks don't have a meter and are usually more expensive than taxis, so you should take a tuk-tuk ride in Bangkok purely for the experience. Never get in a tuk-tuk in the centers of tourism, like Khao San Road or close to the Grand Palace, since prices in these areas rise exponentially. Also scams, like making random stops and trying to bully you into tailor or gem shops, are more prevalent here.
Ask the employees of your hostel or hotel about reasonable rates and fares, before you start negotiating with a driver. Haggling is part of the game, but remember that most of the tuk-tuk drivers end up with a less than decent salary, after subtracting all expenses, so don't be too hard on them. Always negotiate before you enter the tuk-tuk and be sure, that the driver is clear about the agreed price and your destination.
Avoid the rush hour in the morning and in the evening, since there is no pollution mask that could properly protect you from all the dirt and exhaust gases in the air. Taking a tuk-tuk at night you'll get your own mobile dance club, since many drivers have pimped their rides with neo-lights and stereo equipment.
Siem Reap
It is almost impossible to visit Cambodia's ancient Angkor and the largest temple complex in the world, without taking a tuk-tuk from nearby Siem Reap. The competition is tough, since even though there are countless tourists, there seem to be even more tuk-tuks roaming the streets. Especially in the morning hours, when the tourist are starting their trips to the temples, it is haggling time. If the drivers don't get a customer then, they most likely won't get one for all day.  
It is best to book a driver through your hotel/hostel or according to other travelers recommendations. You will spend the whole day with him, so choosing a reliable, honest driver, who won't try to rip you off, is important. If you are traveling alone, share your tuk-tuk with up to 3 other solo travelers –you all want to see the same sights anyway. It will reduce the cost and you are less likely to be scammed.
Remember that those tuk-tuk drivers are no tour guides. You might be lucky and find one with decent English and some knowledge about the area, but don't rely on it. Drivers in Cambodia are comparatively easy going. If you like yours, book him also for the next day, and you will have one of the most attentive and caring driver you could wish for.
Mumbai
While rickshaws are not allowed to enter the city center, they are a main form of transportation in the suburbs in India's metropolis Mumbai. They are fast, can fit in up to 3 people and are cheaper than taxis. With about 300 000 rickshaws in the city, there is always one close to easily be stopped. Before you get in, agree either on the meter being turned on or on a fixed price to your destination. It is good to know the approximate distance and the directions to your destination, or even support your driver giving directions with the help of a GPS device, otherwise you might end up zig-zagging through Mumbai's chaotic streets longer than necessary – be it because your driver doesn't know the route or he assumes you don't know it and wants to stretch the price.
If you agree on a fixed price, haggling is unavoidable. Some basic knowledge of the prices comes in handy.
Mumbai's drivers are infamous for their wild and adventurous driving style across the pothole-laden streets with their rickshaws having horrible suspension, so get ready for a bumpy ride!
Saigon
Saigon's three-wheelers are a little different. Here you won't find the motor-operated ones, but the good old Vietnamese cyclos, propelled by physical labor. In the always bustling and hectic metropolis of Saigon slowly declining, cyclos are by now a mode of transport solely for tourists. They are a great way to explore the city in a slow, quiet way and to truly take in your surroundings. Scams are very common though, where drivers – many of which speak quite good English – just vigorously pretend that you've agreed on a much higher rate than you actually did.
The best way to avoid scams is to book a cyclo tour through your hotel or hostel. The prices these drivers charge are mostly acceptable. And don't forget: you'll have someone actively driving you on a bike through the city in the always humid and hot climate of Saigon, they surely deserve some extra tipping!