Three Wheel Adventures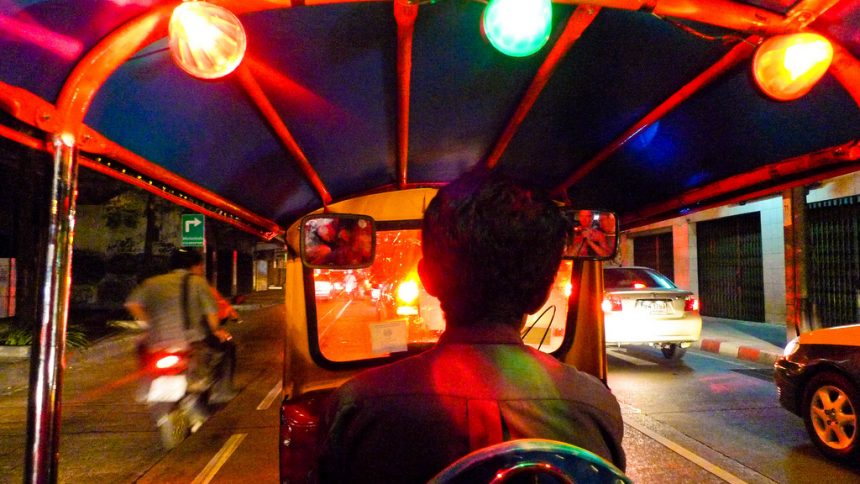 A Short Overview About Different Rickshaw Types Across India And Southeast Asia
August 25, 2015
Rickshaws or tuk-tuk don't only come with various names, but also in countless shapes and designs. An important means of transportation, especially in the cities all over Asia and India, this three wheeled vehicle has developed into many different forms, be it motor or manually operated ones.
We have compiled a short list of the most common rickshaw types across India and Southeast Asia for you, so you know exactly what to expect on your travels!
India
The first auto-rickshaw was introduced in India around the 1960s by Bajaj Auto Limited, somewhat inspired by Vespas design, and it has conquered the country quickly. By now it is almost impossible to imagine India without its rickshaws.
There are two different types of rickshaw in India. One has the engine below the driver seat, while the newer models have the engine in the rear of the vehicle. Four people including the driver fit into an Indian rickshaw, which consists out of one cabin for driver and passengers.
Cambodia
Cambodians prefer the term tuk-tuk. A tuk tuk is not necessarily one single vehicle, but rather a motorbike with an attached cabin for the passengers in the back. The trailer offers space for up to 4 people, although the two facing the direction of travel usually have to more comfortable seats.
These types of tuk-tuk, also called remorque, are generally found in Siem Reap, while in Phnom Penh tuk-tuks are common, where the power of the motorbike is directly transferred to the trailer with the help of a chain. Overall, the Cambodian tuk-tuks offer more the feeling of sitting in an open carriage than in a motorized vehicle.
Vietnam
In Vietnam old-fashioned cycle rickshaws, propelled by human work instead of an engine, are still rather popular, even though mainly used  by tourists only anymore. Operating these xích lôs, derived from the French word for bike cyclo and somewhat pronounced like that, the driver sits behind his passengers on the bike saddle. In front of him, two passengers can find place next to each other.
Thailand
Thailand's rickshaws, usually called tuk-tuk or samlor in Thai resemble very much the Indian ones. Nowadays, especially in tourist hubs like Bangkok, mainly used by foreigners, the small three wheelers still provide an advantage in navigating the cities insanely dense traffic, that should not be underestimated
Like the Indian rickshaws ,Thai tuk-tuks consist of one single cabin for two passengers (or three, if they are slim) and the driver. They are a little more open than their Indian cousins, especially in the back of the vehicle and leave the passenger more exposed to the weather and pollution.
Did we whet your appetite for driving a rickshaw on your own? Do you and your best friends have an insatiable thirst for adventure? Why not sign up for one of the Travel Scientists next Rickshaw Challenges, named as one of the last true adventures in this world by Lonely Planet! Your next chance is already this October! You could participate in an epic rickshaw rally across India. But that is just one of many options the Travel Scientists offer over the year. So what are you waiting for? Go and book your rickshaw adventure!