Adventure Travel Destinations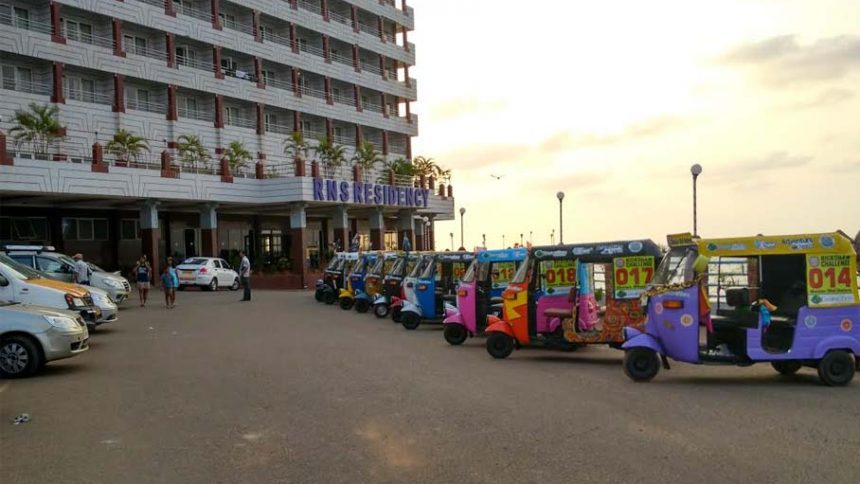 Malabar Rampage 2016 Day 6 – A Race towards the World's Tallest Shiva Statue
April 8, 2016
Rickshaw Challenge Malabar Rampage 2016 Day 6 continued towards the world's tallest Shiva statue in Murudeshwar on Saturday. The 150 km-long stage between Mangalore and Murudeshwar didn't challenge the almost experienced auto-rickshaw drivers of the Malabar Rampage 2016.
The most well-known auto-rickshaw rally in India, the Rickshaw Challenge Malabar Rampage 2016 continued between Mangalore and Murudeshaw on the 6th day. The 150 km-long road was quite safe considering the previous stages which were completed on the Malabar Coast. This road had proper lane diving stripes and nice broad roads. Therefore, the participants enjoyed the ride pretty much.
The most significant stop on the road was Udupi which is a lovely little town famous for its Sri Krishna Temple built in the 13th century. The teams spent time in this town in order to gain insight into the colorful and devotional religious life of Hindus. The participants were charmed by the Hindu women who showed up in the temple in their colorful saris.
The teams had to complete the challenge of petting and feeding a holy cow around the temple. It was not such a big challenge for the participants since they have already integrated into the south Indian culture throughout their countless adventures during Rickshaw Challenge Malabar Rampage 2016.
The Teams Completed 6th Day with the View of the World's Tallest Shiva Statue
As the teams completed the 150 km-long run of the day, they were ready to great the Lord Shiva in Murudeshwar. The world's tallest Lord Shiva statue is located in Murudeshwar. The participants were mesmerized by the beauty of the giant statue as they were driving to their hotel to take a rest and get ready for the last day of the Rickshaw Challenge Malabar Rampage 2016.
So far, teams arrived to their destinations safe and sound without any mishap. Naturally, some of the rickshaws broke down on the road. For instance, teams Badmaash 1 and Badmaash 2 broke down twice on the road to Murudeshwar. However, the gallant repairmen of the Chennai Garage solved the issues quickly so that the teams could continue their zeal for winning the race.