Adventure Travel in the Balkans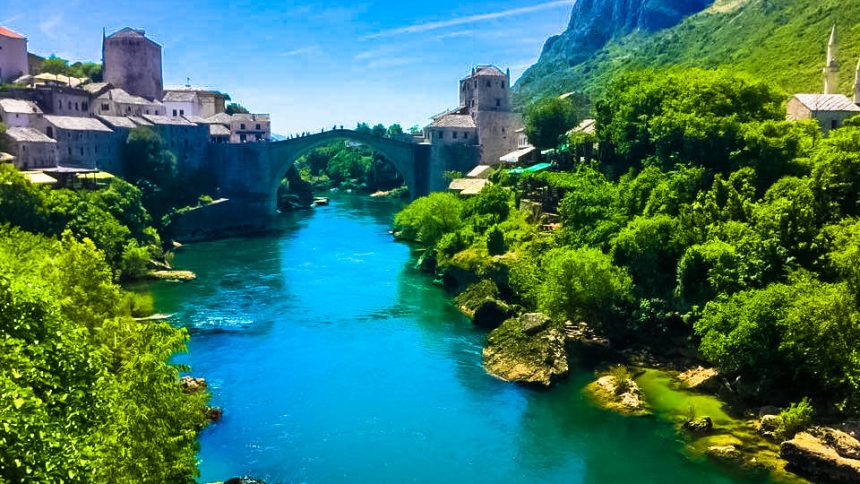 The Balkans Travel Guide
April 20, 2016
Many of the Balkan countries have had their fair share of troubles, particularly in the 90s where various wars broke out in the region. And, while you can still see the scars in many of these former-Yugoslavian countries, and it's important to visit museums and significant sites relating to these wars to understand these countries, there is also way more to the region than most first-time visitors expect. Incredible natural landscapes, vibrant cities, party towns and delicious food. Don't let the past put you off, the Balkans* are open and ready for business.
One hardship could be travel between the countries, as sometimes it's quite laborious and border-crossing times can be long. Leave yourself plenty of time and go with the flow. The Balkans are one of the most fascinating adventure travel destinations in the world right now, get there before everyone else finds out!
Note: Check up-to-date travel warnings, as recent issues like the "migrant crisis" in Europe may change visa rules, which borders are open, and border-crossing wait times.
Balkans Travel Guide: Serbia
First, a must-visit is Serbia's capital Belgrade, where the Sava and Danube rivers meet. The old town is best explored on foot, as is the Belgrade Fortress. There are museums, palaces, squares and pedestrian streets to enjoy. It's a mix of old buildings and a varied history, and a heady modern party scene. Other cities to visit include Novi Sad (in the Vojvodina district), Kragujevac (not far from Belgrade), and Subotica (in the far north near the border with Hungary). The famous brass music festival is held in Guca each year, and in winter it could be worth visiting the ski resort at the Kopaonik Mountain. The Uvac river pictured above forms a natural border between Serbia and Bosnia. You can also check the best outdoor adventures in Serbia.
Balkans Travel Guide: Bulgaria
Bulgaria sits wedged between the rest of the Balkans and the Black Sea. The capital city is called Sofia and well-worth visiting before you head to explore the regions and the coastal areas. You should also add the country's second city, Plovdiv, to your itinerary.  The top destinations for tourists are coastal resorts on the Black Sea such as Sunny Beach, Nesebar and Sozopol. The Bulgarian mountains in the country's south-west are great for winter snowsports.
Balkans Travel Guide: Macedonia
Aside from the capital, Skopje, there are many beautiful things to see in Macedonia's natural landscapes. Head to Lake Ohrid, which has beautiful UNESCO listed lakeside resort at the town of Ohrid or quieter Struga. Skiers should head to Krusevo in winter,  while hikers can explore the waterfalls and hotsprings at Strumica. Another city you could visit is Bitola with its European and Ottoman influences, and good nightlife vibes.
Balkans Travel Guide: Albania
Albania sits on the Adriatic and Ionian Seas. Tirana is the capital, and possibly worth a visit along with other cities like: Berat with its Ottoman/Albanian architecture, Korce which is particularly popular in summer, Shkodra the culture capital and Pogradec on Lake Ohrid. Natural sites to visit include the Albanian Alps, which you must see! Then there's the coastal towns like the Albanian Riviera, Ksamil (which is stunning coastal town with turquoise water), and Shengjin which is relatively touristy. Recently we wrote more about outdoor adventures in Albania, check it out!
Balkans Travel Guide: Kosovo
Kosovo is a disputed territory, but we'll covered it as its own region. As with many other parts of the Balkans, there was a war in Kosovo in the late 90s and you should find out about this before your visit for context, and during your stay as well. The capital is Prishtina, which has quite a young population and another city with good night life includes, Gjakova. Prizren is a beautiful little town, with a bridge that looks like a mini-Mostar (in Bosnia). It might surprise some that in Kosovo the language you're most likely to hear is Albanian. Finally, always check border/visa restrictions as there are some rules in place about entering Serbia from Kosovo and you should pay attention to the up-to-date regulations.
Balkans Travel Guide: Montenegro
Montenegro is tiny but it packs a big punch. Sitting on the Adriatic Sea it has a similar feel to Croatia. It's a summertime home of the rich (and sometimes) famous as you can see yachts coming into the bay. The old towns of coastal cities to visit are: Kotor, Bar and Budva. The Bay of Kotor is arguably the most beautiful bay in Europe and is home to a UNESCO listed old walled town. Budva has a big nightlife scene that you'll be sharing with Russians. Here are the extreme water sports destinations in Montenegro.
Balkans Travel Guide: Bosnia and Herzegovina
You barely hear about Bosnia, that's how hidden it is. Yet, it's only a matter of time before its secrets are revealed to more and more tourists. This is the place to head on this list. Sarajevo – for anyone that followed the news in the 90s – has had a difficult past few decades, and the scars of the siege of Sarajevo are still open-wounds in many ways. But Sarajevo is a very cool, and very beautiful city. Surrounded by mountains, the old town with its mosques, and cobbled streets, and oriental rug and jewelry shops will make you feel as though you're in the Middle East. Stop by the Latin Bridge where the assassination of Archduke of the Austrian Hungarian empire Franz Ferdinand sparked World War 1. Visit the museums and galleries that tell of the siege of Sarajevo, and climb the hillside to contemplate in some of the graveyards. Finally,  relax and enjoy delicious Bosnian food or a strong black Bosnian coffee.
Elsewhere in Bosnia, try to go by bus so that you can fully enjoy the winding roads, emerald green waters and huge mountain ranges. You won't believe the scenery in Bosnia. Finally, spend a day or two in Mostar where you'll see the fit local diving head first off the Mostar Bridge into the waters below.
Balkans Travel Guide: Croatia
Croatia is a bit better-known than the other Balkans countries on this list, because it's been a very popular tourist destination for years. Even among young people, a "sail Croatia" holiday has been a rite of passage for ages. It's easy to see why once you've visited the orange tiled city of Dubrovnik (home to many scenes from Game of Thrones), Split (with its amazing views, and old walled city), Trogir, Zadar and Pula – all sitting on the Dalmatian Coast. Then Croatia's islands are also worth visiting on a multi-day sailing trip. Head to Hvar, Brac, Korcula, Vis and Mljet. Other than that the UNESCO listed Plitvice National Park is a past see, especially the Plitvice Lakes. If you still have time, head to Croatia's capital, Zagreb, which has turn-of-the-century houses to explore, and museums and galleries worth seeing.
Balkans Travel Guide: Slovenia
For tourists, the number one destination in Slovenia is Lake Bled (pictured above). Amid the emerald green lake is a tiny island, on which there is a little church. This is one of Europe's most romantic spots and is undeniably picture-perfect. Bled is just over an hour from Ljubljana and leave frequently, so there's no reason not to visit Lake Bled. The lake sits under the Julian Alps, which are great for skiers and snowboarders in winter. For adventure travelers explore the hiking and bike riding opportunities of the Logar Valley – it's incredibly beautiful! The capital Ljubljana is worth seeing – although it's not so big, so no more than a few days are required if you just want to pop in.
*The Balkans also include Moldova, Romania, Greece and the European portion of Turkey, however, most adventure travelers will stick to one rough geographic area and often do countries like Turkey and Greece separately, so we've stuck to the central Balkans area. See this map to get your bearings.