Adventure Travel Destinations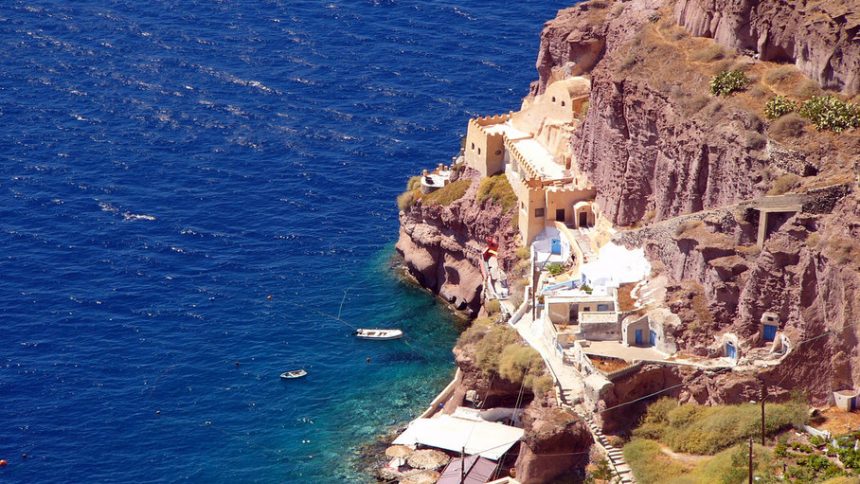 Ultimate Guide to the Greek Islands (9 of Our Favourites)
May 3, 2016
Nothing says summer like an Instagram pic of sunbathing on a sailboat with the hashtag #greekislands. The Greek islands are the ultimate summer holiday destinations in Europe. There are thousands of islands in Greece, and several hundred are inhabited. Most are in the Aegean Sea, while some are in the Ionian Sea – both of which are situated within the Mediterranean. Not all of the islands have airports, although some of the major ones do, so take a look at our Greek island guide below and remember you can either fly direct, or take a ferry to your final destination.
Santorini
Santorini is one of the Cyclades islands in the Aegean Sea, and is most famous for its beautiful towns perched on side of cliffs that plunge into the sea. Fira and Oia are considered the most stunning towns. The main attractions of Santorini are the natural landscape, the historical architecture and traditional village life. There are famous black pebbled beaches like Kamari, red beaches like Red Beach and Pori, and Agios georgios with its party beach bars. Santorini is home to some of the world's most spectacular sunsets, so Santorini is where you want to rest and relax, enjoy delicious meals and slower pace of life. It's possible to get in by air or sea.
Mykonos
Mykonos is also part of the Cyclades group of Greek islands. Mykonos, like Santorini, is a tourist mecca, and like Santorini it is more expensive than the other Greek islands. Like many tourist havens, you could say Mykonos is a little 'less' Greek with plenty of restaurants where you can have food from back home, for example. July and August are peak season, while mid May to June are the start of the season where tourists will be a little less crammed. Mykonos has a huge party scene, including lots of gay clubs. Mykonos Town is a mix of both cosmopolitan and modern, with streets dotted designer shops, but it also retains some of its traditional feel with strict architectural guidelines on the famous white washed walls and blue details.
Corfu
Corfu is located in the Adriatic Sea, the best things to do are visit its historic villages, laze its many beautiful beaches, go for long walks in the warm sun, and sailing and yachting trips. You can get to Corfu by air and sea, it's also the northernmost island in Greece so you can easily access Italy or the Balkans from there.
Rhodes
Rhodes is one of the more historical Greek islands, great for history buffs with an interest in Greek, Roman, Byzantine and Ottoman history. Rhodes is known for its beaches, archaeological sites and extensive medieval town. Although, Rhodes might not sound like the right destination unless you're a history enthusiast, it's actually great for adventure sports too. There's windsurfing, snorkelling, diving, surfing and parasailing. And given it has something like 300+ sunny days a year and dozens of beaches, it's also great for just working on your tan.
Kos
Kos is located in the Aegean Sea, near Turkey. The main street of Kos (near the main port) is filled with cafes, restaurants and nightlife, while the rest of the coast is dotted with tourist-friendly resorts. You can cycle around, laze on the beach, enjoy fresh fish and seafood, or enjoy watersports like sailing and snorkelling.
Ios
Ios is near Santorini so you can either visit it from Santorini, or just take a day-trip from Santorini. Ios has a very lively nightlife, but it also has some of Europe's most beautiful beaches, so it's worth visiting even if you don't want to go clubbing all night. For those wanting to shop visit Chora (aka Hora) for its designer clothing and jewellery stores. Maganari is considred to be one of the most beautiful beaches, while you can also go diving, wind-surfing and water-skiing. There are also one-day hiking excursions where you can hike Ios' stunning mountainous landscapes.
Skyros
Skyros is definitely one of the more rustic of the Greek islands, and you'll be heading off the well-trodden tourist path. But it's worth it! It's a vast island, with a small population, so if you want a more authentic Greek experience this is your ideal Greek island. It's not completely isolated though – you can fly there from Athens and Thessaloniki. Enjoy a slower pace, sip a coffee in one of the villages or medieval towns, laze on the most beautiful beach there called Molos, and go for long walks in the countryside.
Lefkada
Located in the Ionian sea, Lefkada has many reasons for tourists to visit, although it is not as famous as some of the other Greek islands on this list. Stunning beaches like Porto Katsiki are, however, very popular with tourists so your holiday here won't be totally tourist-free. You might not equate the Greek island with mountain biking, but given this island is covered in mountains (almost 70 percent is mountainous), Lefkada is considered one of Europe's top spots for mountain biking. There are also water-sports like yachting, sailing, boating and wind surfing to partake in.