Motoring Adventures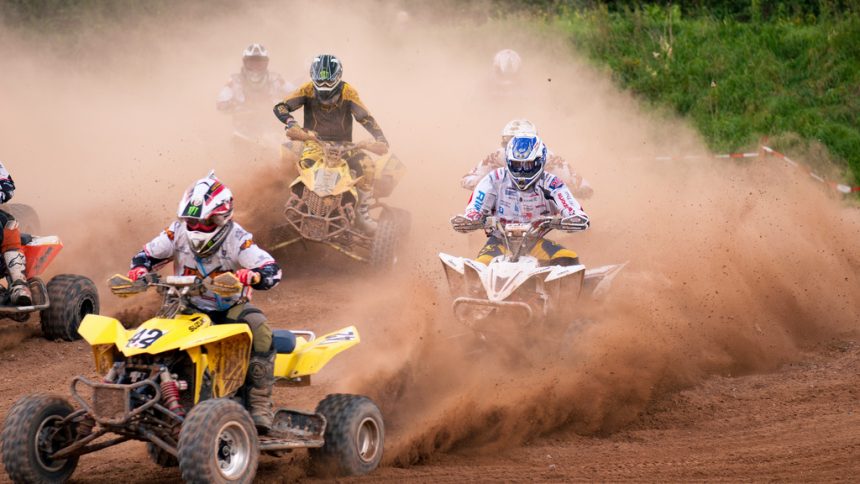 All About ATV Racing for Beginners
June 21, 2016
All-terrain vehicles – more commonly known in the abbreviated form as ATV – are becoming increasingly popular in motor sports and extreme sports. These automobiles are also known as quad bikes or 4-wheelers, and our guide to ATV racing for beginners will explain why this extreme motor sport is growing in popularity.
Photo By: MAIK
What is ATV?
ATV racing is a motor sport that involves racing around a marked track in an all-terrain vehicle. It helps to know exactly what an all-terrain vehicle is first, though. Basically, ATVs – or quad bikes – are three or four wheeled vehicles that are built for off-road, difficult conditions. It's generally built for just one person – the driver, although some models can be ridden tandem with one passenger. The driver sits like they would on a motorbike and there are handlebars not a steering wheel, but the extra wheels provide more stability than a normal motorcycle would. The first basic version of an ATV was made in the late 1800s, however, aside from some military-purpose versions, it wasn't until the 60s and 70s that various manufactures like Honda started to make ATVs for recreational use. The 80s saw a boom in the sport's popularity and many other manufacturers like Suzuki and Yamaha joined the game. At one time there was a ban in certain areas on the three wheeler model due to its lack of stability, however, this didn't last and  it's now possible to get a three, four or even six-wheeler model. ATV racing is dangerous, and because the sport attracts teenagers too this poses and additional risk factor for young people who may not have much – or any – on road driving experience anyway. Most race tracks require riders to wear helmets and protective clothing to minimize the risk.
All About ATV Racing for Beginners
ATV races take place off-road on challenging tracks. It could be cross country racing in the woods, desert racing, hill climbing, ice racing, drag racing or anything else the organizers dream up to challenge riders and their quad bikes alike. Often the ATVs are modified to make them more suitable to the conditions: including being a bit lighter so they are faster, or more agile in the given conditions – which can include mud, creeks, logs, rocks, desert sand or ice to name a few! ATVs are also allowed as a special class in famous motoring events such as the Dakar Rally, while there are special events just for three-wheeler ATVs or children of certain ages, and so forth.
ATV racing for beginners, should begin with a whole lot of practice. There are loads of practice courses all over the world, and you can probably find one near you where you can go to just train and test out your ATV. Some practice tracks may even offer ATV rental so that you can try out different models. It's also worth clocking plenty of hours on various adventure trails in a variety of conditions so that you have plenty of experience riding your ATV. In some countries to race you need to be a member of the governing body. Each state or country will have its own governing body, mostly called something like the "All-Terrain Vehicle Association". Then you can start registering as a competitor on the kind of track you're experienced at and in the class that matches your ATV (for example, some competitions are for three wheelers only).
It should be noted that quad bike racing can be quite dangerous particularly on more difficult terrains like slippery ice, sand dunes or rocky hills. You should always have your protective gear on and make sure your quad is in good order.
Finally, some people just love ATV riding for the tricks and the challenge instead of a formal competition, which is totally fine too! Riding a quad bike will see you pushed to your limits particularly facing challenges such as rocks, logs, jumps and dust. It's also something many beginners do for recreation with friends, and its becoming an increasingly popular choice for stag weekends.
Other motor sports articles:
Weirdest Motor Sports
Best Grand Prix to See  for Adventure Travellers
A Brief History of Moto Cross
Motorcycle Diaries: World's Best Motorbike Riding Trails
All About ATV Racing
Incredible Car Rallies That You Can Try Too!