Real Adventurers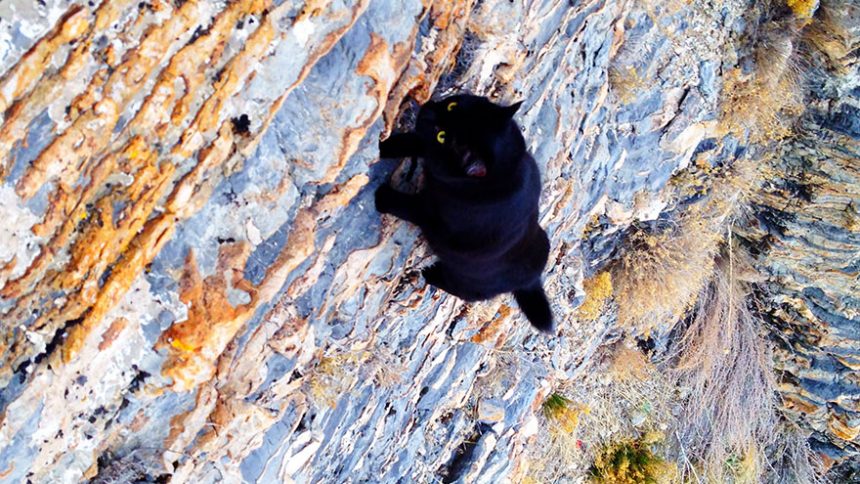 The World's Most Adventurous Animals
September 4, 2015
Adventure and travel is not only for humans, since our furry little friends don't just make great companions at home, but also on the road. You've heard of the stories of the cat that walked miles to come home, the dog that will follow its owner round the world, and more recently the cat the ended up flying on a plane!
At Adventure Herald, we want to see in the weekend with the world's most adventurous animals, from jet-setting pets to fluffy climbing companions, here is a selection that you'll not only find cute, but inspiring too!
photo by pechanga
Paddy the Hiking Cat
Paddington the Cat, or Paddy for short, is an adventurous cat who was found in a shelter by his humans. The black and white tomcat might have began life as an indoor cat, but soon he developed a taste for the great outdoors, finding his element on the hiking trails. After Paddy showed his love of the outdoors, his owners took him to Cougar Mountain and discovered their cat is a hiker at heart.
"He surprised us by being able to keep decent pace and stay on the trail… for the most part, unless he sees a chipmunk," said owners Bryan and Anna Wilson.
Biddy the Hedgehog
Back in March, animal lovers were devastated to find out that Biddy the traveling hedgehog passed away. The spiky critter became an internet sensation as his owners took him around America, where his own little Instagram account reached over 600k followers. Biddy might have lived a short life, but it was full of adventure and he brought joy into many people's lives!

Daisy the Scottish Cat
Daisy is a Scottish straight cream-colored tabby cat from Russia. She lives in Europe and quite the traveler, although her owners only take her by car. While Daisy is not a cat who likes to fly, she has traveled all over Europe and is definitely a contender for one of the most well traveled pets in the world.
Poh, the Traveling Dog
Poh is an adventurous dog diagnosed with a terminal illness. In the last days of his life, his owner Neil Rodriguez gave Poh the best gift, where they traveled together on an epic bucket list. Poh is 15-years-old and sick with inoperable tumors, but that didn't stop the old dog from taking the adventure of a lifetime round the United States.

Ziggy the Traveling Piggy
This 250-pound pig loves to frolic on the beach on tropical islands like St. John in the US Virgin Islands. Ziggy, like many other domestic pigs, was advertised as a "tea cup pig" – when breeders assured owners that their tiny little piggies will grow up to be as big as a dog. It's also one of the biggest scams in the world, since the pigs usually grow to 10 times the size that their owners were told were the maximum. Fortunately for Ziggy, his owners loved him as he is. Ziggy moved to St. John, but after a while it was time to leave and Ziggy and his owners continued their adventures in North America. Owners Kristen and Jay had to rent a private plane to take Ziggy with them, and then traveled round the US in a motorhome, earning Ziggy the much deserved nickname of Ziggy the Traveling Piggy!
Millie the Climbing Cat
It's common knowledge that cats love climbing, but no one does it quite like black kittie Millie. Adopted by the mountain-climbing-crazed owner Craig Armstrong, Millie has become a pro at rock climbing.
"She literally loves to climb things… if there's high-ground she'll seek it out," Armstrong said, "Generally she does best on slabby routes where she can scramble from ledge to ledge. She's an incredible athlete but steep juggy routes just aren't her thing. When bouldering, though, she's done some pretty amazing gaps and dynos."
Millie loves hiking, rock climbing and canyoning in her home state of Utah, which definitely makes her one of the most adventurous animals in the world!
Wolfgang the Dog
White husky Wolfgang, like many other adventurous pets, was a rescue, but ever since artist John Stortz adopted his best friend, he became his ultimate travel companion. The duo have traveled all across the US together, hiked in the mountains, through canyons and across deserts.

Honey Bee, the Blind Hiking Cat
Honey Bee is a blind, rescue cat from Fiji who moved with her humans to Seattle and then to the Caribbean. The blind kitty, adopted in Animals Fiji, is a very special cat, since despite being blind she loves hiking with her owners. Honey Bee will sit on her owners' shoulders or walk with a leash. Honey Bee is an inspiration to us all, showing us that even as a blind cat, you can still live for adventure.
Oscar the Globetrotting Dog
Oscar the dog made his own little furry mark on history, when this mixed doggie became the first pup to have gone round the world. The rescue from Cape Town, South Africa traveled the world over, from China to Peru, India to Paris, raising awareness to more than 475 million homeless dogs across the world. Tragically, Oscar died in 2013 when he was hit by a truck in California.