Extreme Mountain Adventures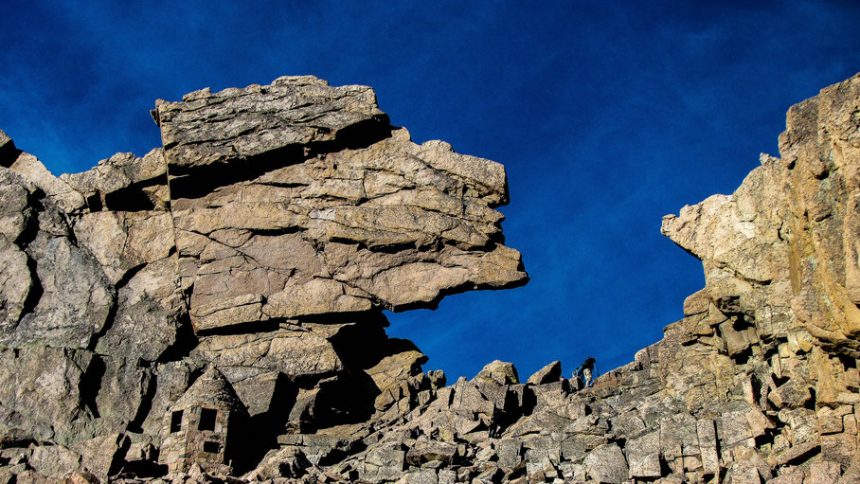 Don't Look Down: Cliff Hanging Hikes
February 29, 2016
We have already written about the world's most dangerous roads, and the world's most dangerous suspension bridges, plus the most epic big wall climbs but what about the world's most exhilarating cliff hanging hikes that can literally take you over the edge? These cliff hanging hikes prove that sometimes even putting one foot in front of the other can be deadly, dangerous and down-right worth it!
El Caminito del Rey, Spain
The Caminito del Ray in the provence of Malaga in southern Spain is considered by many to be the world's scariest hike. The pathway (made of wooden planks) is literally tacked to the edge of a cliff wall face. Dubbed "the world's most dangerous walkway" and several people have died in the past on this 1 meter wide, 3 kilometer long route that leads from Chorro Falls and Gaitanejo Falls.
Drakensberg Traverse, South Africa
Drakensberg offers many kinds of hiking opportunities from one-day hikes, to multi-day camping trips, but the epic hike (along which many have died) is the Drakensberg Grand Traverse, which starts with some rickety chain ladders at Sentinel Peak and goes on for more than 200 kilometers. This route takes about 10-12 days but affords some of the best views of the continent.
Dolomites, Italy
The Dolomites mountains in northern Italy, they're an attractive destination for hikers and walkers with their limestone cliffs and spires, dotted with emerald green lakes and forests. There can be some cliff hanging hikes in many locales in the Dolomites, but the most famous are probably the s0-called via ferratas or "iron walkways" (see below). The most famous such hike is probablly the Via delle Bocchette in the Dolomites.
Half Dome, US
Yosemite National Park (California) is a mecca for adventure sports enthusiasts, but the terrifying hiking that can be done at Half Dome. The 8 kilometer hike will see you ascend to almost 5000 feet above sea level and it takes most people 10-12 hours. Have a good level of fitness and even altitude experience. The most infamous part of the hike is at the very end where you have to climb a set of cables to get to the very peak (see  the faint outline of the cables snaking up the rock face in the image above).
Hua Shan Plank Walk, China
The Hua Shan mountain central China offers what we think is probably the scariest cliff-side hike on this list. First you have to climb a giant set of stone steps, and then you can take a scenic gondola ride, which leads to one of the world's most dangerous plank paths that clings precariously to the side of the cliff face. I mean this plank path is truly gnarly. Imagine a few wooden planks takes to a cliff, and no barrier to stop you falling. Your only help is a chain tacked to the wall, which you'll want to hang on to. This is no joke. Don't believe us? Check out this terrifying video.
Huayna Picchu, Peru
Huayna Picchu (aka Wayna Picchu) is like the icing on the cake of the very challenging Inca Trail to Machu Picchu. Walk toward the peak of Huayna Picchu and you're officially on what's called the "hike of death." The rock that is calved into this cliff, that sees you rise 1000 feet in altitude almost vertically, is crumbling in parts and especially in rain and mist can be slippery. While the view is incredible, and going up can be relatively ok, it's coming down that will pose the biggest challenge.
Mountain Torq, Malaysian Borneo
The challenging thing about climbing Mount Kinabalu in Malaysian Borneo is not the way up. That's because you'll stat the final push to the summit in the middle of the night, when it's still dark and although a challenge to hold onto the fixed ropes and scramble up the rockface, because it's dark you won't actually realise the sheer drop that you've climbed up. It's only after sunrise when you start you descent, that you realise just how dangerous the climb was. One stumble and you'd have tumbled off the side. Probably better you don't know, we guess.
Striding Edge, Britain
Helvellyn is a mountain in England's Lake District, where a lake as formed out of an ancient volcano crater. One of the two sharp topped ridges is called Striding Edge and people have died falling to their deaths has they straddled Striding Edge. One of the popular adventure sports you can try here is scrambling, which is walking up steep terrain with the use of your hands. As we said, people have died falling off Striding Edge, so approach with care!
Aonach Eagach Ridge, Scotland
Head north to Scotland, to this rocky ridge deep in the Scottish Highlands. The route is 10 kilometers in total, although 2 kilometers of it will require intense scrambling. Aonach Eagach is usually approached from Glen Coe until you reach what's called the Devil's Staircase.
Mist Trail, US
The Mist Trail in Yosemite Valley (California) is considered one of America's most dangerous hikes. Aside from being Yosemite's iconic hike, you'll have views of the aforementioned Half Dome and the Nevada Fall as well. Waterfalls and cliffs, plus added mist, obviously make the granite stairs and trails you'll climb slipper. More people die here on this trail than anywhere else in Yosemite National Park. This is how it can go: the hiker loses his or her footing, slips into the river, gets carried into the river (see image above) and the current takes them to their death. For real enthusiasts you can do the more than 20 kilometer route along Mist Trail to Half Dome, where you can then climb Half Dome (see earlier description).
Longs Peak, US
Longs Peak can be found in the Rocky Mountains of Colorado. Summer is pretty much the only time good hikers/climbers should attempt Longs Peak, although the Keyhole Route (pictured as the cover of this article) is open a little longer. Hikers begin in the early morning to try and summit and return before later afternoon when thunderstorms are frequent. Technical climbing and scrambling are required on the climb which is about 30 kilometers in total. Dozens of people have died on Longs Peak, which includes vertical cliff face climbs too. In winter – for those who are very experienced mountaineers and/or ice climbers – the use of crampons and ice axes are required. Other than the Keyhole Route there are even more challenging routes to Longs Peak where deaths are an annual occurrence. Once example is East Face, which can require an overnight stay on the wall, free climbing and even aid climbing to summit. This should only be attempted by professional climbers.