Adventure Travel in Central Asia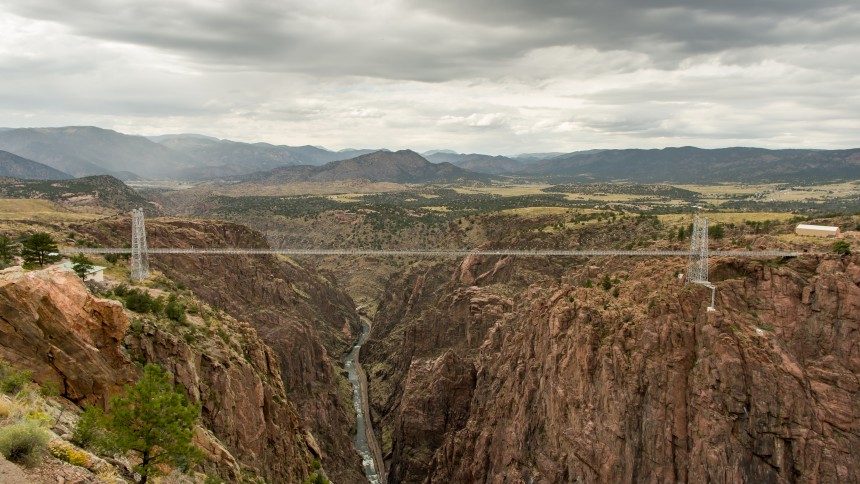 8 Scary Suspension Bridges You DO Want to Cross
October 9, 2015
Recently we wrote about Germany's longest suspension bridge, the newly opened Geierley Rope Suspension Bridge. It got us thinking about some of the world's scariest suspension bridges. Then we heard reports that China's new Yuntaishan Glass Bridge, which was an engineering feat because it's made entirely of glass, has started cracking! Yikes!
So what are some of the world's scary suspension bridges you DO want to cross? Well, for the daredevils among you, here are our top suggestions:
Trift Bridge, Switzerland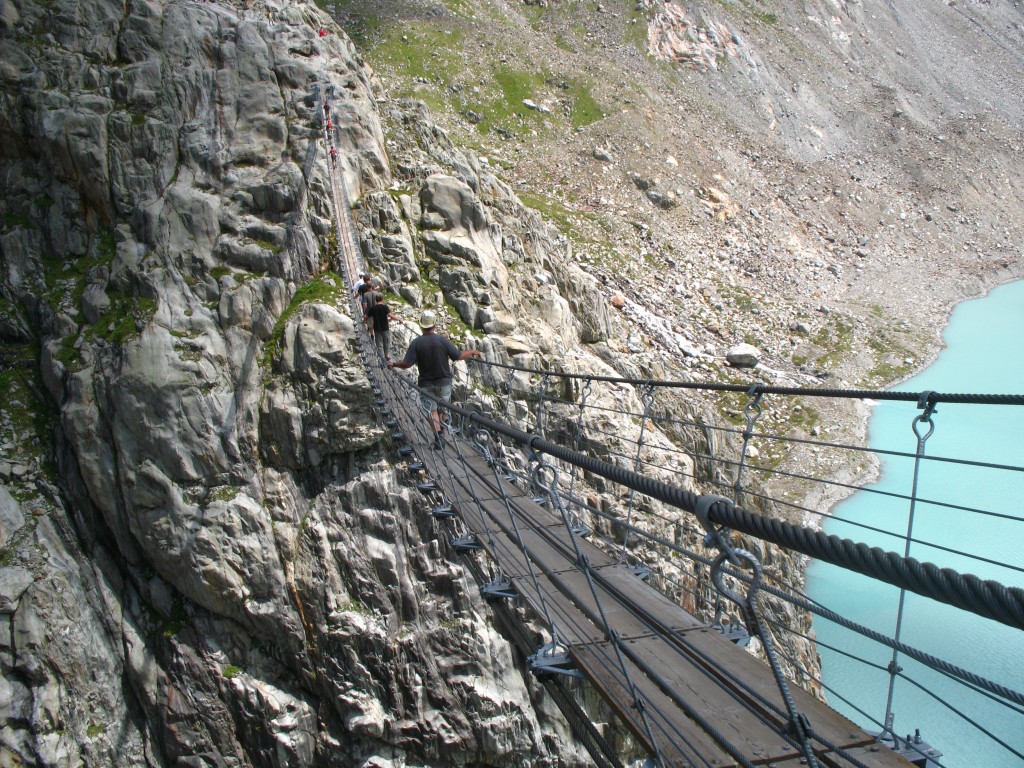 Photo By: thisisbossi
Located in the Swiss Alps, this simple little bridge packs a frightening punch. It's 170 meters long, and 100 meters up in the air. Made of ropes and wooden planks, only those who don't have a fear of heights should attempt it. You'll need to take a cable car, then hike about two hours to even get to this jaw-dropping crossing. It's open about June to October.
Hanging Bridge of Ghasa, Nepal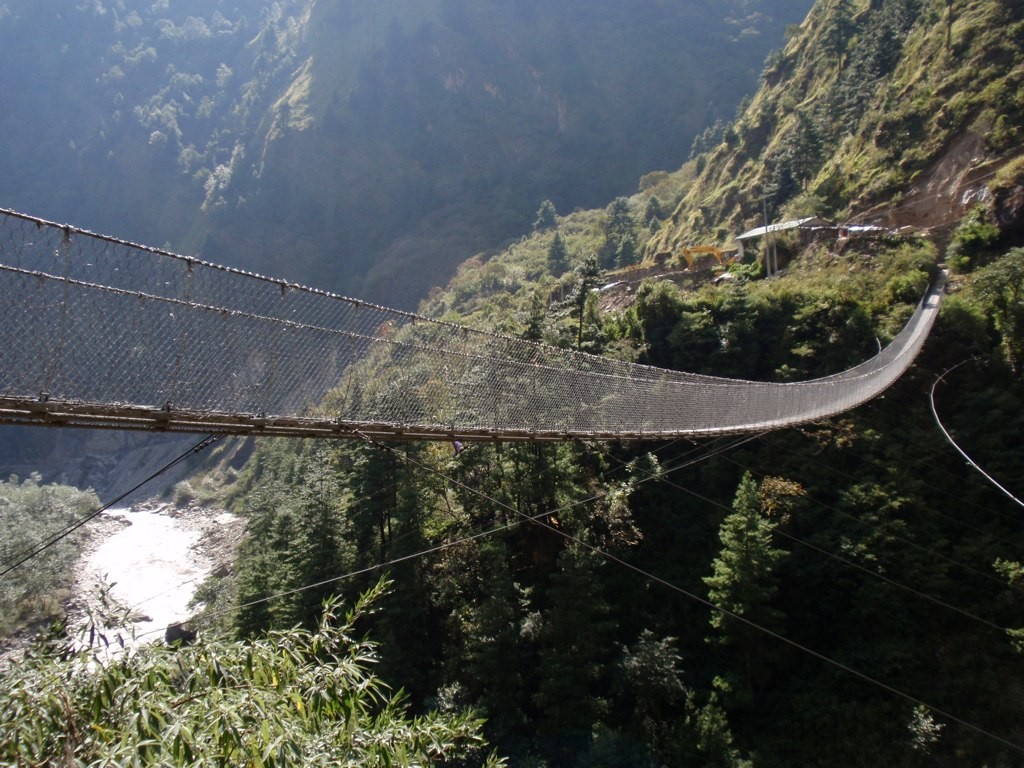 Photo By: John Pavelka
You won't be the only one clamoring slowly across this suspension bridge; it's known to be used by herds of animals as well! It's quite an unsteady bridge, so gather ye nerves! It's considered by many to be one of the most dangerous bridges in the world, but when in Nepal one's up for adventure, isn't one? The main challenges are the cattle crossing, plus that it's super narrow, plus that when it's quite windy the bridge can sway a fair bit. Definitely one of the scary suspension bridges you DO want to cross. Happy days.
Langkawi Sky Bridge, Malaysia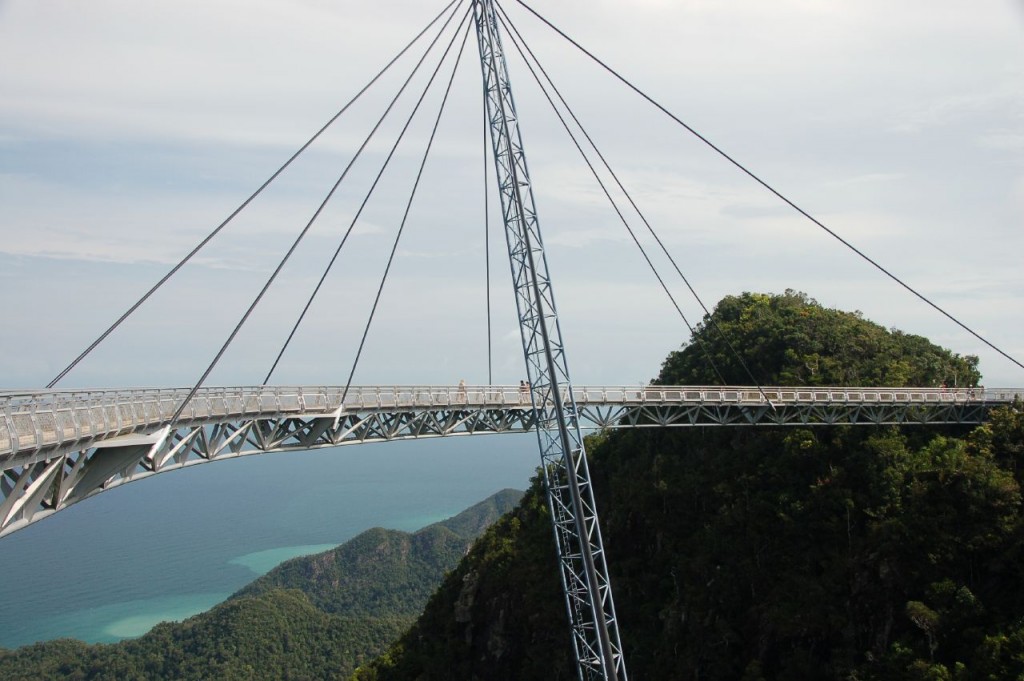 Photo By: Dylan Walters
This bridge looks far more designer than some of the other bridges on this list, but that doesn't mean it's any less scary. Located on Palau Langkawi, it's 125 meters long, 1.8 meters wide and 100 meters up in the sky. It has a snazzy 's' shaped curve, and look at that view! But don't look down!
Capilano Suspension Bridge, Canada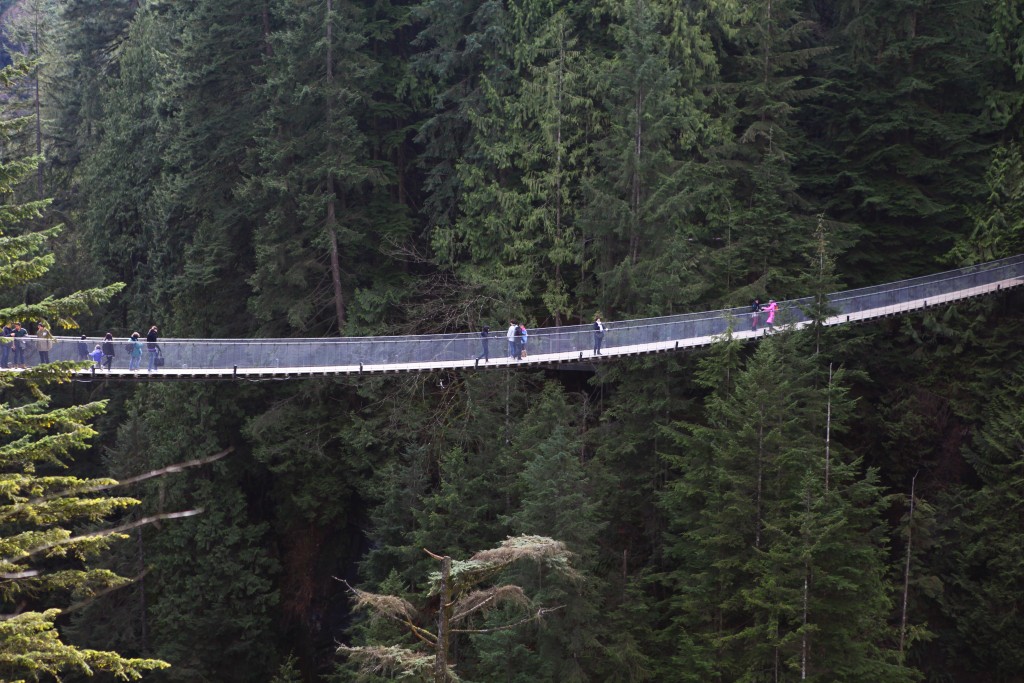 Photo By: GoToVan
Located in Vancouver, millions of people have gone before you and crossed the suspension bridge here, since it was first built in 1889. We certainly hope it's had heaps of upgrades since then! The suspension bridge passes through lush forest, and it's actually quite tranquil, despite being 70 meters in the air and 137 meters long. There's plenty more to do in the Capilano Suspension Bridge Park like a treetops tour, forest floor guided tour and the so-called CLIFFWALK.
Ojuela Bridge, Mexico

 Photo By: Comisión Mexicana de Filmaciones
Located in Mapini in Mexico, it was built way back in the late 19th century but it underwent renovations and opened up to tourists again in the 90s. It's desert scrub as far as the eye can see, a deep canyon below, and sheer terror as you put one foot in front of the other. There's a bit of sway with each step and there are some gaps between the wooden planks, kind of meaning you could fall to your death at any moment, but you should be fine – so go for it!
Royal Gorge Bridge, United States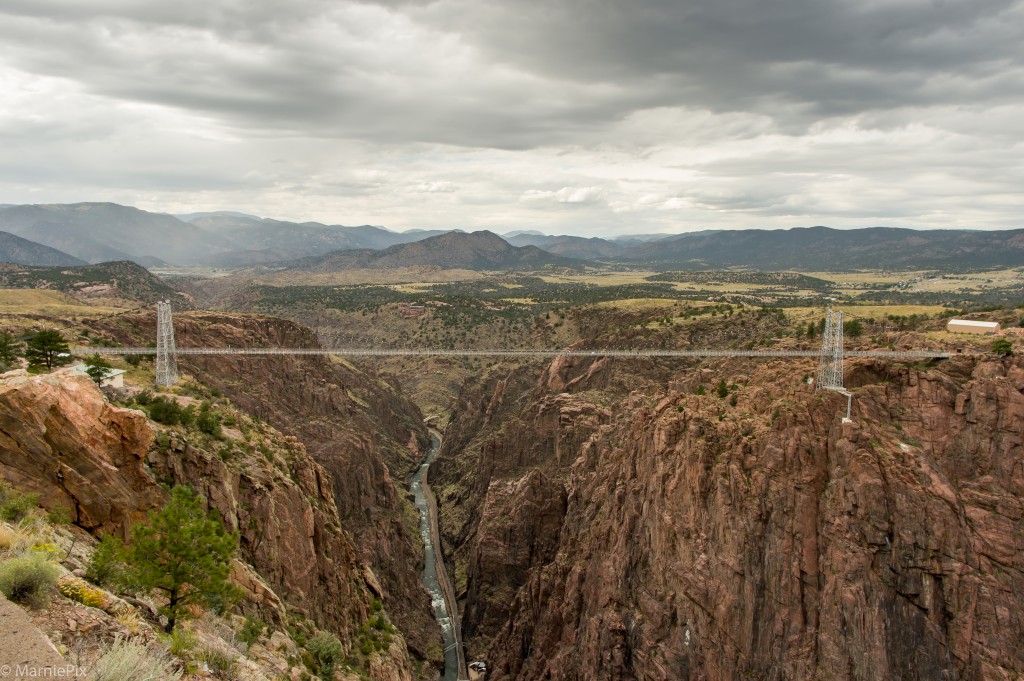 Photo By: Marnie Pix
Head to Colorado (which is an adventurers haven anyway) and you could stand on the bridge shown in the photo above. Even just looking at the image is probably making your palms sweat and your pulse race. Just imagine being a tiny speck on the middle of THAT bridge! Woah. This is the United States' highest suspension bridge and crosses over the Arkansas River. It's almost 400 meters long and towers hundreds of meters above the river. Until 2001 it was the highest bridge in the world, but was overtaken by the Liuguanghe Bridge in China. The Royal Gorge Bridge looks totally unsupported in the middle there, but don't you worry the engineering that goes into making this bridge stay up is nothing short of a wonder. There's plenty of steel and galvanized wire cabling keeping this thing up and strong. Happy walking!
Carrick-a-Rede Rope Bridge, Northern Ireland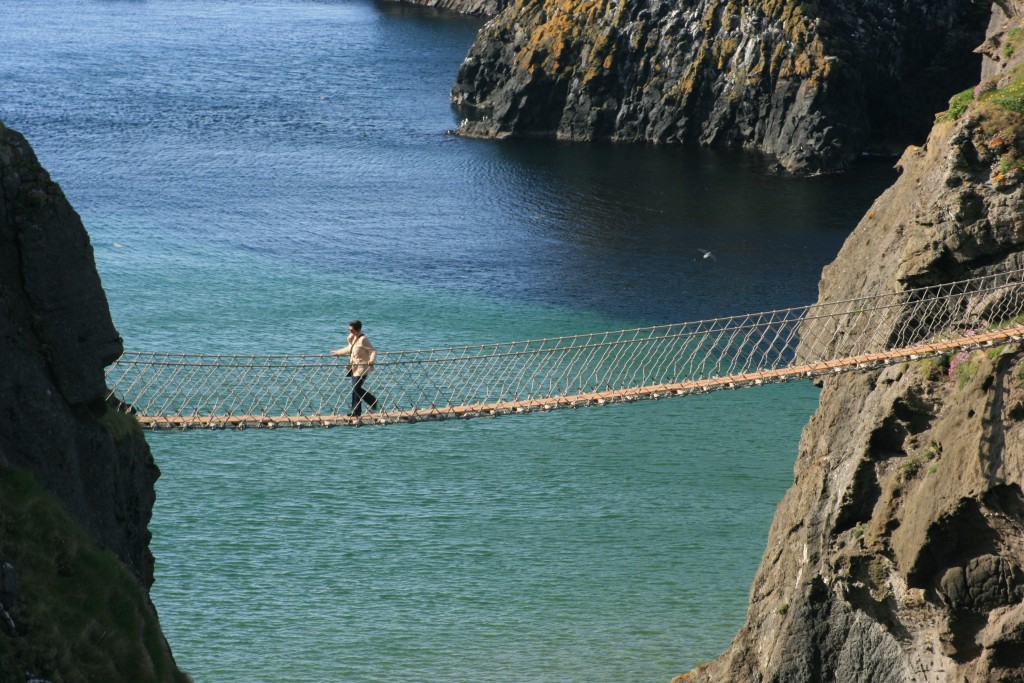 Photo By: Supermac1961
This little one is only 20 meters long and 30 meters in the air but given that it's made of what kind of looks like planks of wood supported by knotted ropes, a 30 meter drop is still a 30 meter drop. It's open all year round for a small fee, but we wouldn't advise crossing if there's much wind around.
Hussaini Hanging Bridge, Pakistan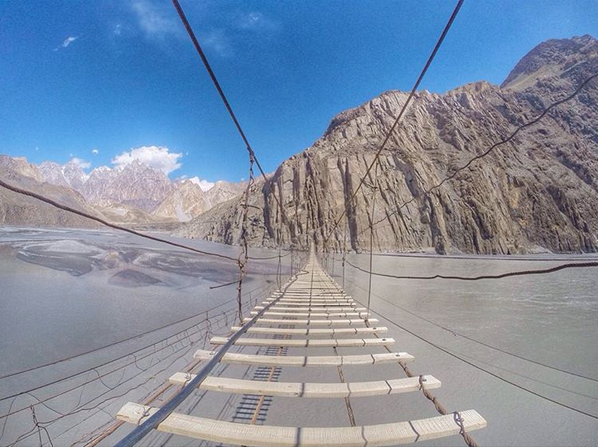 Photo By: hhizairy (Instagram)
Death defying. Need we say more? Known as the world's most dangerous bridge, it's very precarious and as a result it suffers regular damage and undergoes tenuous repairs. It's never clear if the bridge is in operation given its shaky condition, so make sure you check before setting off to find it. It's in a very remote area of Pakistan in the Upper Hunza crossing the Borit Lake, so plenty of planning is required to even get there. But if there's one scary suspension bridge you DO want to cross – this is it! Good luck!