Adventure Travel Destinations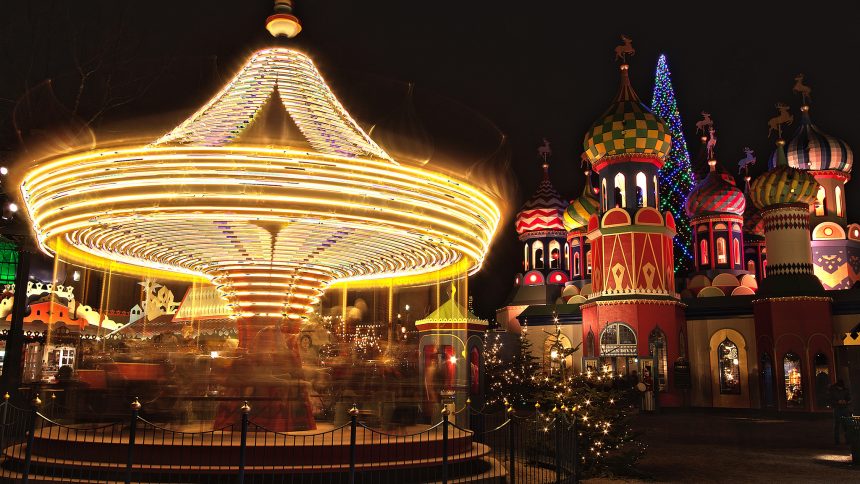 Merry Christmas Festivals Around the World
December 18, 2015
We've already written about the weirdest Christmas traditions, the most adventurous places to spend Christmas and where to find Santa's home this Christmas, but now it's time to find out where adventure travellers go to simply have a joyful, peaceful and all-round merry Christmas. Here are our favourite enchanting Christmas festivals around the world. Have a very merry Christmas dear adventure travellers wherever you will be this season!
Christmas in New York
The city that never sleeps, where dreams are made. New York. New York. We can't think of a more magical metropolis to spend Christmas than New York City. Plus we all know that shopping in New York is awesome so you can pick up some great presents for yourself and others along the way. You'll be enchanted by the Christmas lights and the lighting ceremonies at iconic buildings like the Empire State Building, the Metropolitan Museum of Art and the Rockefeller Christmas Tree (among many others). Central Park transforms into a winter wonderland with two ice skating rinks. plus, another spectacular sight is the many specially designed Christmas shopping windows. There are many Christmas markets that we recommend including the Bank of America Winter Village at Bryant Park, the Union Square Holiday Market, and the Columbus Circle Holiday Market. The whole city transforms at this festive time of year, so celebrate Christmas in style in NYC with millions of others.
Myer Christmas Windows in Melbourne
The iconic Australian department store, Myer, transforms its shopfront at its flagship Melbourne store with a unique Christmas delight for children and nostalgic adults alike. Each year the team at Myer come up with an enchanging and dream-like children's wonderland based around a theme for example the Nutcracker ballet. Many queue to see the Myer Christmas Windows and this year marks the 60th anniversary of these beautiful creations. The animated Christmas windows, usually take craftspeople hundreds of hours work. Don't forget that Australia is in the southern hemisphere, so you won't need your coats and scarves, instead if you're heading Down Under for Christmas pack some shorts and T-shirts because the temperature is likely to be set to HOT.
Tivoli Gardens, Copenhagen
In Denmark one of the most special Christmas festivals is at the Tivoli Gardens in Copenhagen. Tivoli is the second oldest amusement park in the world, and they really know how to bring it at Christmas. The whole park is decorated with thousands of Chirstmas lights and decorations, plus there are Christmas trees everywhere. Aside from the normal rides and attractions, they also have special Christmas entertainment and a fireworks display, Santa arrives for photo opportunities with children, and there are stalls where you can buy locally-sourced artisanal gifts.
Christmas Markets in Budapest
Budapest is one of the most romantic places to spend December and early January. There are a number of Christmas markets, the most famous of one is at Vörösmarty Square, but there's also a newer one in front of the St. Stephen's Basilica. Many other squares and streets are also lined with Christmas stalls, so no matter where you are a little bit of Christmas cheer will rub off on you. Grab a steaming mug of spiced mulled wine, or eat a "chimney cake" and you'll be sure that Christmas is fast approaching. The stalls sell locally made, artisanal crafts so you can buy anything from some wooly socks, to a mug, to some jewellery. You'll also notice that many of the main roads, parks and squares are decorated in beautiful golden fairy lights, which will bring happy thoughts to mind even if your credit card isn't so happy with all of your Christmas shopping. If in Budapest during winter don't forget to visit the ice rink at City Park Lake.
Winter Wonderland at Hyde Park
Winter Wonderland at Hyde Park is a free event, and it's one of the Christmas festivals around the world worth seeing particularly if you're in London anyway. Here there are more than 100 rides and attractions (although many of these require you to buy tickets), Christmas markets, street food and live music. Book ahead for popular attractions like The Magical Ice Kingdom and Bar Ice. The Christmas markets have all the charm of continental European markets with wooden stalls, fairy lights and lots of artisanal products for sale. We recommend you sip on a hot chocolate while you enjoy this Christmas festival because there's no doubt that it's the most wonderful time of the year.