Adventure Travel Destinations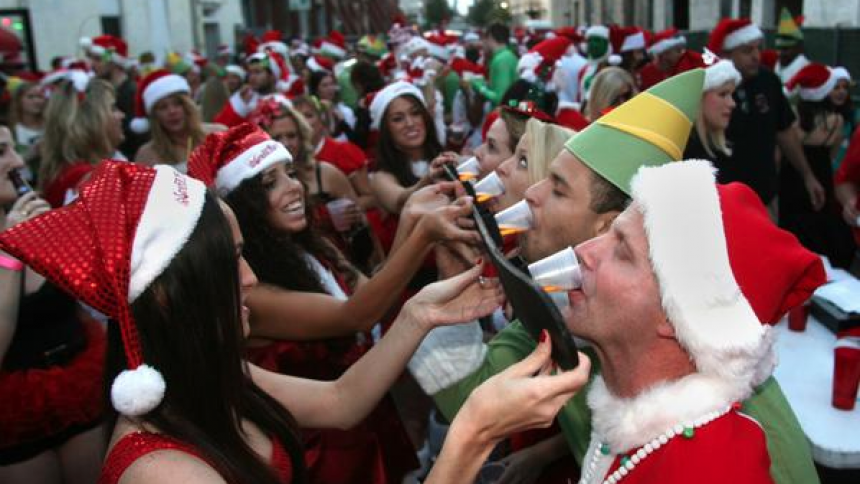 7 Weird Christmas Traditions
December 11, 2015
While for most of us Christmas includes eating turkey, leaving some milk and biscuits out for Santa and carrots for the reindeer, and giving gifts; some parts of the world have some really weird Christmas traditions. We actually love these quirky rituals, so while recently we wrote about the most adventurous places to spend Christmas, now we let you know about places with some seriously wacky Christmas traditions that you should definitely add to your adventure holidays bucket list!
Christmas Rollerskating, Venezuela
Venezuelans attend early morning church services between December 16 and 24 called Misa de Aguinaldo or "Early Morning Mass." But in the capital city of Caracas it is customary to roller-skate to the service with entire streets closed to traffic so that the throng of skaters have plenty of room. The reason for this unique tradition is unknown, but even the local government tries to encourage locals to roller-skate instead of walking or driving by closing down roads for cars.
Night of the Radishes, Mexico
Oaxaca in Mexico takes the humble little (might we say, bland-flavored) radish and transforms it into an exciting vegetable come Christmas time. Known in Spanish as the Noche de Rábanos, the "Night of the Radishes" involves the carving of oversized radishes. Since the late 1800s the city has even held carving competitions and thousands come each year to see the incredible carved creations.
KFC for Christmas, Japan
Most adventure travelers would shirk away from ever eating at a chain fast-food store while exploring another country. But, in Japan, eating at KFC around Christmas-time is pretty much a local tradition, so you'd be absolutely a culturally-sensitive traveler by joining in! The Japanese are obsessed with eating KFC at Christmas in Japan, ever since an advertising campaign in the 1970s, which clearly was a huge success. KFC launched a "Kurisumasu ni wa kentakkii!" campaign – in other words eat "Kentucky for Christmas!" – in 1974, and since then eating a bucket of KFC Christmas chicken has become a cultural tradition, despite just a very small percentage of Japanese people being Christian. The marketing campaign was aimed at selling Christmas chicken as turkey could not really be found in Japan. Some locals order their buckets of finger lickin' good chicken months in advance to avoid queues of up to two hours (OMG!) at many of the stores. Even the iconic KFC Colonel is dressed in a Santa suit!
Spider Decorations, Ukraine
Ever wondered why we put tinsel on a Christmas tree? The answer might lie in this strange little Ukrainian Christmas tradition. The Legend of the Christmas Spider is predominantly prevalent in Ukraine, where little spiders are put on the Christmas tree as decoration. Legend has it that one day in a poor family a pine cone fell on the dirt floor of their modest hut. They watched the pine cone grow into a Christmas tree and on Christmas Eve they were sad that they could not afford to decorate the tree. When the family awoke on Christmas Day a spider had covered the tree in cobwebs and when the sun shone on the tree, the cobwebs turned to silver and gold, meaning the poor family never had to worry about money again.
Now, in countries like Germany, Poland and Ukraine finding a spider's web on the Christmas tree is considered good luck! And to this day Ukrainians decorate their Christmas trees with little spider's webs to bring good fortune. This is very sweet and we think we might start adding spider's webs to our trees too!
Family Sauna Time, Finland
A very important Finnish Christmas tradition is to sweat it out in the sauna on Christmas Eve before heading to mass or other Christmas celebrations. The sauna is a central part of Finnish culture, and historically life events such as giving birth, and recuperating from illness have taken place there. It's thought the spirits of ancestors come to bathe in the sauna after sunset, explaining why it's an important place for a family reunion during these celebrations. As we have previously written Finland is one of the most adventurous places to spend Christmas anyway, plus it's one of the most likely spots where you might find Santa's home and workshop so there are strong Christmas-related traditions here.
Other countries also have sauna-related Christmas traditions, for example in Estonia where spending time with your family in the sauna on Christmas Eve is also an old and important tradition.
Las Parrandas de Remedios, Cuba
The town of Remedios in Cuba, really knows how to celebrate Christmas! The Las Parrandas de Remedios Christmas festival is recognized as one of the oldest festivals in Cuba and the locals clearly know how to bring it. Taking place annually between the 16th and 24th of December, the festival includes colourful parades, dancing, giant floats and a massive fireworks display. This is truly one of Cuba's most exciting cultural displays, so if you're planning a trip to Cuba it could be an adventurous place to spend Christmas. The tradition dates back to 1820 when a young priest noticed that there weren't so many people coming to church in the lead-up to Christmas, so he gathered local children to make lots of noise with pots and pans to wake everyone up for mass – the tradition stuck.
The Running of the Santas, USA
Think of the Running of the Santas less as a sporting event and more as a slow pub crawl. Ok, so the folks dressed as Santa are technically "running" (if you can call it that) but the main aim is to go on a bar tour while raising money for a local charity. While the Running of the Santas started in Philadelphia with about 40 "Santas" the event has spread to other cities like Atlantic City, Baton Rouge, Chicago and New Orleans, and it now attracts thousands of people. The event includes a run of about three blocks and really the main focus is less fitness more the live bands, drinks specials, a Hottest Santa Contest and partying with your mates who all happen to be dressed in red. If your adventure travels take you to the United States in December find out where your nearest Run of the Santas is and join in the fun!