Interviews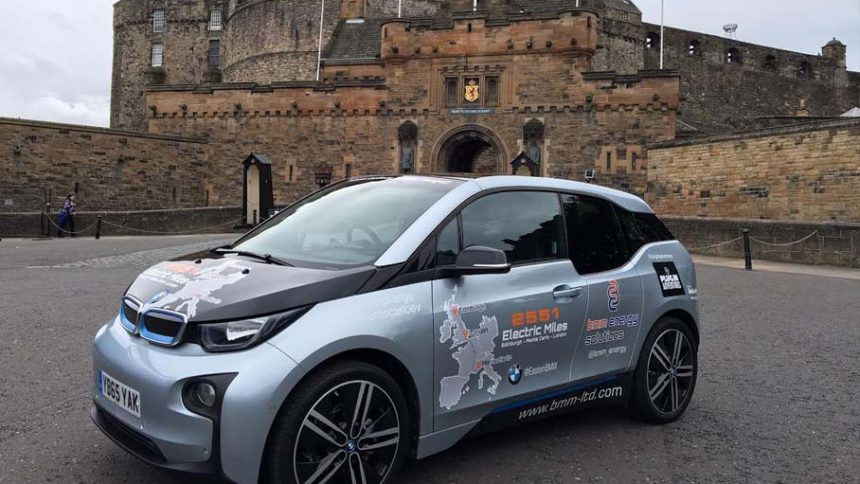 Are Electric Cars Suitable for Adventure Travel? – An Interview with Plug In Adventures' Founder Chris Ramsey
August 29, 2016
The founder of the Plug In Adventures Chris Ramsey is one of the most dedicated promoters of use of electric vehicles in Europe. He managed to drive an EV for 2551 miles from Edinburgh to Monte Carlo and back in just 60 hours.
 Electric-powered vehicles are increasing their popularity day by day as the experts in the field of energy warn the world regarding the importance of renewable and sustainable energy. Looking from a wider perspective, it can be easily seen that petroleum doesn't have the potential to keep the world running in the long term as it is neither endless nor renewable.
Energy firms and research centers have invested billions of dollars into the energy researches and fortunately, we can drive electric-powered cars now. Electricity is way cleaner than petroleum; therefore, it is essential for the protection of nature. Moreover, electricity can be re-produced. Increasing use of electric-powered vehicles means less pollution and more peace.
Major car producers have started to increase their funds to develop EVs despite the fact that they looked down on the chance of success of this technology previously. There is even a world famous electric car rally called Formula E.
Success of this technology has brought about new people who are interested in electric car adventures. Chris Ramsey is one of the most dedicated advocates of EV use in Europe. He set off to push the limit of BMWi3 with his friend Terry Mohammed, a director of BMM Energy Solutions which install charging points across the UK and Europe. They managed to drive from Edinburgh to Monte Carlo via London and back for 2551 miles in only 60 hours. They needed to charge their vehicle for 36 times and total cost of such a long road trip was only 55 Euros.
Ramsey believes that the infrastructure in Western Europe is good enough to travel by electric vehicles easily. It is even good for adventure travel in Western Europe. He says that "There's still skepticism about the capabilities of EVs on long journeys, and 'Range Anxiety' is the main barrier stopping people from looking at electric vehicles. That's why I delight in pushing all-electric travel to the limits and taking on the really big drives to show these cars can easily provide the day-to-day range of almost any driver. If we can drive 2551 miles in 60 hours, people can easily drive outside the town or visit friends or family in another city."
Here is the story of Chris Ramsey and his master project Plug In Adventures:
Could you please tell us about yourself?
My name is Chris Ramsey and I am 39yrs old and from Aberdeen in Scotland. Living in Scotland, I have developed a a huge appetite for adventure and travel, and love nothing more than getting out into the highlands and walking/cycling mountains. During my spare time I work on creating video and written content for my electric vehicle obsession, which I named Plug in Adventures.
What is the aim of Plug In Adventures?
Plug In Adventures was founded in 2011 and was born from a combined love of adventure and electric vehicles. My aim and hope, is by tackling these EV adventures and appearing on TV & Radio is to engage with the public in unique and different ways, encouraging them to consider an EV as a viable mode of transport for their everyday needs. Also educating them about the advances in the technology, while introducing them to some of the amazing electric vehicles that are popping up all over the world.
When was the first moment you felt passionate about electric vehicles? What inspired you?
After reading a lot of about Electric Vehicles, I wanted to see what this was all about and check out these chargepoints. So jumped behind the wheel of Nissan LEAF and went on a 1600mile drive, even though I had never driven an EV before in my life and from then I was completely hooked.
My big inspiration at the time was Mate Rimac, a guy who converted a BMW E30 into a fully electric car and broke a series of Guinness World Records, and today is the founder of Rimac Automobili and the worlds first all electric hypercar. I still follow his journey today and he still inspires me believe in what is possible if you have the passion.
What was your first adventure with an electric vehicle?
My first adventure was the first time I got behind the wheel of the LEAF in 2013, and it involved drive from Aberdeen to all 3 UK capital cities and back in 4 days. This was quite some feet at the time as there where only approx. 190 rapid chargers in the whole of the UK at the time, and I did end up getting the 3-pin plug out a few times, but I loved the trip so much and this fueled my hunger for more.
What do you think about the future of electric vehicles? What is the biggest challenge to overcome before rendering the use of electric vehicles more popular?
I firmly believe electric vehicles have already cemented their future in the motor industry, today. Most major manufacturers dismissed them as a passing phase, but now they are all announcing an electric car, and in most cases a full range of electric cars. In the next 10-15yrs more people will be driving some form of electrically powered car, than petrol or diesel. The only barrier to this is the public's perception of battery range, but in 2017 a whole host of 200+ mile, affordable electric cars will hit the market. This will be a game changer for the electric car market, and the "range anxiety" myth will firmly become that, just a myth.
How did you come up with the idea of making a trip from Edinburgh to London via Monte Carlo?
It was a bit of good fortune really, I attending an electric vehicle event and met a guy called Terry, who ended up being my co-driver. He had been following one of my previous adventures on Twitter and Periscope and mentioned that he had always wanted to go to Monte Carlo. We both looked at each other, smiled and I said "are you thinking what I am thinking?". Just 4 weeks later we are sitting in a BMW i3, parked right in front of Edinburgh Castle preparing to set off for Monte Carlo. The other great thing about this trip is that BMWi reached out to us while we were on route to Monte Carlo and invited us to the Formula E race in London as their guests, which was such an amazing experience.
Having a great time with Terry @bmm_energy at @FIAformulaE wouldn't guess we hadn't slept for 60hrs @Nickishields pic.twitter.com/3gSshTs3eO

— Plug In Adventures (@pluginadventure) July 2, 2016
What was the biggest challenge during your journey?
Getting out of Calais for sure. Everything was smooth with the train journey, customs and leaving the train terminal, but the chargepoints where not where the map said they were. Asking Calais staff didn't help either, as they directed us to areas in the middle of nowhere. So we decided to leave Calais and take a slight detour from our route. Apart from this, the whole 2700mile journey was completely smooth sailing, with absolutely no issues with chargepoints.
Would you like to cross continents by an electric car if infrastructure becomes available in the future? What would be the "dream route" for such a rally?
Indeed I would and this is my ultimate goal which I will finally achieve in 2018, by taking part in a race called 80 Day Race. This is a race around the world in 80 days using vehicles which have no form of combustion engine what so ever. The thought of driving through the wilds of Asia and sprawling metropolises of America, have my adrenaline pumping.
It is a fact that many people have doubts regarding electric vehicles although they are interested in this technology. What is your  advice for these people?
I always advise people to put your doubts to one side and just go drive an electric vehicle for yourself. So many people doubts today have been driven by the negative media publicity surrounding electric vehicles and charging infrastructures from 3-5yrs ago. Technology has changed dramatically and once you try an electric car for yourself and find out what chargepoints are available in your area, you will be very surprised, and in a lot of cases will probably end up buying.
Could you please tell us about your future projects?
I am very lucky to have a lot of loyal followers on social media, they really inspire me to keep doing what I do and often ask to join me. So next year I am setting up a series of mini 2-3 day EV rallies in the UK, where my followers and general public can come along on an EV adventure with me. During the adventure, I will switch between peoples cars and drive sections of the route with them, giving advice and techniques for long distance EV driving.
I will also be tackling one of my biggest ever adventures to date in 2017, and am currently planning routes, researching visas and discussing the potential safety risks. The official announcement is going to be later this year, but I can assure you and your readers it is going to be huge and if people still have their doubts about electric vehicle driving, they won't after this.
If you are interested in the upcoming adventures of Chris Ramsey, you can follow @Pluginadventure on Twitter and Facebook.