Car Rallies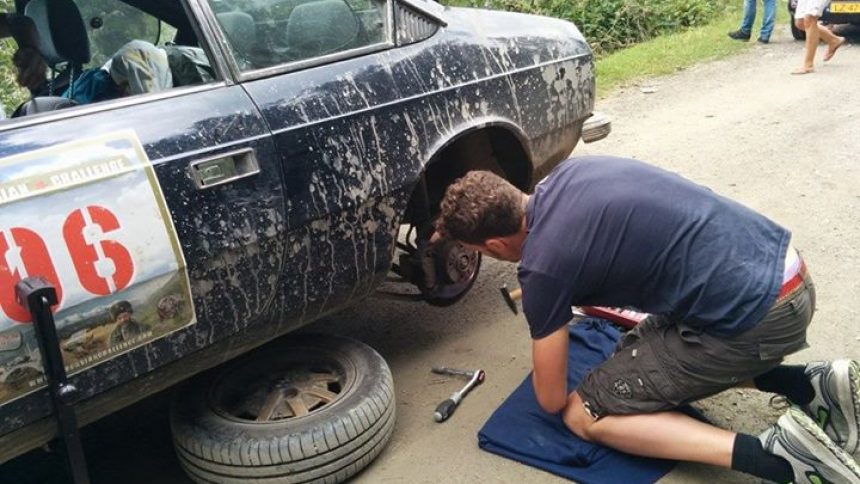 6 Best Roadside Car Fixing Hacks You Should Know About
September 2, 2015
Photo by the Caucasian Challenge.
When you're riding the remote roads of Central Asia or the dusty deserts of Rajasthan on a car rally or self drive adventure, your car will break down one point or another. If you have the luxury of a garage or a nearby mechanic on your travels, then all is well and dandy, but when help is far away and all you have is a makeshift tool kit then perhaps these simple roadside car fixing hacks will help you out in a tight spot.
Fix a Hole in Your Fuel Tank
Getting a hole in your fuel tank is a bit of a problem on the open road, and with no mechanic for miles you might ponder how you are going to get your car to one. If you carry around some hard, chewy sweets – the types that are likely to dislodge fillings – then you can use these as a temporary fix. Chew the sweet till it's sticky and then chew it more to flatten it. Take any rag and make sure the hole around the leak is dry as possible and then add the sweet. It's not permanent but it'll buy you a few more miles.
Mend a Broken Fan belt
Another one to tide you over till the mechanic, if your fan belt breaks, make sure you have some pantyhose on you. Pack some sturdy ladies' stockings and use it to work as a substitute for your fan belt. Do note though that this might not work on newer cars, but it is possible.
Replace Car Piping
If you like to snack in the car – better make that a Pringles! If you need to replace some car piping then just get a Pringles can or two and apply some duct tape and voila! You now have some new DIY piping!
Fixing a Tire
If you're off roading you will puncture your tire at some point or another. Carry some tire plugs with you along with a bicycle pump if you don't have a spare tire (although it's probably better if you bring one with you). When you get a visible puncture you can then pump the tire back to full pressure and just seal it off with the tire plug.
Clamping a Broken Leaf Spring
Owning Vise Grips is a useful thing to keep in your tool box since you can use them to fix many different issues. If you have a broken leaf spring, for example, you can clamp it together with a vice grip and just continue driving till you find a mechanic.
Meet Your New Best Friend: Duct Tape
Another thing to add to your kit is duct tape. This has so many uses, you will be convinced it's a miracle worker. If your engine over heats suddenly, maybe you cracked a radiator hose. Cool the engine down and then wrap it up with the tape securely. It's only temporary, but can get you to the next town. Duct tape is also good to patch up other leaks and reattach loose parts until you can see a mechanic.
Do you have any tips or tricks to fix your car when you get stranded in the middle of nowhere. Share your best roadside car fixing hacks with us at Adventure Herald!