Adventure Travel Destinations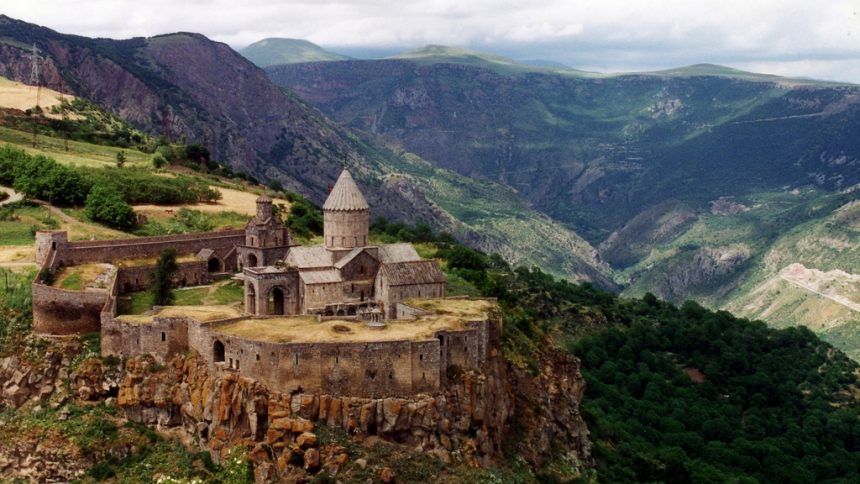 Why You Should Visit Armenia
September 4, 2015
Tucked away between Georgia, Azerbaijan, Iran and Turkey, Armenia is a country that falls of the radar for most, and sometimes gets picked up in the mainstream media thanks to Kim Kardashian and her Klan. However, don't let the Kardashian Konnection put you off this amazing and underrated country. While Yerevan is a cosmopolitan hotspot with trendy bars, modern art and buildings of Soviet proportion, you'll also find one of the world's largest high-altitude fresh water lakes in the world, rocky mountains that are great for climbing, as well as plenty of adventure to be had. The food in Armenia is excellent and the brandy even better. And if that's not incentive enough as why you should visit Armenia then see our recommendations here at Adventure Herald.
More Historic Monasteries Than You Can Shake a Stick at
Armenia was the very first Christian country in the world, and as a result you'll find amazing and ancient monasteries scattered across the country.
You'll find monasteries carved into the rock…
… in a red colored gorge…
… on a large basalt plateau (also home to the longest cable car in the world) …
… on the Turkish border with the perfect view of Mount Ararat…
… and in a lush, green canyon.
Home to One of the Largest High-Altitude Fresh Water Lakes in the World
Armenia has no coastline, but it has Lake Sevan. This large fresh water lake was once in danger of going the way of the Aral Sea when Stalin ordered the rivers to be diverted for farming, but fortunately, the lake was saved and the rivers diverted back onto their original course. Today Lake Sevan is a popular escape in the Summer, but it is also home to a variety of historical sites, views of natural beauty and delicious and coveted fresh water fish.
Wonderful Mountains
While you can see Mount Ararat from most points of the country, it is actually located across the border in Turkey, but there are plenty of interesting mountains to explore inside Armenia. Mount Aragats is the highest point in the country, and curious as it's an old, extinct volcano. Near the top, you'll even find a lake here. Armenia is a mountainous country, so if you like your destinations hilly, this is a good choice!
Ancient Monuments
Armenia is an ancient country, which means you'll find plenty of spectacular ruins around the country, from pre-Christian Armenia, including Roman temples to the world's oldest winery (also, fun fact, the world's oldest shoe was found in Armenia too!) and even a prehistoric stone circle!
Home of the World's Best Brandy According to Churchill
Winston Churchill was a man who appreciated his brandy and cigars, so when he was at the Yalta Conference in 1945 and (according to an anecdote) Joseph Stalin introduced Churchill to Armenian Brandy. Churchill was said to believe it superior to the French cognac and reportedly shipped 400 bottles of the stuff to England annually. Whether or not the brandy story is true, Armenia does produce some stellar brandies that are worth traveling for.
Wonderful Food
Armenia has rich and delicious cuisine, but not only that, it is also home to some of the best fruit in the world. Apricots are said to have originated in Armenia, even bearing the Latin name Prunus Armeniaca, which means Armenian plum. Not only try the fruit fresh, but also make sure you taste the fruit leather and fruit vodka called Oghi.
Beyond that you'll find tasty Armenian food like…
… the UNESCO protected lavash bread…
… Khorovats …
… aromatic salads …
… pastries …
… fish dishes …
… soups …
… and deserts like Kadaif!
Kind People
Like the rest of the Caucasus region, you'll find Armenians are friendly, warm and welcoming people. You will find hospitality all across the country, no matter where you go. If your car breaks down in the middle of nowhere, locals will help you and then invite you for a glass of brandy, or if you're invited to dinner by an Armenian family, be prepared to be stuffed and sent home with leftovers. In the case you get lost on the streets of Yerevan, ask any local and they will be happy to help you.