Extreme Mountain Adventures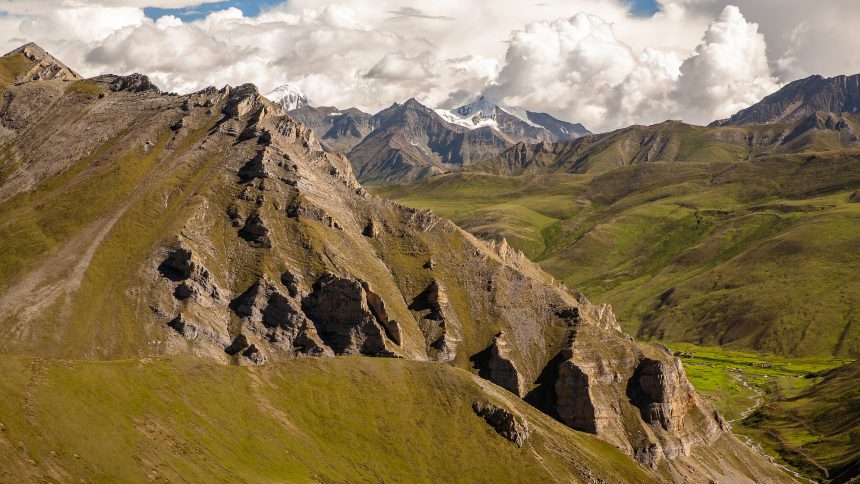 A Little Guide to The Seven Summits – Climb Each Continent's Highest Peak
September 4, 2015
To conquer the highest mountain of each continent is one of the greatest challenge of each mountaineer, that not even 300 have mastered yet. In this first part of our little guide to the Seven Summits for those, who hunger for more than a little hike, let us introduce you to the highest peaks in Africa, Antarctica and Asia. And who knows, maybe we can even inspire your next adventure!
Photo by Lenz.
Africa – Climb The Snow-Covered Kilimanjaro.
The iconic Kilimanjaro in Tanzania, free standing and surrounded by jungle and savannah, is with 5895 m Africa's highest mountain.
Its summit was first conquered by westerners in 1889. The german Geologist Hans Meyer finally succeeded in his third attempt to reach Kilimanjaro's summit, this time in company of the Austrian mountaineer Ludwig Purtscheller. Before, he had been stopped by a lack of appropriate equipment for climbing on ice during his first attempt and by being caught up in a local revolt during the second one.
Today a big part of Tanzania's tourism centers around Kilimanjaro and there is a whole climbing industry to be found at its foot. So if you are looking for a lone wolf adventure, this might not be the right place for you. Every year about 15000 people try the ascent, but less than half of them succeed. Many are inexperienced and don't take enough time to acclimatize to the high altitude, resulting in acute mountain sickness.
The ascent is usually very well organized and trekkers have a support group with a guide, carriers and a cook with them. There are seven different routes to the top, all with different levels of difficulty and varied scenic value. Some of the treks offer dormitory style sleeping options, while for others camping is the only possibility. Naturally, the easier routes are busier than the more difficult ones.
Theoretically it takes between 5 and 9 days to reach the top, but you should take at least 7, ensuring to have enough time to properly acclimatize to the altitude, so you won't be forced to return early.
The last part of the journey is usually started around midnight, so you can watch the sun rise atop of the mountain. But there is also the possibility to camp in the crater and then see the sunrise more relaxed on the next morning.
Antarctica – Fight Your Way Through Snow And Ice to The Summit of Mount Vinson.
Mount Vinson in Antarctica got his name already before his official discovery, when he was not more than just an assumption. In 1958 the existence of the 4,892 m high mountain was finally confirmed.
First climbing attempts weren't long in coming. In 1966 the American Antarctic Mountaineering Expedition 1966/67 set off to be the first humans to ever set foot on Mount Vinson's peak, consisting of 10 scientists and mountaineers. The expedition was a full success and to honor the participants' achievement, sub-summits of the mountain were named after them.
Mount Vinson is no technically difficult peak to climb. But the climbers have to face the Antarctic climate with its icy, strong winds and extreme temperatures. While during the Antarctic summer from November till January the sun never sets, the temperatures are still only around 30° C.
Also due to its location an ascent is a rather complicated and expensive enterprise and not possible for everyone. Expeditions are offered by several companies at a cost of about 30 000 USD per person. Little wonder, that as of February 2010 only 1400 people have attempted to reach Mount Vinson's peak. If you are looking for that special place, where not many have been and not many will go, you should start saving right now.
Asia – Climb Mount Everest to Be on Top of the World.
The mountain called Sagarmāthā in Nepal and Chomolungma in Tibet, better known as Mount Everest, at the border of Nepal and China, is not only Asia's highest mountain but also the world's highest one with 8848 m.
There were two failed expeditions to the summit in 1921 and 1922, but the participants were reaching a higher altitude than any human had climbed before. George Mallory and Andrew Irvine made one last fateful effort in 1924 to reach the top. They never returned and till today we don't know if they ever made it to the summit or not.
In 1953 a 400 man strong expedition to the peak started and indeed the New Zealander Edmund Hillary and Nepali Tenzing Norgay reached the summit with the help of bottled oxygen.
The greatest dangers mountaineers have to face are low oxygen due to the high altitude, strong winds, unpredictable weather changes and the risk of deadly falls. The best time to climb Mount Everest is in May, when the winds slow down a bit.
There are two routes, one from Tibet and one from Nepal, which is the standard route without any difficult climbing challenges. It was also used by Hillary and Tenzing. Today, climbers can reach the base camp at 5380 m on the Nepali side within 6-8 days. After a short stay to acclimatize to the altitude, they pass the dangerous Khumbu Icefall to reach Camp I. After 3 more camps, they can finally attempt to reach the summit, which is at that time still 1000 m above them.
There is quite high traffic at Mount Everest, which leads to a severe waste problem and downright traffic jams at certain bottlenecks.
In spring 2015, the base camp was hit by an avalanche following a strong earthquake in Nepal, killing 18 and ending the spring climbing season for the year. Mount Everest has been reopened for climbers just recently.
Stay tuned for the next part of our series and learn more about the highest peaks in North- and South America as well as in Europe and Australia!