Adventure Travel in Southeast Asia
Quick Tips for Traveling to Bali
November 8, 2017
Bali has become extremely popular with tourists in recent years as a tropical haven with warm and welcoming natives. If you are planning a trip for the first time, here are the essential tips so you can be an informed traveler, get around smoothly and enjoy the best of what this Indonesian paradise has to offer.
Photo by: Thomas Depenbusch
When to Visit
The cheapest time to visit is between May and June. Bali is located roughly 8 degrees south of the equator, and so it has a tropical, warm and humid climate all year round with two main distinct seasons:  dry (between May and September) and rainy (October to April). If it's water activities you're after, then the dry season is best, when you can catch some of the best waves for surfing on the western coast of the peninsula. For other, more land-based adventures, the rainy season is better. During this time the rain is generally light and it will still be sunny for much of the day. The average temperature ranges from 26°C at the coldest in January to 28°C in May, the warmest month.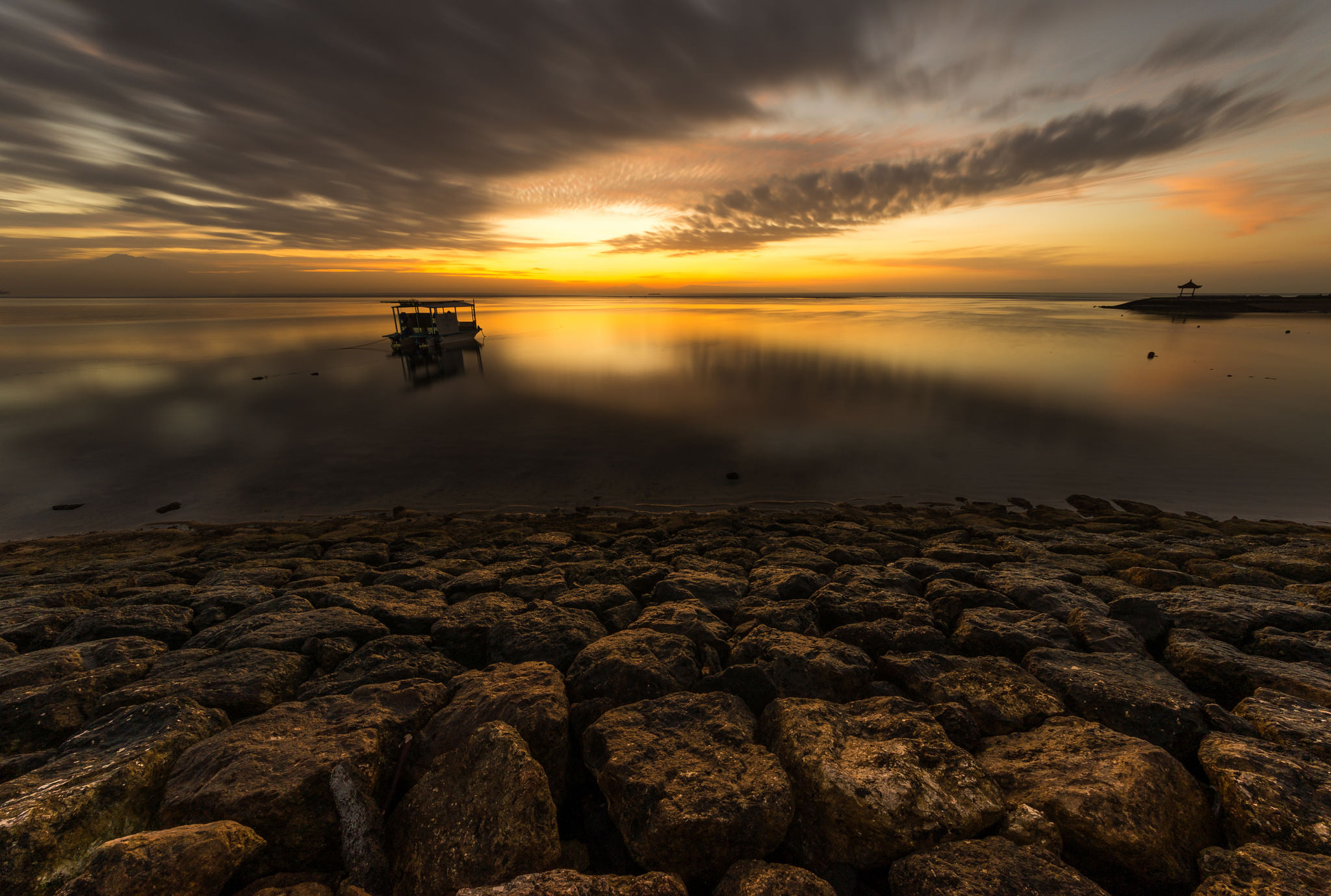 What to bring
V

ery light clothes made of natural fibers to keep comfortable in the tropical weather.

Hiking shoes or sandals for mountain adventures

Cheap flip-flops for going around the town that won't get stolen. It is the etiquette in many shops to remove shoes before entering.

Mosquito repellent to protect yourself against Dengue fever carrying pests.

Sarongs – these may be necessary for entering those famous temples, for both men and women.

You may prefer to bring your own cosmetics and sunscreen due to many of these products in Asia containing whitening ingredients.

A small padlock is useful if you are staying in hostels or budget hotels, so you can secure your valuables in the lockers provided.
If you have electronics to charge, remember that Indonesia uses the

 round, two-pronged, CEE7 power outlets common in Europe and the voltage is 230 volts / 50 Hz.

A rain cover for your luggage, or failing that, try lining your suitcase with a trash bag in case of Monsoon rains which could soak your belongings.
Wait until you get there to exchange your money as it is bound to have a dismal rate outside of the country. 

The Indonesian Rupiah (IDR)

 is the local currency, commonly also abbreviated to Rp. Denominations of Rp.100 and 100 come in the form of coins, 500 and 1,000 are in either coins or bills, and Rp.5,000, 10,000, 20,000, 50,000 and 100,000 are only available in bills.
You can feel comfortable leaving space in your luggage or backpack for new purchases and unique items not easy to find at home. Purchasing what extras you need after arrival is a fun way to help the local economy.
Adventure Activities
Once you've spent some time enjoying yoga and meditation there are plenty of adventure destinations to choose from. Tanah Lot aka the iconic Temple by the Cliff attracts hordes of visitors with the spectacular sunsets you can view from it. For motoring adventures, quad bikes are a great way to explore and have fun while viewing the beautiful scenery. Bali is also a great place for adventure diving (Lipah Bay is great for spotting underwater creatures), snorkelling and cycling tours. You can even do white water rafting, with many companies to choose from. Of course, there is plenty of sun soaking to be done on the gorgeous white beaches too, if you feel like taking some time to chill.
Survival Tips
One of the most important things to remember and which you will probably be told right away is DON'T drink the water. Instead, opt for bottled water which is cheap or bring a reusable bottle and use charcoal tablets to filter it, to prevent any bugs that could put a dampener on your trip.
Always cover your knees and shoulders when entering a temple, where possible.
Don't feel guilty about haggling as this is commonplace in Bali and expected. Vendors will start out at ridiculously high prices and you should start out offering 10-20% of what they ask before coming to a price you both agree on.
These basic Indonesian phrases will help you to get by:
Suk s'ma (sook ss- mah) – Thank you
Ma'al (ma-al) – Expensive
Tidak (tidah) – No
Kude? (koo-deh) – How much?
Selamat pa'gi (sellahmat pah-gee) – Good morning
Selemat jalan (sellahmat jih-lan) – Good bye